With an integrated design approach that incorporates innovative magnetic designs and winding technology, Faulhaber has expanded its range of compact yet powerful motor and drive systems for precision products and devices used in robotics, laboratory automation and medical markets.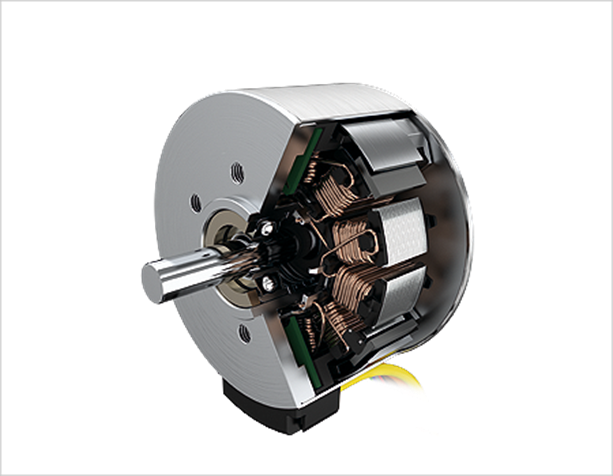 Shown above is the company's brushless flat BXT motor with external rotor technology. The external rotor motors of its BXT series set new standards, says the company. Employing innovative winding technology and optimized design, the motors deliver a torque of up to 134 mNm. The ratio of torque to weight and size is unmatched, says Faulhaber.
The iron-core motors have 14 high-performance rare earth magnets on the rotor and 12 teeth on the stator yet measure just 14 mm, 16 mm and 21 mm long. They were developed based on the classic external rotor design, employing special winding technology to generate more torque. Due to the high copper filling factor and the design of the pole shoes, the magnetic field is strong and the cogging torque very small. The motors can operate at speeds up to 10,000 rpm. Combined with optical and magnetic encoders, gearheads and controls, the result is a compact drive system.
Faulhaber advocates a complete systems approach in its product development. Electric motors are not typically "lone wolves" but for most applications need to be combined with gearheads for speed reduction as well as encoders, explains the company. By adding corresponding gearheads, integrated encoders, and speed controllers that are exceptionally short in the axial direction, it has extended the BXT flat motor series in a manner that all components are perfectly matched to each other.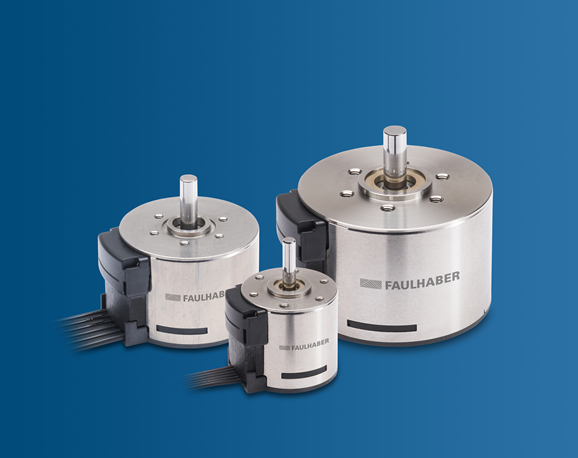 The three sizes can solve many different drive challenges. In the case of a lower-arm prosthesis, for example, the smallest drive with a diameter of 22 mm would be ideal for the hand and the 16 mm long motor for the elbow. Other possible applications for the small compact drive systems are robot grippers, industrial automation, humanoid robots, even bio-robotics for motorized hand exoskeletons as well as dialysis machines and medical pumps.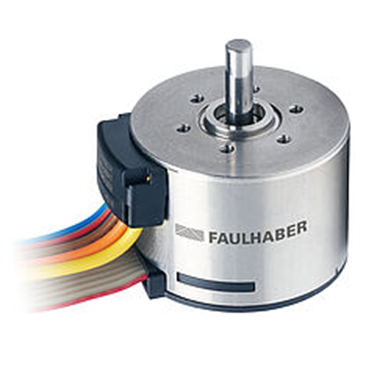 All BXT motors are equipped with digital Hall sensors and, with their large number of poles, their speed and positioning can be controlled very precisely. The company's IEF3-4096 magnetic encoder can be matched with them for precise positioning tasks. The encoder is fully integrated in the housed motor variant, thereby increasing the length of the overall drive by just 6.2 mm. Despite its flat design, it offers three channels with index function, a line driver and a high resolution of up to 4,096 lines per revolution.
In April, Faulhaber introduced new speed controllers for the BXT motors which, in the housed versions, can be installed in the housing along with the encoder. Speed control is performed by the digital Hall sensors integrated in the motors accomodating a wide range of speed from 200 rpm to 10,000 rpm.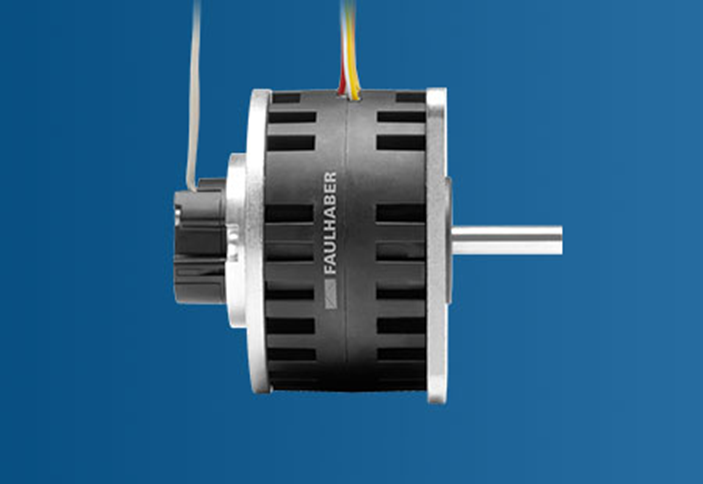 In another product development effort, earlier this year Faulhaber extended its encoder line to large disc magnet motors. The extremely high dynamic of large disc magnet stepper motors often relies on closed loop control to maximize performances while limiting power dissipated in the motor. The new IE3 magnetic encoder can be combined with many of the company's motors. Typical applications are textile, semiconductor and medical industries.
For more info, see www.faulhaber.com.