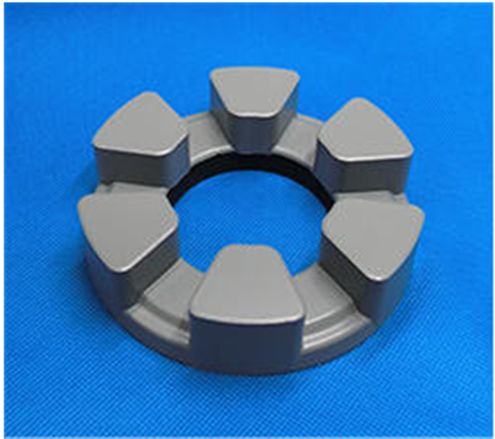 Sumitomo Electric Industries, Ltd. has developed a powder magnetic core for the thin, axial gap motors that are becoming increasingly popular with electric vehicle manufacturers for their high performance, lighter weight and streamlined profile. The company started mass production and delivery of the product in August, also using a newly developed insulation coating technology that enhances performance.
With recent growing demand for light and high-performance motors, axial gap motors, also known as axial flux motors, are attracting more attention due to their light weight, low thickness yet high power density. The attributes have been achieved by adapting completely different structure from conventional radial gap motors. But to produce axial gap motors, high-quality magnetic cores that suit their three-dimensional magnetic circuits are critical, notes the company. "By utilizing our unique powder metallurgy technology, we have developed a powder magnetic core that helps to realize high-performance axial gap motors."
The new insulation coating technology is designed to ensure the dielectric strength between the powder magnetic core and the copper winding. Now, says SEI, it will continue to develop the market for powder magnetic cores for axial gap motors and contribute to the development of higher performance axial gap motors and equipment. It is providing design assistance for three-dimensional electromagnetic field analysis based on motor specifications provided by customers.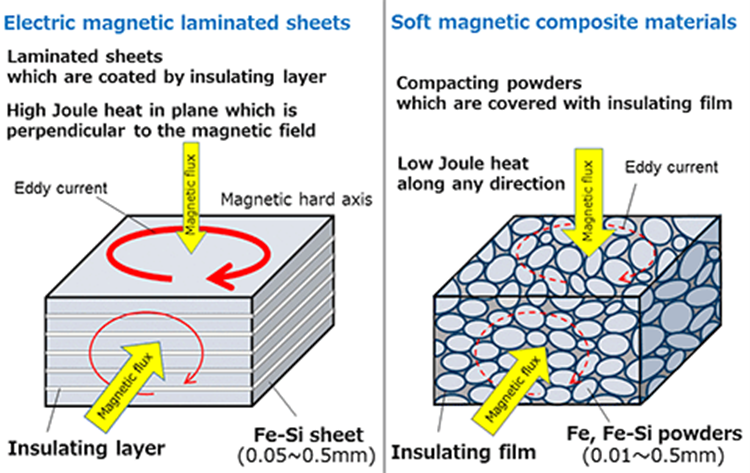 The powder magnetic core is formed by die-pressing soft magnetic iron powder into a three-dimensional shape. Compared to magnetic cores made of electrical steel sheets used in conventional radial gap motors, it has great flexibility in terms of shape design and superior high-frequency characteristics, says SEI.
"When using a powder magnetic core for a motor, it is usually required to provide an additional component to ensure the dielectric strength between the magnetic core and the copper winding. However, our unique insulation coating technology has made it possible to wind copper wire directly around the powder magnetic core and thereby reduce costs for additional components and assembly. This feature has also made it possible to expand the winding space, which contributes to the development of more compact and efficient motors."

The image at left shows the new mass-produced insulation-coated powder magnetic core and, at right, is a prototype. In the accompanying table, SEI summarizes how electromagnetic field analysis demonstrates that lighter weight and lower thickness can be achieved by its new core with performance kept at the same level as a conventional radial gap motor.
Radial gap motor
(conventional)
Axial gap motor
Structure
(schematic diagram)
Short axial length (mm)
83.0
35.0(-58%)
Weight (kg)
3.2
1.6(-50%)
Torque (N・m)
0.65
0.65(-)
Maximum efficiency (%)
90.6
90.9(+0.3%)
Based in Osaka, Japan, SEI has a pioneering history in magnetic materials and technology. It is also a major manufacturer of magnet wire and magnetic components. See www.global-sei.com.