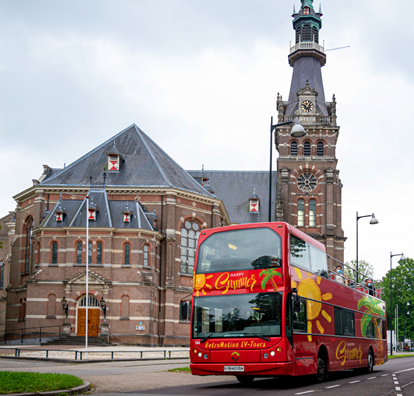 Backed by Chinese conglomerate Evergrande Group and armed with a growing portfolio of innovative designs, Dutch company e-Traction is moving ahead aggressively to build its prominence as a supplier of in-wheel motors and powertrains for electric vehicles.
In September, it delivered the latest addition to the zero-emission bus fleet of City Sightseeing Brussels using e-Traction's RetroMotion package. This was the second conversion of a Volvo B7L/UNVI bus from diesel to fully battery electric for the sightseeing company. Now, the buses are equipped with e-Traction's highly efficient TheMotion 2.0 drivetrain, a 170kWh battery system, multiple EV auxilaries and online monitoring.
"For many years, we have been able to deliver proof with our unique direct-drive in-wheel motor solutions," says Edgar Ooijman, Chief Commercial Officer of e-Traction. "Our next aim is to apply our distinguished technology in e-vehicles worldwide, starting with a focus on commercial vehicles, such as buses." Founded in an inventor's workshop in The Netherlands, since 1981 the company has developed its electric traction technology, always striving for minimal complexity in components and highly energy-efficient electric and hybrid drivetrains.

The RetroMotion product was launched in March to serve the retrofit market for commercial vehicles. It employs the company's TheMotion 2.0 system, its latest generation in-wheel motor system which relies on permanent magnet technology. The permanent magnet material chosen was N38H, namely Sintered Neodymium Iron Boron (NdFeB) magnets since they provide an optimal balance of remanent flux density and maximum operating temperature for its application.
The system is a complete powertrain based on four key elements: a direct drive in-wheel motor with integrated high voltage drive called TheWheel, a powertrain control unit; a high voltage power distribution unit and a software application with diagnostic and calibration capabilities.

Replacing the rear axle, the system is designed to work in in new vehicles and can be retrofitted into existing fleets including both 12 and 18-meter buses and large goods vehicles. Power sources can include batteries, supercapacitors and fuel cells.
In October, e-Traction scored another advancement with receipt of an order from Neuton Auto of India for the first prototype series of a new line of ultra-low floor buses and double-deck buses that Neuton plans to manufacture using e-Traction's in-wheel driveline.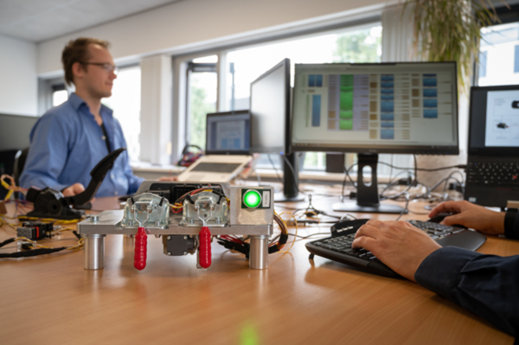 As a Dutch development company, e-Traction today relies on advanced model-based design methods at its headquarters in Apeldoorn. It is part of the Chinese automotive manufacturer Evergrande, which uses e-Traction's products and capabilities in its ambitious automotive growth activities. Evergrande allows and stimulates e-Traction to grow its sole businesses, being the EV drivetrain TheMotion 2.0, RetroMotion for the full retrofit from diesel to EV and TheDrive, High Power Inverters for special applications.

e-Traction joined Evergrande Group in 2019 with plans to build additional greenfield plants to support the upcoming market demands for electric and hybrid vehicles. Its powertrain products manufactured in Europe and China are marketed under the e-Traction brand throughout the world. Expanding from its roots as a real estate company, Evergrande is a Fortune Top Global 500 company with revenues upwards of $70 billion annually.
In recent years, Evergrande has acquired a string of automotive technology companies and forged auto industry partnerships to build a major electric vehicle enterprise with the goal of synchronously developing 14 vehicle models. It has built advanced smart vehicle manufacturing bases in Shanghai, Guanzhou and other cities. At present, the first six models of HENGCHI have had their world debut, and the company has announced that it expects to be positioned to begin mass production in 2021.
For more info see www.e-traction.com.