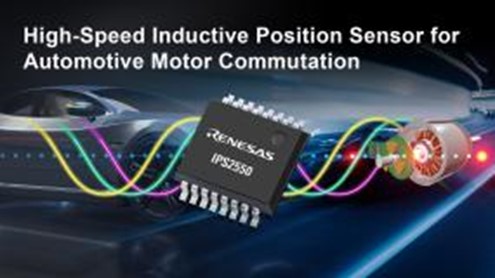 Tokyo-based semiconductor company Renesas Electronics today launched a new high-speed inductive position sensor for automotive motor commutation. The magnet-free IPS2550 adds to the company's inductive sensing portfolio, this model targeting design engineers needing an absolute position sensor for high-speed motor commutation in passenger cars, heavy-duty commercial and off-road vehicles as well as motorbikes.
"We are excited with the response to the new inductive position sensing technology we introduced last June for industrial motors, and we look forward to bringing its advantages to automotive customers with the new IPS2550," said Christian Wolf, vice president, Automotive Sensor Business Division. "The IPS2550 provides a slimmer and lighter contact-less sensor that continues to deliver the high performance and stability that automotive applications demand combined with the flexibility and ease of customization that enable businesses to manufacture their own resolver or magnetic sensor replacement cost effectively."
Featuring total stray field immunity, it delivers speeds up to 600 krpm (electrical) and is designed around the motor, accommodating both off-axis (through shaft and side shaft) and on-axis positioning. The number of sectors can be matched to pole pairs of the motor and cost-effectively boost accuracy compared with alternatives, says Renesas. It offers a complete motor commutation solution for traction motors, electronic power steering, starter generators and other motor applications when combined with the company's microcontrollers, gate drivers and motor drivers. See www.renesas.com.