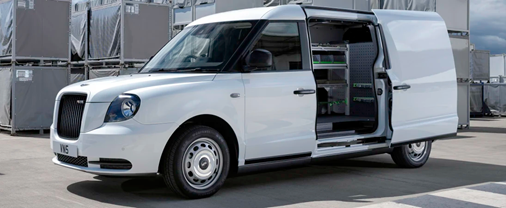 The mushrooming treasury of the Advanced Propulsion Centre in the UK is stimulating a flurry of e-powertrain and electric vehicle development across the country. The funds are helping beneficiaries such as Saietta Group and Magnetic Systems Technology Ltd (Magtec) to ramp up production of their permanent magnet motors, while supporting London Electric Vehicle Company (LEVC) efforts to scale to mass production of its electric taxis and delivery vans.
These are just a few of the projects that have already received funds. With a fresh pot of nearly £500 million just announced, many more will be coming as the APC strives to foster a comprehensive ecosystem of technology providers, product developers and manufacturing capabilities. Shown above is LEVC's recently launched VN5 electric delivery van, now coming off the line at the UK's only dedicated EV manufacturing plant.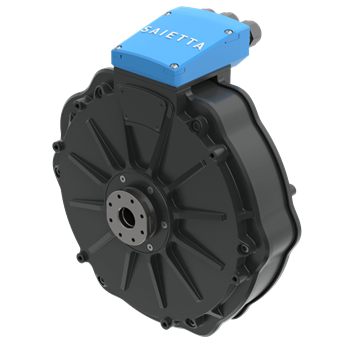 With help from the government funding to stimulate electric vehicle manufacturing, Saietta Group, a UK-based engineering firm that has developed a lightweight axial flux traction motor, is making progress toward ramping up to limited series production of its first commercial version. Targeting application in motorcycles and close-in delivery vehicles with its AFT 140 model, the company's basic design combines distributed windings and a yokeless stator. Last March it was awarded a research grant by the APC intended to fast-track the first stage of production process planning by creating the capability to manufacture up to 150,000 units per annum and initiate the recruitment of more engineering staff.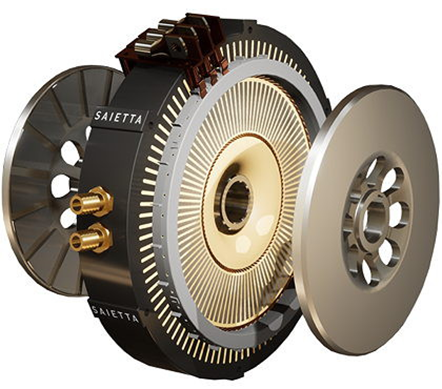 Saietta was formed in 2015 by the merger of the Indian-based motor manufacturer Agni Motors and the electric motorcycle developer, Agility Global, following a long partnership between the two companies. Its modular axial flux traction permanent magnet motors are sealed, brushless, zero-maintenance motors that can be scaled to high- and low-voltage applications from scooters to buses. The company currently employs about 40 people in the UK and 30 in India. It plans to sell its technology under license in Asia and other parts of the world. It also provides powertrain engineering services to vehicle OEMs.
Meanwhile, in November, the pot of government funds rose dramatically with the new pledge of nearly £500 million to be allocated over the next four years to accelerate to road to zero emission vehicles. New motors using novel magnetic designs and advanced manufacturing capabilities will likely continue to be key elements of the effort.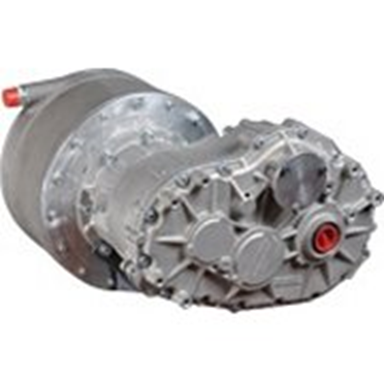 Another British motor developer that has been a participant in the APC programs is Magtec. Shown above is its P161 traction motor, designed for use in delivery vehicle and taxi applications. Available with 40kW to 80kW output power, it can be supplied with transverse gearbox and differential and is suitable for front wheel drive vehicles from 1.5 to 3.5 tonnes gross vehicle weight.
Certainly not new to e-mobility engineering, the company, formally known as Magnetic Systems Technology Ltd, designs and manufactures electric drive systems and components for a wide range of vehicle types including off-road multi-wheeled and tracked military vehicles. Established in 1992, it is the UK's largest supplier of hybrid and electric drive systems, the company says. With a specialty of design and manufacture of drive systems for commercial vehicles, at its base in Sheffield the company designs and manufactures an extensive range of high-performance permanent magnet traction motors, complete e-powertrains and permanent magnet generator systems.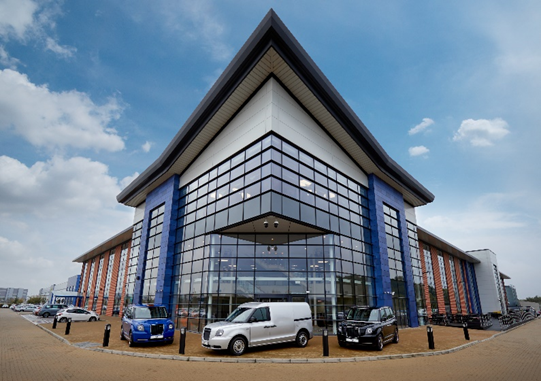 Vehicle OEMs, too, have become beneficiaries of the APC funding. A notable example is London Electric Vehicle Company (LEVC) as it makes an impressive scale-up to mass production of its e-taxis and e-delivery vans.
The funding is helping LEVC develop manufacturing technologies for electric vehicles at its new advanced manufacturing facility at Ansty, Coventry. Now into mass production of the company's newly launched delivery van, shown at top, as well as its e-taxis, the plant is the only dedicated EV manufacturing facility in the country.
For more info, see www.apcuk.co.uk, www.saiettagroup.com, www.magtec.co.uk, and www.levc.com.