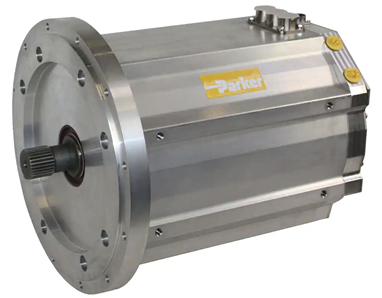 Using its new thinner lamination design, Parker Hannifin has added a new motor to its Global Vehicle Motor family of high-power, permanent magnet AC motors to provide traction power for on-road and off-road commercial electric vehicles and hybrid electric vehicles. Target applications include construction vehicles, city buses, light construction and materials and mining vehicles.
Built with rare-earth magnets, the synchronous GVM310 motor features Class H insulation of the stator winding rated with potting. Its high efficiency and low energy consumption allow compliance with stringent emerging energy legislation, the company says. Options with peak power values ranging from 147 kW to 409 kW are available.
It can also be run as a generator enabling battery management, longer duty cycles and energy savings of up to 30% compared to induction technologies. Low flux versions are made for high-speed applications, and high flux derivatives for low-speed applications.
The new thinner lamination design to reduce losses is one of the technical features of the GVM family that improve performance and enhance reliability. Others are a patented cooling system and a clean, oil-free design. When used in conjunction with the company's hydraulic pumps, the GVM family can also help engineers design electro-hydraulic pump solutions that allow the electrification of formerly purely hydraulic applications. See www.parker.com.