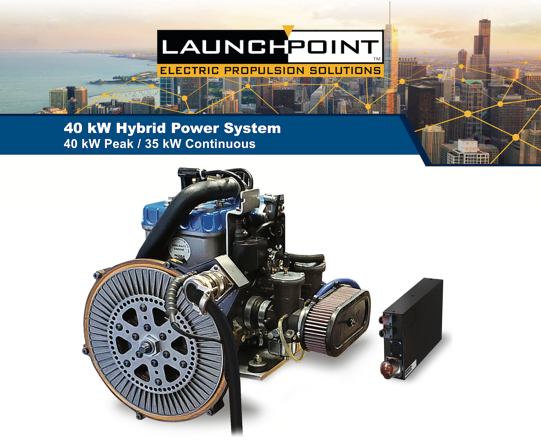 A new hybrid-electric generator system from LaunchPoint Electric Propulsion Systems, a startup located in Goleta, California near Santa Barbara, opens new possibilities in the fast-growing field of hybrid electric-powered flight. The move follows closely on award of development contracts from the U.S. Department of Defense and, in February, the company reported that a round of seed funding was oversubscribed.
Since starting as a new business in June 2020, LaunchPoint EPS has entered multiple contracts with commercial aerospace and automotive companies and secured grants from the U.S. Department of Defense to develop hybrid-electric flight technology and flying cars. The company was spun out from design engineering firm LaunchPoint Technologies in Goleta that began 30 years ago as Magnetic Moments, a scientific research and development enterprise.  
Among its innovations has been to develop high specific power, high efficiency electric machines for the demanding, high-reliability applications associated with hybrid electric UAV flight. The machines are an axial flux design based on dual-Halbach array magnet rotors and ironless stators. 
Brian Clark, director of engineering and program management, provides this detail about the new hybrid-electric generator. "LaunchPoint's patented electric machine utilizes ironless, axial-flux, dual-Halbach array technology," says Clark. "The dual Halbach magnet array is composed of precisely manufactured, ultra-high temperature grade, Neodymium-Iron-Boron (NdFeB) permanent magnets."
The company is currently selling two hybrid-electric propulsion systems, a 6kW hybrid-electric genset for drones and the 40kW genset for larger drone cargo and future air taxis, along with developing new products for the higher-power UAV and Advanced Air Mobility (AAM) markets. Firms in these markets are working to build electric and hybrid-electric cargo delivery as well as passenger-carrying aircraft.
Its HPS400 GenSet, shown at top, is a 40kW generator with the capacity to power large drones and flying vehicle missions that require extended ranges of flight. Until now, the 40kW market has been underserved, says the company.
"We're thrilled to announce the launch of this 40kW hybrid power system," said Rob Reali, CEO. "Given our work the past ten years in the space, we know this is a product that the market wants and needs, and we're excited to see how quickly the AAM markets continue to adopt our hybrid electric propulsion systems."
The market is bustling. The company notes that one use of its fresh seed funding will be to expand the company's patent portfolio, providing growing protection for the firm's engineering breakthroughs within an expanding field of international competitors. Another use will be for boosting its manufacturing capability. Demand for electric flight propulsion systems is rising rapidly and LaunchPoint expects that trend to continue, Reali said.
The company recently received a $1 million Small Business Innovation Research grant from the U.S. Army to develop technology for hybrid-electric flight. The U.S. Department of Defense also recently awarded LaunchPoint and its partner Georgia Tech two contracts to help develop flying car technology for the U.S. Air Force's Agility Prime program.
Additionally, it is collaborating with the U.S. Department of Energy's National Renewable Energy Laboratory in Colorado under a Cooperative Research and Development Agreement to explore advanced manufacturing techniques for its lightweight aerospace motors. The company also reports that it has secured multiple commercial contracts and orders with aerospace and automotive companies. For more info, see www.launchpointeps.com and www.launchpnt.com.