Amidst surging commitments to electric vehicle production, the world's leading automakers are embarked on a stunning transformation of their design and manufacturing operations. Around the globe, the trend is destined to bring tons of magnets and electrical manufacturing infrastructure to factory floors while heightening attention to magnetic technology at automotive design centers. Looking at the efforts of several companies including Daimler, Volkswagen, Ford, Volvo, Jaguar Land Rover, Tata Motors, GM and BMW reveals an astounding transition in pursuit of e-propulsion.
In other reports, we have focused on the shift to electric drivetrains at top-tier automotive suppliers where much of the manufacturing action will take place. Even more dramatic changes are coming together also at the sprawling, in-house facilities of the auto companies themselves.
A prime example is Daimler's Untertuerkheim site near Stuttgart, depicted above and below, that will become a technology competence center with a campus focusing on electric drive and battery technology as part of the company's "Electric First" long-term plan. The site will focus on research, development and production ramp-ups of new drive systems. Conventional engine, transmission and component production will gradually be phased out in favor of battery and electric drive technologies.
The new Mercedes-EQ model is a hallmark of the Mercedes-Benz production network going electric. Six new EQ launches are planned by 2022. Initial manufacturing is already underway. They are planned to roll off the assembly lines of the company's Sindelfingen plant in Germany in the first half of this year with more production of them planned soon after at other plants in Germany, China, Hungary and Tuscaloosa, Alabama in the U.S.
Typically, the company's production network is integrating its Mercedes-EQ models into series production in its existing plants. Shown below is "the wedding" at the Raastat plant in Germany where the electric drive train and body of a new compact SUV EQ model are being assembled.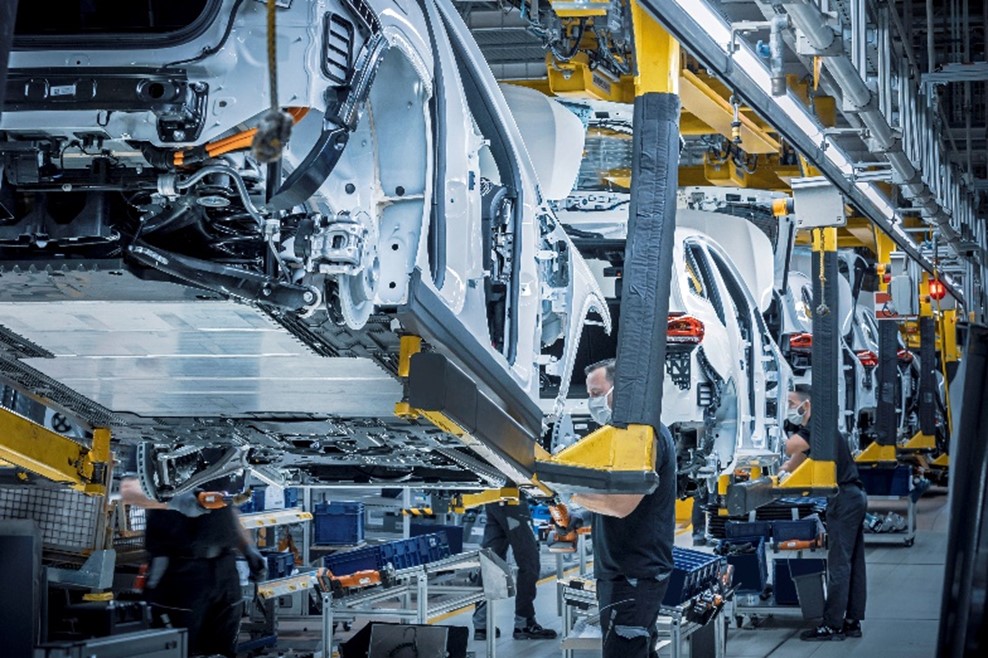 Trucks are part of the Daimler evolution, too. Its medium and heavy-duty electric trucks are based on the company's global ePowertrain platform architecture. At the technological heart is an e-axle with integrated e-motors including transmission which is an in-house development.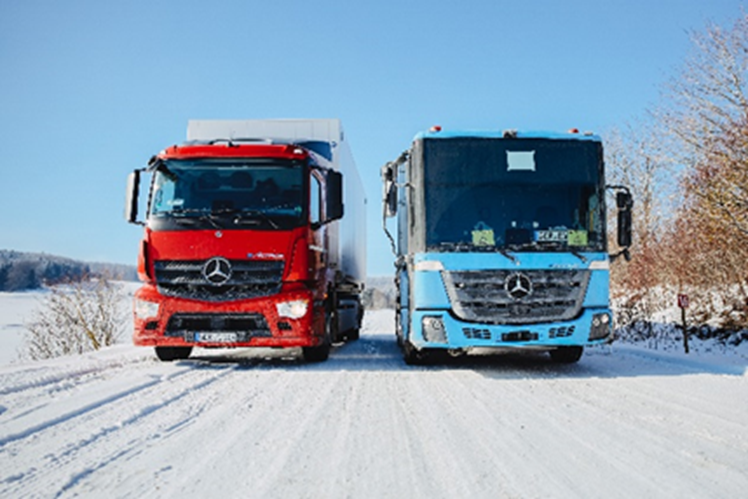 The company's eActros are set to go into series production this year, followed next by its eConic trucks for waste collection, at the Woerth plant in Germany alongside the continuing manufacture of trucks with combustion engines, according to Peter Smodej, technology and regulatory communications manager with Daimler Trucks in Stuttgart, who provided Magnetics Magazine with an update about the truck programs.
"Thanks to the modular concept and the high adoption rates of components from the conventional powertrain, we can specifically adapt the ePowertrain to different markets, segments or vehicle types," said Smodej.
Meanwhile, Daimler Trucks North America has announced that its proprietary Detroit ePowertrain will power the upcoming Freightliner eCascadia and Freightliner eM2. It is also part of Daimler Trucks' global platform strategy to establish a uniform basic architecture for their broad line-up of battery-electric vehicles around the globe. The company plans to make a $20 million dollar investment in the Detroit manufacturing facility in Michigan which will serve as the North American source of Detroit ePowertrain components.
Volkswagen accelerates plans for E-car production
Volkswagen is working flat out to expand its global production network for electric cars. It delivered about 134,000 pure e-cars last year and aggressive growth is planned. In late March, VW announced that it is accelerating its move away from the internal combustion engine, expecting fully-electric vehicles to make up more than 70% of its European sales by 2030, doubling its earlier target of 35%. By the same year, VW is hoping for electric to make up over half of its sales in USA and China.
Dresden is already the fourth location worldwide where the Volkswagen brand produces purely electric models based on its MEB (Modular Electric Drive Kit) architecture. E-manufacturing facilities are in operation or under construction at a total of eight locations. And while Dresden is a relatively small site, the other MEB plants in Zwickau, as well as Anting and Foshan in China represent large volumes.
The Zwickau plant was the first site to start MEB production at the end of 2019. The facility has completed a full transformation from 100% internal combustion to 100% electric. Production is currently being ramped up step by step, with around 800 all-electric ID.3 and ID.4 models being produced there per working day. Further electric models from Audi and Cupra will be added in the course of the year. As a pure e-car plant, Zwickau will be able to produce up to 1,500 vehicles per day or 330,000 vehicles per year at its peak.
The plant in Anting is a pure e-car plant and the world's first newly built MEB plant by Volkswagen. In the future, the Foshan plant will be able to build both conventional models with combustion engines based on the MQB platform and purely electric MEB models on a shared production line. Both plants were fully brought up to series production within just two years and each has a maximum production capacity of 300,000 units per year.
Together, Volkswagen's four MEB plants in Zwickau, Anting, Foshan and Dresden have a maximum production capacity of more than 900,000 vehicles per year. Added to this is the Skoda plant in Mlada Boleslav, which has also already started MEB production. In the future, up to 350 all-electric Skoda ENYAQ iV vehicles will roll off the production line there every day.
All MEB plants are still in the ramp-up phase. In the future, however, this production network will have a maximum production capacity of up to one million e-vehicles per year. And with Emden, Hanover and Chattanooga (USA), the next sites are already preparing for MEB production. The first vehicles are expected to roll off the production lines there next year.
Rotors and stators made at Salzgitter component plant
In addition to the vehicle-producing plants, Volkswagen Group Components plants are also repositioning themselves for e-mobility. The plant in Kassel, for example, supplies electric drives and platform parts for the MEB architecture. The core elements of electric motors – rotor and stator – are supplied from the Salzgitter components plant which also is the site of a battery technology center.
Next, how Volvo is investing to design and develop electric motors in-house in pursuit of going fully electric by 2030, and the latest developments at other auto OEMs including Ford, Jaguar Land Rover, Tata Motors and GM.