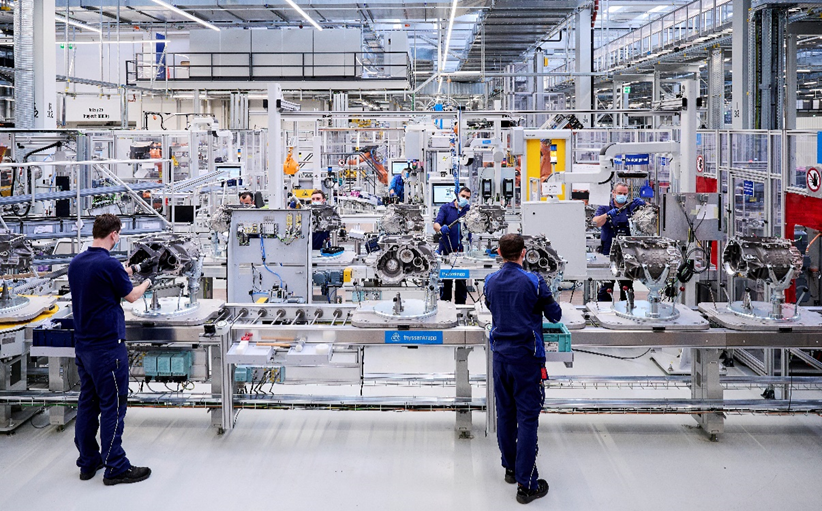 As BMW Group continues to increase production capacity for its new electric motors and integrated drive systems at its Competence Centre for E-Drive Production at Dingolfing northeast of Munich, it is also ramping up capacity for e-drive production at additional locations. The company recently released more details about its massive electromobility buildup, much of which is centered around its in-house designed and manufactured highly integrated motor and powertrain.
"We expect at least 50 percent of the vehicles we deliver to our customers worldwide to be electrified by 2030. To achieve this, we are relying on our extensive in-house drive train expertise: We are increasing capacity at existing drive train production locations in Dingolfing and developing capabilities at others like recently in Regensburg and Leipzig," explained Dr Michael Nikolaides, senior vice president, Production Engines and E-Drives, BMW Group.
BMW is investing more than €500 million to expand production capacity for e-drives at its Dingolfing location alone between 2020 and 2022. From 2022, it will produce e-drives for more than half a million electrified vehicles. The company plans to invest a total of around €790 million to expand capacity for electric powertrain components at its Dingolfing, Leipzig, Regensburg and Steyr locations between 2020 and 2022.
The output and energy content of drive units and high-voltage batteries with the company's latest eDrive technology can be flexibly scaled to different model variants. Each vehicle uses up to two highly integrated e-drives, which combine the electric motor, power electronics and transmission in a single housing.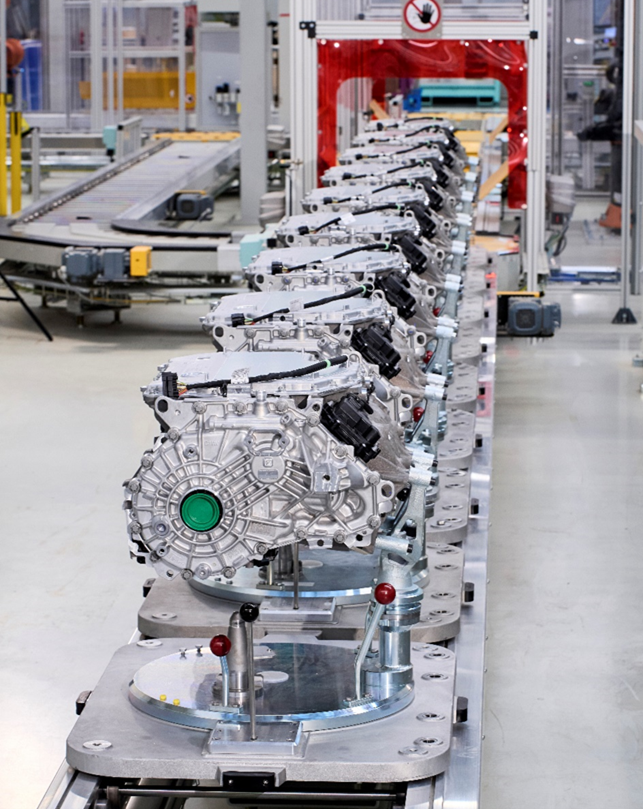 The motor has been built in Dingolfing for the BMW iX3 since 2020. While it relies on magnetic materials and technology, it is based on the design principle of a current-excited rotor so does not require any materials classified as rare-earth metals. The powertrain is comprised of a drive unit in which electric motor, system electronics and transmission are brought together into a central housing. As a result, the required installation space of the drive technology and its weight are considerably reduced. The ratio between motor output and weight of the drive system improves around 30 percent compared to the previous generation.
Following extensive expansion, the Competence Centre for E-Drive Production now provides a usable area of 125,000 sq. m. This is where the company manufactures electric motors and the components needed for them, as well as high-voltage batteries and battery modules. The first production lines for electric motors and high-voltage batteries for plug-in hybrids went on-stream there in 2014 and the centre has been steadily growing ever since with highly automated and flexible production lines.

Between now and 2025, BMW plans to increase sales of fully electric models by an average of well over 50 percent per year, more than ten times the number of units sold in 2020. In total, over the next ten years or so, BMW expects to be releasing about ten million fully electric vehicles onto the roads.
Amidst the efforts, big changes in leadership will soon take place at several of the group's major plants as its production locations in Munich, Oxford and Spartanburg will have new plant directors beginning in September, in some cases also spreading around its e-mobility manufacturing expertise.
"All three are proven experts with extensive process know-how, years of experience and, not least, excellent leadership qualities. I am certain these colleagues will rigorously implement our key future projects – the transformation of electromobility, digitalisation and sustainability, said Milan Nedeljkovic, member of the Board of Management of BMW AG responsible for production.
With the retirement of Knudt Flor, Robert Engelhorn will take over the management of what is currently the BMW Group's largest production location, in Spartanburg, USA, which produces the majority of BMW X vehicles. Last year, despite restrictions due to the pandemic, its production volume totaled more than 360,000 vehicles. Engelhorn is currently in charge of the main plant in Munich.
He hands over to Peter Weber, the current head of Plants Oxford and Swindon. Weber brings his experience from handling the launch of the fully electric Mini Cooper SE to Plant Munich, where the first BMW i4 will come off the production line this in mid-year 2021. Markus Grueneisl, currently responsible for various production management departments at headquarters, is moving to the UK to take over from Weber as the future head of both plants.
Training is a big part of the effort to transform to e-mobility manufacturing. Dingolfing centre currently has almost 1,400 employees. By the end of 2021, around 1,900 employees are expected to work in e-drive production there. Production employees receive specialized training at the in-house learning centre. Staff knowledge and skills are being expanded specifically to include new electromobility technologies, with a training concept that is constantly updated. The training sessions are held in the classroom, at practice workstations and directly on the production lines.
"The learning centre takes a holistic approach that supports employees throughout their professional development and further education, from their first day in production," reports Dr Sven Jochmann, head of Production E-Drives Dingolfing, Landshut, Regensburg, Leipzig.