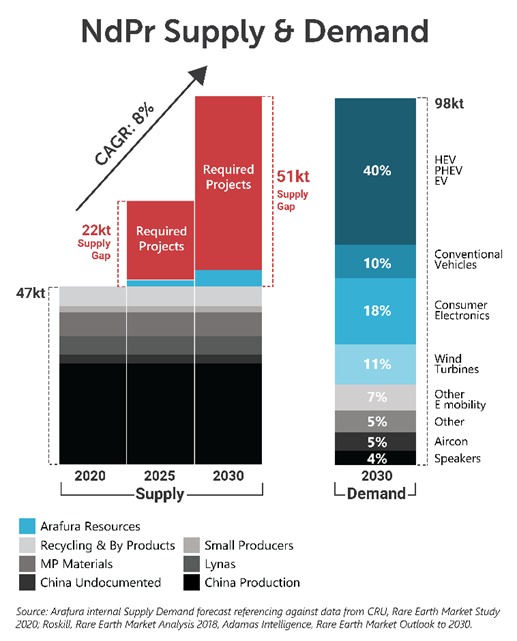 By 2030 annual production of EVs is expected to increase roughly ten-fold to 25-30 million, creating a need to more than double global supply of the rare earth elements, neodymium and praseodymium (NdPr), to meet the EV traction motor market requirement.
Another industry sector receiving significant government incentives to meet CO2 reduction targets is renewable energy and the deployment of wind turbines, particularly offshore projects which have high demand requirements for NdFeB magnets.
These two applications, along with increased demand for NdFeB magnets from general e-mobility, industrial automation and consumer electronics, sees a consensus of analysts forecasting a global demand requirement of approximately 98,000 tonnes NdPr oxide by 2030. Presently, it is challenging to see where an alternative supply response to meet the projected supply gap of 51,000 tonnes NdPr oxide will come from – NdPr has become an indispensable commodity for a sustainable green energy future.
Companies participating in these industries are needing to position themselves to compete and maintain or increase market share and are now giving strategic consideration to the entire supply chain to ensure their growth aspirations are sustainable. In the NdPr market, where there is a looming wave of demand and supply response uncertainty, supply chain risks may emerge with security of supply, price escalation, ESG reputational risk and geopolitical market control of concern.
Against this backdrop, advanced strategic projects such as Arafura Resources' Nolans NdPr Project in the Northern Territory of Australia are well placed to move into production. Nolans is fully permitted and ready to construct and is now advancing sales agreements with tier one end-use customers for its
NdPr rare earth metal product which will support a strategic mine to NdFeB magnet supply chain solution.
The Mineral Resource at Nolans supports a 38-year life of mine and at full capacity will produce 4,400 tonnes of NdPr oxide, feeding into a value chain that will supply approximately 12,000 tonnes of NdFeB magnets to customers. If the project funding schedule is achieved, Nolans will be in production as early as 2025, with a ramp-up period to bring the project to full capacity by 2027.
The Nolans ore to oxide project, including waste management at site, has a capex of approximately US$768 million and will include beneficiation, extraction and separation plants, to produce an NdPr Oxide, a SEG/HRE Oxide and Phosphoric Acid by-product. The NdPr Oxide feed will be further upgraded via toll processing in South-east Asia to produce a saleable NdPr Metal product for customers to direct to their preferred magnet manufacturer.
"Tier-one companies that have long-visioned strategic recognition of their demand requirements and are sensitive to growing stakeholder ESG interests have been very receptive to our supply chain model," says ARU General Manager Sales and Marketing, Lloyd Kaiser.
Nolans has all the necessary approvals in place and will be developed and operated in a tier one jurisdiction where there are high environmental and social standards with compliance to a rigorous regulatory framework. Customers will be able to establish complete supply chain traceability from mine to magnet and be confident the NdPr used in their magnets will be from Arafura's ESG certified mine and processing plant.
In May, Federal Ministers of the Australian Government pledged support for the Nolans Project with Export Finance Australia (EFA) issuing a conditional letter of support to provide Nolans with up to A$200 million in long-tenor debt funding.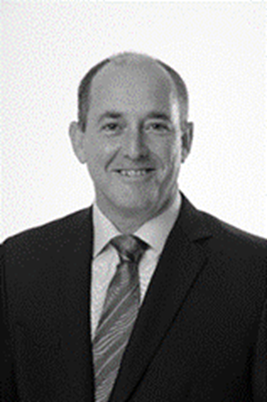 Arafura Managing Director Gavin Lockyer commented: "We continue to see positive signs that the Australian government is serious about supporting the development of critical minerals projects and downstream processing capacity within our borders. The proactive stance from Australian Federal Government Ministers has been extremely encouraging. For Arafura specifically, the $200m letter of support received from EFA was an important first step in lining up funding for Nolans and we remain in discussions with them and others as we look to formalise arrangements ahead of a Final Investment Decision in the second half of 2022."
Arafura is aiming for Nolans to be one of the most environmentally sustainable rare earth projects globally and has recently applied for membership to the UN Global Compact and Initiative for Responsible Mining Assurance (IRMA), and committing to independent, third-party reporting of environmental, social and governance (ESG) performance.
An important first step in the company's carbon reduction journey has been applying for a permit to use land close to the process plant site for the construction of a solar farm to offset natural gas power consumption. Other initiatives to reduce greenhouse gas emissions are currently being undertaken as part of a study that will also set interim targets on the company's journey toward net zero carbon emissions.
"Commitment to the sustainable development and operation of Nolans is a core principle and goal of the Arafura Board of Directors, our shareholders and all our employees. This first step represents our commitment to an unending journey of striving to leave the world a better place than before we started," said Mr Lockyer.
The global transition to e-mobility is now showing strong fundamentals with Governments around the world offering attractive incentives and industry responding with significant investment in manufacturing capacity and product offerings.
Analysts now have far more concrete data to base their forward market projections, with most in recent months revising upwards and bringing forward their NdPr market demand scenarios. The emergence of Arafura as one of the next strategically significant suppliers of NdPr to the world looks a strong bet. For more info, see www.arultd.com.