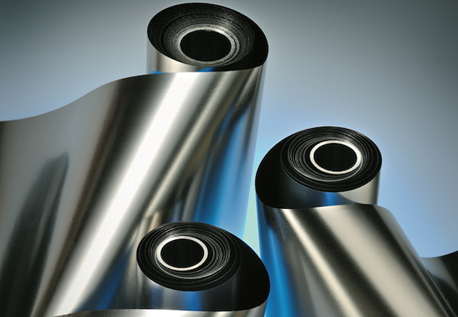 Metglas has commercially launched its ultra-low core loss electrical steel for use in high-efficiency distribution transformers. Development of the alloy was announced early last year by parent company Hitachi Metals and initial samples were provided to manufacturers.
HB1M-LL is a new domain refined ultra-low core loss amorphous electrical steel product developed for use in the next generation of high efficiency distribution transformers. Reduction of core losses between 20-40% over standard amorphous metal is achieved by mechanically scribing the surface of Metglas HB1M alloy laminations.
While more expensive at the manufacturing stage than traditional options, the steel generates considerable savings for electric utility users over the lifetime of a transformer, emphasizes the company. Typical magnetic properties at 1.42 Tesla include 60Hz frequency, core loss of 0.19 watts/kg and exciting power of 0.6 VA/kg.
Located in Conway, South Carolina, Metglas produces an amorphous metal alloy that exhibits a structure in which the metal atoms occur in a random pattern. The key to the company's manufacturing process is the rapid solidification of molten alloy at a rate of approximately one million degrees Celsius per second, yielding a non-crystalline structure. The alloy possesses excellent physical and magnetic properties that combine strength and hardness with flexibility and toughness. For more info, see www.metglas.com and for an earlier report about the product, query for the company's name in www.MagneticsMag.com.