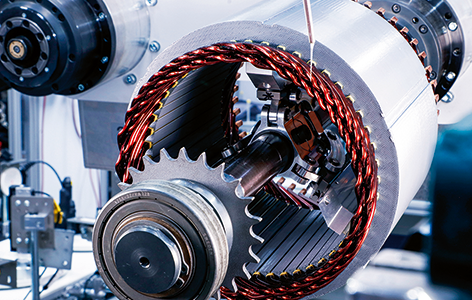 Automotive supplier GROB is charging ahead to position itself as a leading provider of electrification powertrain machinery. Systems for batteries and e-drives are both in the mix, the latter involving extensive magnet and motor production technology.
The trickle machine developed by GROB sets new standards in the assembly of electric machines and once again demonstrates it's extensive know-how in the field of electric mobility, the company says. It is part of a plant that consists of flexible production cells and enables a rotating transfer between the trickle and curing process by means of a specially developed transfer gripper. Thus, process steps can be optimized, separated from each other, and the cells can be designed modularly.
In the production of stators for electric motors, impregnation is the final manufacturing step and serves as secondary insulation. In order to increase the power density of the stators, all air bubbles within the wire windings are displaced with insulating material, since within these air inclusions the heat dissipation is disturbed and hotspots could develop. In addition, the copper windings should be fixed so that there is no more relative movement between the individual wires and damage to the windings can be prevented. Furthermore, the impregnation process has a particular influence on the electrical parameters such as capacity and partial discharge.
The GROB trickling machine
In addition to impregnation, the trickle or heated dip process is usually used in electric mobility. GROB has decided to use the trickle method. This is used both for applying resin to the winding and to the spaces in the groove, as well as for mechanical fixation and electrical insulation, thus improving heat dissipation. The trickle process has the advantage that the resin is only applied to the wire winding and the stator core does not have to be cleaned after the impregnation process.
The new trickling machine developed by GROB consists of individual flexible production cells. The specially developed transfer gripper enables the rotating transfer between the trickling and curing process. Thus, the process steps can be separated from each other and the cells can be built up modularly. Due to the modular design, it is also possible to integrate processes such as whirl sintering or gel coating into the overall process and to combine the curing processes of two processes. In addition, several product designs can be run on one system, whereby the changeover takes place in a cycle time neutral manner.
The core process "rotating transfer" was set up in the form of a test stand at GROB, so that the system could be thoroughly tested before receiving several series orders.
With the factory's own trickle machine, GROB has already manufactured more than 2,500 stators to customer order and determined parameters for series production. In close cooperation, GROB supports its customers here in the testing of their part designs. Simultaneous engineering is used to verify whether the trickle process is also suitable for series production. "Well-known OEMs and Tier1 have already drawn on our expertise," reports Florian Sackl, GROB team leader in a presentation, "Development Impregnation Technology, Innovation Management/E-Mobility."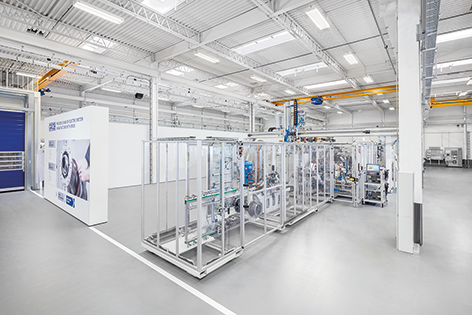 Against the background of its decades of experience in the manufacture of highly efficient production and assembly systems, GROB has been investing heavily in the field of electric mobility for more than six years. With its large number of new developments, GROB says that it is in an excellent position to cope with the constant technological changes in alternative drive systems and to meet the requirements of the automotive industry and its suppliers. Nearly all major automobile manufacturers in Germany including Volkswagen, BMW and Daimler, as well as the American automobile manufacturers Ford, Tesla and General Motors, as well as Renault/Nissan in France and auto companies in Asia, rely on electric mobility manufacturing by GROB. Other automotive suppliers such as Valeo Siemens do, also. Due to the currently extremely good market response, the company expects that sales in its New Technologies business unit (e-mobility, battery modules, battery cells) will continue to grow disproportionately within the GROB Group.
Tailor-made solutions for all customer requirements
Despite the global turbulence in the first half of the year, more than 15 stator and rotor projects for complex assembly systems as well as prototype orders for the delivery period 2020/2021 have so far been won. In recent months, the combination of concentrated know-how and creative solutions has led to rapid further development and optimization of GROB hairpin technologies for the stators of electric drives. A wide variety of sheet metal packages and complex Hairpin wire requirements are processed with customized concepts in systems suitable for large-scale production, proving that GROB is the right partner in electric mobility.
The large machine park at its Mindelheim site enables extensive services for the construction of prototypes, as well as the joint design of customer products, from planning to the final implementation of assembly systems covering a wide range of technical solutions for stators, rotors, e-machines including complete e-axles. This spring the Technical Application Center for E-Mobility at its Chinese plant in Dalian based on the model of Mindelheim was inaugurated in order to be able to manufacture stator prototypes for the Asian market.
After years of intensive research and development work, GROB believes it has firmly established itself as an important supplier in the manufacture of electric powertrain systems. This summer it was awarded the VW Award by the Volkswagen Group as the best supplier in the field of "electric mobility".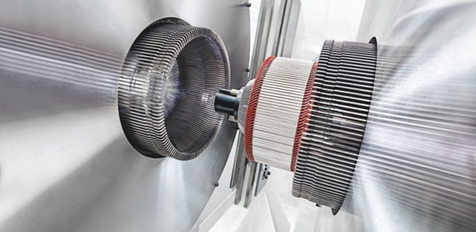 E-Mobility Journey
Against the background of its decades of experience in the manufacture of highly efficient manufacturing and assembly systems and the emerging paradigm shift in the automotive industry, GROB has been investing heavily in the field of electromobility for five years now. A decision that was still risky for many at the time, GROB has now become a market leader and recognized business partner for electric mobility.
First VW Group Award for E-Mobility
This makes it all the more remarkable for GROB to receive the VW Group Award for E-Mobility in the summer of this year in this still young division for both companies. "Our company has previously been recognized for many outstanding achievements by our employees," said German Wankmiller, chairman of the board & CEO of GROB, at the award ceremony. "But never before have we received an award in the "Electromobility" category. An award that particularly honors us and confirms our decision to have invested in this new business segment." The award relates to a major project for an electric drive platform from Volkswagen in China, the largest Asian market.
Extensive product range with strong market response
The GROB product portfolio ranges from complex assembly systems for stators, rotors, and electrical machines to the assembly of the complete electrical axis. The range also includes battery module assembly, the construction of a laboratory system for battery cells, and the further development of assembly systems for fuel cells. Particular focus is placed on in-house prototype production of an electric motor with hairpin technology, continuous hairpin, or insertion technology.
Seven assembly lines with hairpin technology, one assembly line with shaft winding technology, and several assembly lines for the rotor, including assembly of rotor, stator and gearbox, with a total of seven lines, have already been delivered. Since the establishment of GROB Italy in 2016, ten systems with insertion technology have already been implemented and five systems were acquired for battery module assembly. GROB already generates a quarter of its turnover in this new business segment – and the trend is upwards.
DMG meccanica acquisition
In acquiring DMG meccanica in 2017, the Italian specialist for winding and insertion systems for stator production, GROB further expanded its capabilities for series production of hybrid and electric drives in the automotive industry.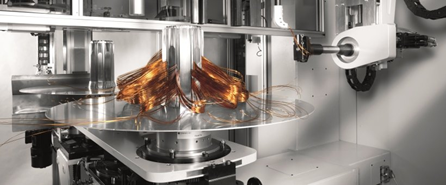 Winding technologies of GROB
GROB develops and produces machines and systems for the large-scale manufacture of electric motors. At its sites in Mindelheim and Turin, engineers work on various winding technologies for round and rectangular wires, depending on drive and motor size. The product range spans from stand-alone, semi-automatic machines through to fully automated turn-key projects.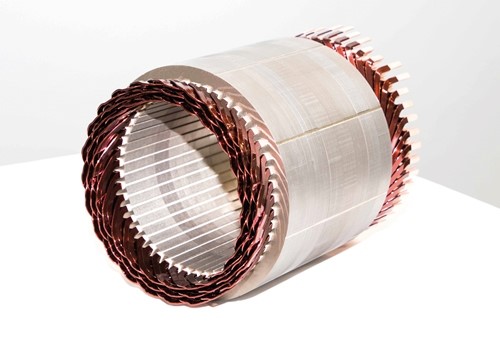 Stator production with hairpin technology
GROB offers an extensive product range for hairpin stators in various sizes. An innovative bending concept creates extreme flexibility and diversity without tool change for a batch size of 1.
Stator production with continuous hairpin
The advantages of the continuous hairpin lie in the economic feasibility of high numbers of slots with large inside diameters. This technology makes small wire cross-sections easily manageable and eliminates the need for complex circuitry. GROB offers two processes for producing the wire mat for the continuous hairpin: Sword winding and flat winding.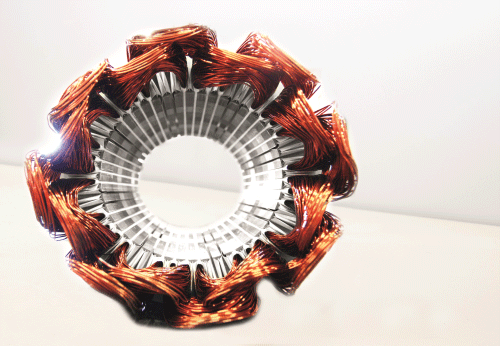 Stator production with insertion technology
For decades now, GROB Italy has been offering insertion technology with round wire with fully automated manufacturing stations.
Flyer winding: The coil is created when the flyer carrying the round wire rotates around a stationary template.
Template-based winding: The coil is created when the round wire is wrapped around a rotating template.
Stator and rotor production with needle winding
GROB Italy develops systems for needle winding technology with round wire that are capable of producing both stators and rotors. A new plant in Italy was recently opened. "With the completion of our new GROB plant in Italy, we finally have the structures that we urgently need not only to successfully serve the Italian market, but also to secure the international electromobility business for us in the area of coil-inserting technology," said Christian Grob.

For 90 years now, GROB, as a family-owned company headquartered in Mindelheim, has been a leader in designing and building highly-innovative production and automation systems and now operates in plants all over the world.