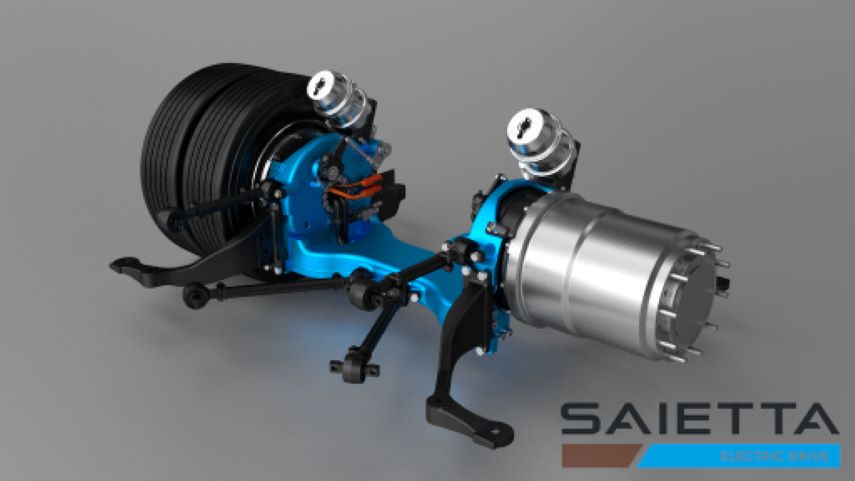 Saietta Group, specialists in high-tech advanced e-mobility propulsion, recently announced the 100% acquisition of e-Traction Europe B.V. (e-Traction) from Evergrande New Energy Vehicle Group. The move accelerates Saietta's growth strategy by adding new commercial and technical capabilities and an established power electronics production facility.
Netherlands-based e-Traction is a designer and supplier of electric drivetrains for heavy goods vehicles (HGVs) and buses, as well as a designer and manufacturer of high voltage power electronics, including inverters and control systems.
The acquisition of e-Traction advances the development and commercial deployment of Saietta's high voltage AFT (Axial Flux Technology) electric motor designs, and brings additional product variants into Saietta's portfolio – encompassing complementary power electronics and heavy-vehicle drivetrains.
The addition of e-Traction's e-axle technology in particular complements the work already done by Saietta on its high-voltage AFT 190 electric motors. As a complete e-powertrain package that uses permanent-magnet axial flux motors, this extends the application range of Saietta from scooters to buses and will help to bring affordable electric propulsion to places gripped by chronic air pollution – one of the company's founding business goals.
"This acquisition will allow Saietta to accelerate its business plan by several years, adding not just commercial and technical capability but also extending our IP portfolio and acquiring an operational power electronics production facility," said Wicher Kist, Chief Executive Officer at Saietta.
"I'd personally like to thank e-Traction Managing Director Steven Hsieh for his work on this opportunity. Steven will continue to play an important role developing routes into the Chinese market for our combined high voltage tech offering, as well as supporting the Saietta board with our ongoing expansion in other key Asian markets."
"The entire team at e-Traction has over 10 years of successful experience in the design, manufacture, sale and supply of complete e-axle and electric drivetrain systems with millions of kilometres of real-world in-service road miles and established power electronics competence and manufacturing capability.
"We are delighted to welcome them to Saietta, in order to both accelerate the current roll out of Saietta AFT into high voltage products and also to access the wider and lucrative commercial and HGV markets," he added.
Edgar Ooijman, e-Traction's Chief Commercial Officer adds; "By being part of the Saietta Group, e-Traction has found the strategic partner we were looking for. We're both fully dedicated to electric motors and drivetrains in the mobility sector and have complementary skills. I'm excited to connect our high level of experience in e-axle and high voltage components to the strategy of Saietta. It's a good fit and will boost our combined presence in multiple market segments."
All current e-Traction employees will join the Saietta team, bringing with them many years of experience in designing, manufacturing and marketing specialist electric drivetrains. The Netherlands-based employees will remain located at the existing R&D and workshop facilities in Apeldoorn.
More information is available via the Saietta Group website: www.saiettagroup.com