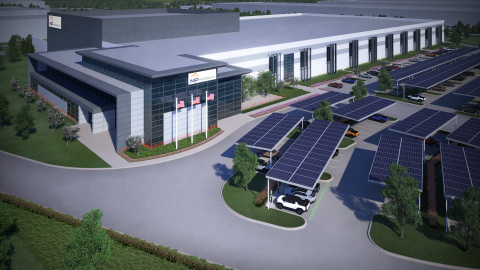 MP Materials Corp announced that it will build its initial rare earth (RE) metal, alloy and magnet manufacturing facility in Fort Worth, Texas. The company also announced that it has entered a binding, long-term agreement with General Motors (NYSE: GM) to supply U.S.-sourced and manufactured rare earth materials, alloy and finished magnets for the electric motors in more than a dozen models using GM's Ultium Platform, with a gradual production ramp that begins in 2023.
In Fort Worth, MP Materials will develop a 200,000 sq. ft. greenfield metal, alloy and neodymium-iron-boron (NdFeB) magnet manufacturing facility, which will also serve as the business and engineering headquarters for its growing magnetics division, MP Magnetics. The facility will create more than 100 skilled jobs and be located in the AllianceTexas development owned and operated by Hillwood, a Perot company.
MP's initial magnetics facility will have the capacity to produce approximately 1,000 tonnes of finished NdFeB magnets per year with the potential to power approximately 500,000 EV motors annually. The NdFeB alloy and magnets produced will also support other key markets, including clean energy, electronic and defense technologies. The facility will also supply NdFeB alloy flake to other magnet producers to help develop a diverse and resilient U.S. magnet supply chain.
"MP Materials has built an exceptional magnetics team and important commercial relationships that will accelerate our mission to restore the full rare earth supply chain to the United States," said MP Materials Chairman & CEO, James Litinsky. "This is a momentous occasion for the reshoring of the American supply chain, and we are grateful for GM's confidence, commitment and leadership."
NdFeB Magnets Are Essential to Modern Tech
NdFeB permanent magnets are critical inputs to the electric motors and generators that enable EVs, robots, wind turbines, drones, defense systems and other technologies to transform electricity into motion and motion into electricity. Although development of permanent magnets originated in the United States, the U.S. has virtually no capacity to produce sintered NdFeB magnets today.
Like semiconductors, which became linked to virtually every aspect of life as computers and software proliferated, NdFeB magnets are fundamental building blocks in modern technologies and will increase in importance as the global economy electrifies and decarbonizes. Adamas Intelligence, an independent research firm, expects global NdFeB demand to double by 2030 driven largely by increased production of EVs.
Scaling Domestic RE Magnet Production to Support the EV Revolution
MP Materials' initial Fort Worth metal and magnet facility is deliberately sized to achieve commercial economics at the minimum required scale. This measured approach will enable MP Materials to refine its production processes and technologies, and apply learnings to future, higher volume facilities.
MP Materials' Fort Worth facility will consume less than 10% of the 6,075 tonnes of NdPr oxide MP Materials expects to produce annually at Mountain Pass. The company envisions building additional alloy and magnet capacity in the future to consume a greater percentage of its primary production and supply growing U.S. demand.
Environmental Sustainability & Recycling
MP Materials' operations spanning California and Texas will provide certainty of provenance and sustainability. Mountain Pass is a closed loop, zero-discharge RE production facility with a dry tailings process that recycles more than one billion liters of water per year. The facility operates in full compliance with U.S. and California environmental regulations.
The vertically integrated nature of MP's operation also provides flexibility to optimize recycling pathways using a first principles approach. Waste generated during the alloy and magnet production process will be recycled. End-of-life magnets can also be re-processed into high purity separated RE oxides at Mountain Pass. The recycled oxides can then be refined into metal and, once again, produced into high performance magnets. MP's vertically integrated operation also allows for the development of more novel recycling pathways that shortcut these traditional approaches. The company is currently developing end-of-life, circular recycling concepts with significant commercial entities.
MP Materials (NYSE: MP) is the largest producer of rare earth materials in the Western Hemisphere. The Company owns and operates the Mountain Pass Rare Earth Mine and Processing Facility (Mountain Pass), the only rare earth mining and processing site of scale in North America. MP Materials produced approximately 15% of the rare earth content consumed in the global market in 2020. Separated rare earth elements are critical inputs for the magnets that enable the mobility of electric vehicles, drones, defense systems, wind turbines, robotics and many other high-growth, advanced technologies. More information is available at https://mpmaterials.com/.