The intricacies of hairpin windings and segmented magnets for electric vehicle motors are not usual fare at the Consumer Electronics Show in Las Vegas but this year they were on display as Marelli showed its powerful 800-volt eMotor. The showcase was part of the company's exhibition of its latest technology for lighting, sensing, electronics, interior and electrification for the automotive industry.
Visitors to the company's hospitality suite could view the motor, even take a spin in a Porsche Taycan to feel first-hand the power of 800-volt propulsion. Marelli's inverter technology for both cars and motorcycles were also on display, along with its eAxle.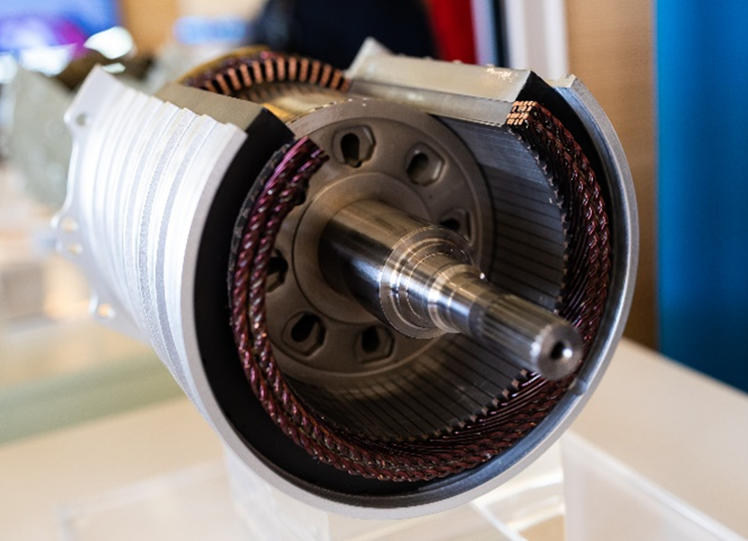 A top-tier supplier to the automotive industry, Marelli has been developing e-motors more than ten years. Its product range includes both 400-volt and 800-volt motors featuring 3-phase permanent magnet synchronous technology, high torque density, high-performance cooling system and speeds up to 25,000 rpm. It was the first to market with 800V applications in 2020.
It has developed three basic configurations of the 800V: a front version with maximum power of 175 kw and maximum torque of 280 Nm; a rear short motor with maximum power of 369 kw and maximum torque of 540 Nm; and a rear long version with maximum power of 340 kw and maximum torque of 328 Nm.
The stator uses hairpin winding technology with the flexibility to vary the number of hairpins per slot and top-level slot hairpin fitment capability in the range of 70-85%. The variable thickness of the laminations improves the thermal heat transfer between bar-to-bar and bar-to-iron.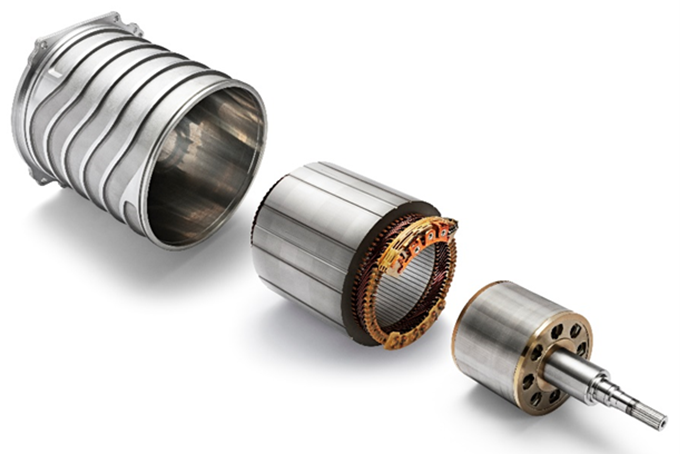 In the rotor, high performance and efficiency is achieved by the combined optimization in the choice of the magnets and rotor geometry. Heat exchange design optimization is achieved through the use of variable thickness laminations. Noise, vibration, and magnetic cogging are all reduced by optimizing the skew of the laminate stack.
Flexible dimensions and phase configuration include variable stator active length, modular stator outer diameter, variable number of hairpins per slot and variable rotor geometry. In its current versions, Marelli uses specific segmented magnets to reduce the effect of magnets losses. Each magnet can be segmented in different sub-blocks to reduce the eddy current losses and each sub-block must be electrically insulated by the other and by the iron stack.
Another design feature is Marelli's technique for reducing risks due to shaft current. During normal operation, an eMotor shaft may be at a different potential in respect to the eMotor chassis, which is directly connected to the vehicle ground. This potential may cause a current circulation through the bearings and this low electric current can be potentially dangerous for the bearings. Thanks to its experience gained from the current 800V electric motor in production, Marelli says it is able to offer advanced solutions to avoid critical risks related to magnets and bearings.
For more info, see www.marelli.com.