Danfoss and Volvo Penta have teamed up with MHO&Co, Denmark's largest domestic ferry company, to develop its first electric ferry and a pair of hybrid electric crew transfer vessels. Both types of vessels put to work Danfoss' Editron permanent-magnet motors and bring new advancements in marine electrification to northern European waters.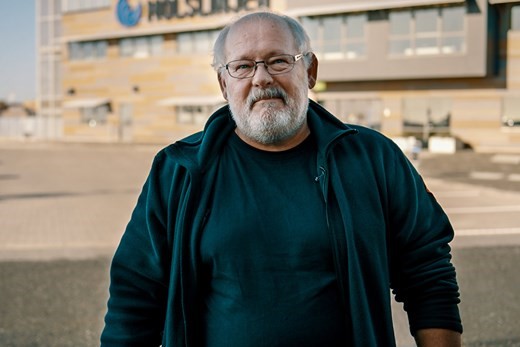 The ferry, shown at top, is 100% electric and currently in operation sailing daily routes in Danish waters. "It's fantastic to be sailing on board Grotte," said Ole Berg-Hansen, Chief Engineer at MHO&Co. "Our passengers will experience that it is quieter compared a conventional ferry with motors. If we are to reach the climate targets that have been set, we need to start replacing now, otherwise we will never reach the goal. This is our first electric ferry, but I do not think it will be our last."

Beginning in the Spring of 2020, this Danish operator's mission was to create two hybrid crew transfer vessels (CTVs) for operator Ørsted, one of the world's biggest wind farm operators. Combining the best-in-class propulsion of Volvo Penta IPS and Danfoss Editron's expertise in marine electrification systems and in-house designed electric propulsion motors and generators, the companies are working on creating an advanced hybrid solution that has maximum uptime, efficiency, and maneuverability.
In the Fall of 2021, two new operating CTVs, MHO Asgard and MHO Apollo, arrived at MHO-Co's headquarters in Esbjerg, Denmark, after making a 12,000 nautical mile journey from China's AFAI Southern Shipyard where they were built according to designs by MHO&Co in cooperation with Incat Crowther in the UK and Australia. Danfoss Editron and Volvo Penta treated the journey from China to Denmark as a pilot project and a time to work with the captains and crew to tweak the novel technology onboard and make it as reliable and efficient as possible for the customer. The companies were able to test different power combinations, such as fully electric operation or diesel-only. In DPS-mode fuel consumption is below 20 liters/hr. and can be as low as 17 liters/hr. which is exceptional for vessels of this size class.
Volvo Penta marine gensets helped power these vessels. The electric propulsion power for the driveline came from five variable speed Volvo D8 gensets. The use of variable speed gensets combined with the selectable multi-genset option has major environmental advantages and ensures high availability resulting in extremely low downtime. Additionally, the smaller D8 units allow for future technologies by replacing one (or more) D8 with fuel-cells or similar when technology allows.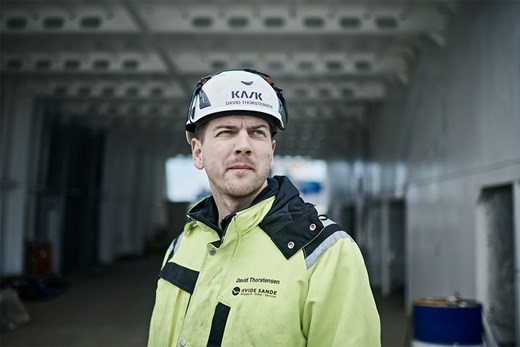 Danfoss Drives supplied inverters to control the current on board, and Danfoss Editron delivered the two electric motors. Ship building took place at Hvide Sande Shipyard – specialized in building and repairing ships for the marine industry. It's their first electric ferry, and they partnered with Danfoss and system integrator Vest-El A/S for the project.
"We are going from trot to gallop," says the project manager at Hvide Sande Shipyard, David Thorstensen, when he describes the interest in building electric ferries." Many of the new projects we get into our pipeline move towards electrification. Our customers want to implement electrical solutions on board their ships because the technology is available and so is the renewable energy."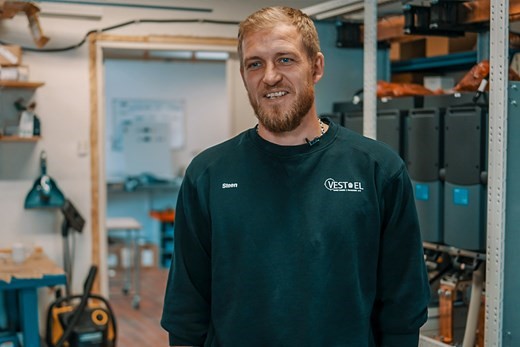 "We go from diesel-fueled generators to electrification and do something good for the climate. That's exciting," said Steen Christensen, partner with Vest-El A/S. 'This is our first electric ferry, and, in this project, my team relied on well proven and tested products from Danfoss."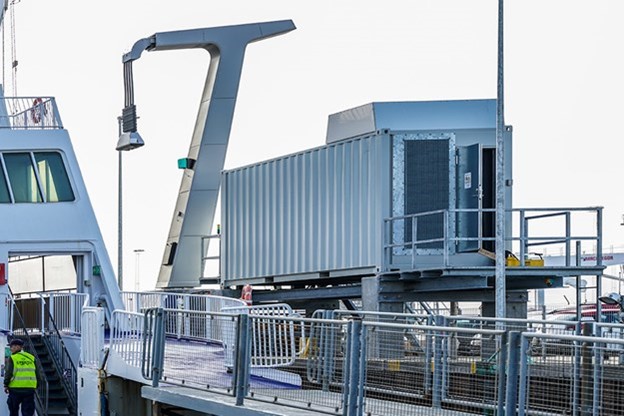 The electrical system is designed as a common DC system, consisting of Danfoss inverters for DC/DC battery control, inverters for motor control, DC-Guard for internal protection and grid converters for AC voltage systems, such as navigation, sub systems and lighting onboard.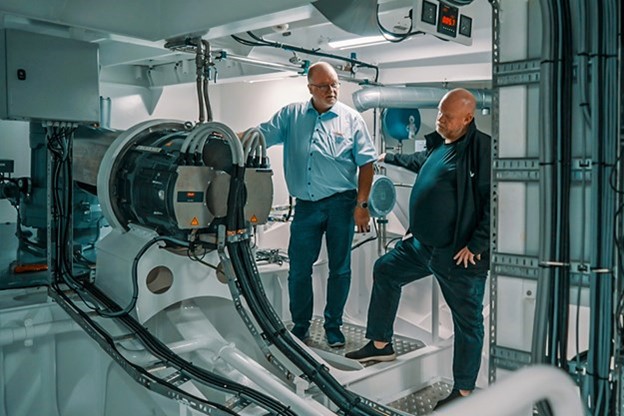 The new ferry is propelled by two 375kW propulsion electrical motors from Danfoss Editron; one in each end of the ship. The two motor systems run independently and are controlled by Danfoss Drives converters.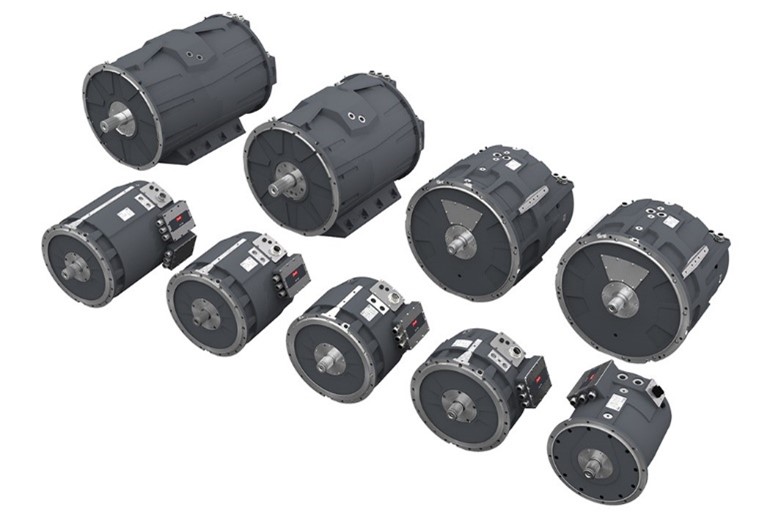 Danfoss Editron electric machines are based on synchronous reluctance assisted permanent magnet (SRPM) or permanent magnet synchronous machine (PMSM) technology. They are liquid-cooled and designed to work in harsh operating environments typical in drivetrain applications. For instance, traction motor in heavy machinery or propulsion motor in marine applications. They can work both as a generator or as a motor. 
In Europe, around 900 ferries operate on shorter routes, all with a potential to be electrified. Maritime transport emits more than 900 million tons of CO2 annually and is responsible for approximately 2.5 percent of global greenhouse gas emissions. Electrification is the way forward for short sea and inland shipping in harbors, rivers, and fjords. "For the smaller ferries and shorter routes, the obvious choice is to go for electrification, and there is a lot to gain in terms of reducing emissions,' said Søren Schoubye, director of sales. "In the Nordic countries we see a push towards greener maritime transport, and the transformation has already begun. We want to show that when it comes to the green transition, we take part at sea, in the fjords and in city areas."
For more info, visit: www.volvopenta.com, www.danfoss.com, www.mho-co.dk