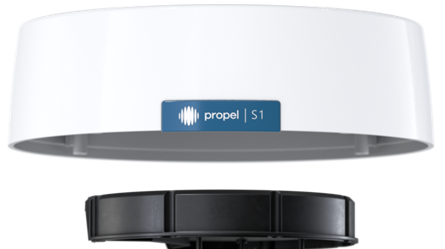 Saietta Group, a fast-growing developer of permanent-magnet axial flux motors for e-mobility OEMS, in two big moves recently has launched Propel, a new division targeting the market for marine propulsion, and also has acquired Dutch company e-Traction, along with reporting strong financial performance.
Propel is dedicated to designing, developing and commercializing a range of innovative electric motors to advance the electrification of the marine industry while supporting decarbonization and delivering sustainable and clean mobility on waterways, while helping boat owners to meet increasingly stringent legislation. Premiering at the Marine Equipment Trade Show in Amsterdam in November, Propel showcased its Propel S1 and Propel D1 axial flux motors.
The Propel S1 outboard motor can generate 10kW continuous output from a 48V battery. When mated to the in-house developed propeller, it can generate 3.75kW of propulsive power, equaling a 25hp internal combustion engine (ICE) in terms of acceleration and top speed. Computational fluid dynamics software was used during development to design a special four-blade propeller with optimal balance between size and motor performance, making the most of Saietta's axial flux AFT140 motor. Combining innovation and standout design, the Propel S1 is one of the most efficient electric outboards developed, rated at an overall efficiency of up to 62%. A key competitive advantage, notes Saietta, is that the motor and all electronics are housed above the water line.
Propel is also launching the Propel D1, an inboard series of electric crate motors designed specifically to replace ageing diesel engines and enable the transition to marine electrification hassle-free. Without the need of a gearbox, the Propel D1 is highly efficient. The result is an advanced propulsion solution that emits nothing but a soft, low hum, going further on a single charge and resulting in more time on the water. The motors and controllers are cooled using a closed-loop arrangement, crucially meaning a virtually maintenance-free experience for customers. The D1 range uses only low voltage motors, making it easier to source the best batteries and ensure they are safe to install and operate on existing applications.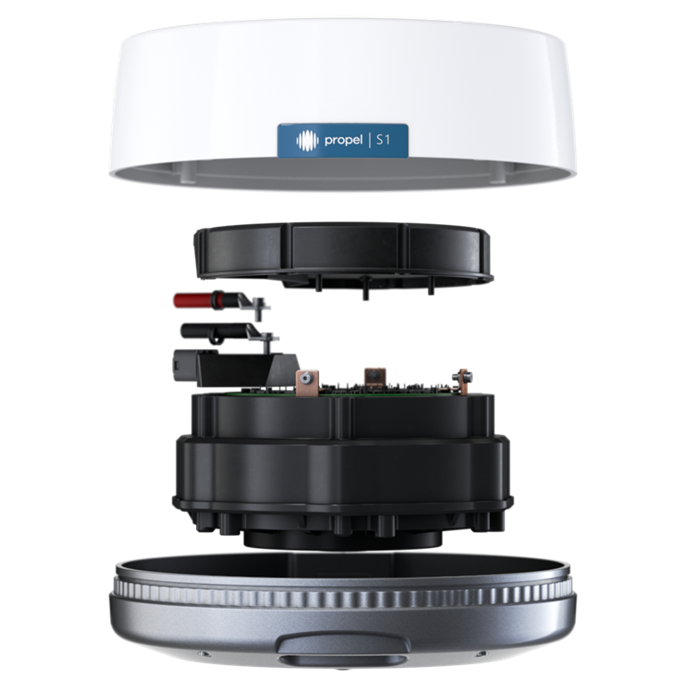 "Helping the world go further and accelerate towards a cleaner and more sustainable future has always been at the heart of Saietta," said Wicher Kist, chief executive of Saietta Group and founder of Propel. "We've long wanted to build on our proven impact in the e-mobility sector and Propel has been established to do just that; to deliver the next-generation experience in electric marine propulsion." 
Sander van Dijk, Propel's managing director and chief technical officer, added: "When developing the Propel brand, it became immediately clear that users want simple and worry-free access to cutting-edge electric propulsion technologies that don't sacrifice style over substance. We have developed our brand around these principles; firstly, no motors and electronics below the waterline, a robust drivetrain that is virtually maintenance-free is key. And secondly, our advanced products must be simple and safe to operate by everyone."
"Propel products combine the best in Dutch design principles with a simple and fun user experience underpinned by quality systems informed by some of the world's leading tech engineers. Electric propulsion isn't a solution, it's a leap forward and it's happening in every other aspect of life. We're proud to be bringing this innovation to the water." 
The launch of Propel coincides with increasingly stringent legislation centered around emission-free waterways and marine electrification as a means to help fight climate change. The City of Amsterdam, for example, has announced plans for its canals to be emission free by 2025, and the United Kingdom became the first of the major G7 countries to target net-zero greenhouse gas emissions by 2050, which includes the adoption of electric boats and ships. 
The electric boat and ship market is expected to reach a value of US$9 billion by 2026, driven by factors such as increased maritime tourism and increased seaborne trade as so much of the world's goods are already carried by ships. The growing government focus on encouraging consumers to adopt eco-friendly boats and ships to meet environmental regulations is further propelling demand in the market.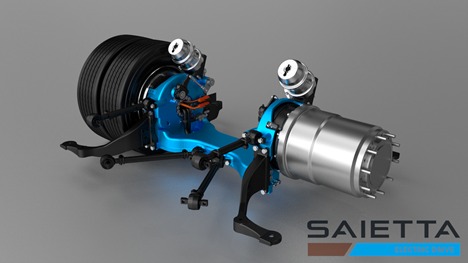 The acquisition of e-Traction Europe BV was announced in November. Saietta purchased the company fully from Evergrande New Energy Vehicle Group of China, adding new commercial and technical capabilities and an established power electronics production facility. A designer and supplier of electric drivetrains for heavy goods vehicles and buses, and high voltage power electronics including inverters and control systems.
The addition of e-Traction's e-axle technology in particular complements the work already done by Saietta on its high-voltage AFT 190 electric motors. As a complete e-powertrain package, this extends the application range of Saietta from scooters to buses.
"This acquisition will allow Saietta to accelerate its business plan by several years, adding not just commercial and technical capability but also extending our IP portfolio and acquiring an operational power electronics production facility," said Kist. "I'd personally like to thank e-Traction Managing Director Steven Hsieh for his work on this opportunity. Steven will continue to play an important role developing routes into the Chinese market for our combined high voltage tech offering, as well as supporting the Saietta board with our ongoing expansion in other key Asian markets." Plans call for all current e-Traction employees to join Saietta. The Netherlands-based employees will remain located at the existing R&D and workshop facilities in Apeldoorn.
Based in Oxfordshire, England, Saietta specializes in propulsion motors for a broad range of electric vehicles and has engineered innovative axial-flux motor technology with its branded AFT (Axial Flux Technology) which is modular in design to provide high and low voltage e-motor solutions from scooters to buses for vehicle OEMs.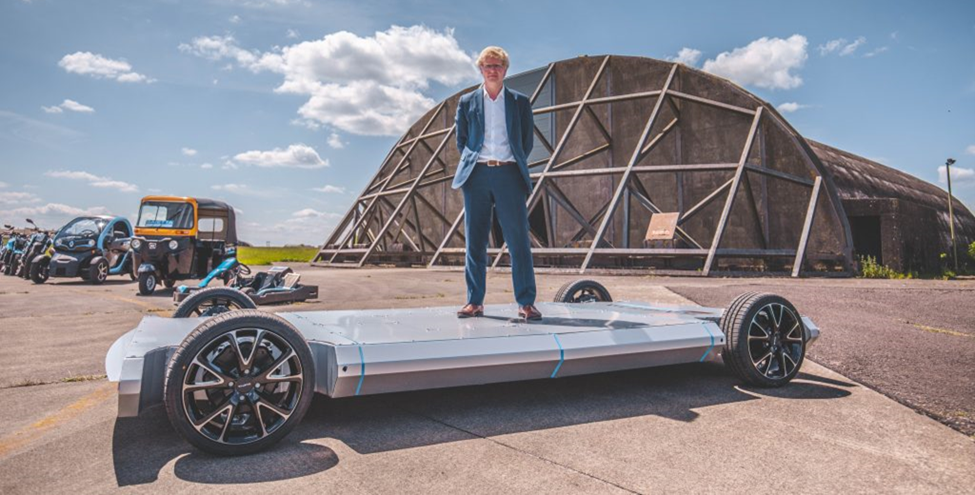 Financially, Saietta has been on a roll recently. Along with raising £37.5 million as it became listed on the London Stock Exchange last year, in December it announced strong half-year results. Sales revenue for the six months to 30 September 2021 increased to £795k, up from £56k from the first half of 2020. Gross profit for the six months mirrored the steep growth in sales that the company realized, achieving £437k. It also secured several new customer projects in 2021 including a tech collaboration project focusing on inner-city mobility solutions with Electric Assisted Vehicles Ltd (EAV). In May, it unveiled a smart mobility platform to demonstrate the feasibility of in-wheel motors for inner city electric vehicles. For more info, see www.saietta.com.