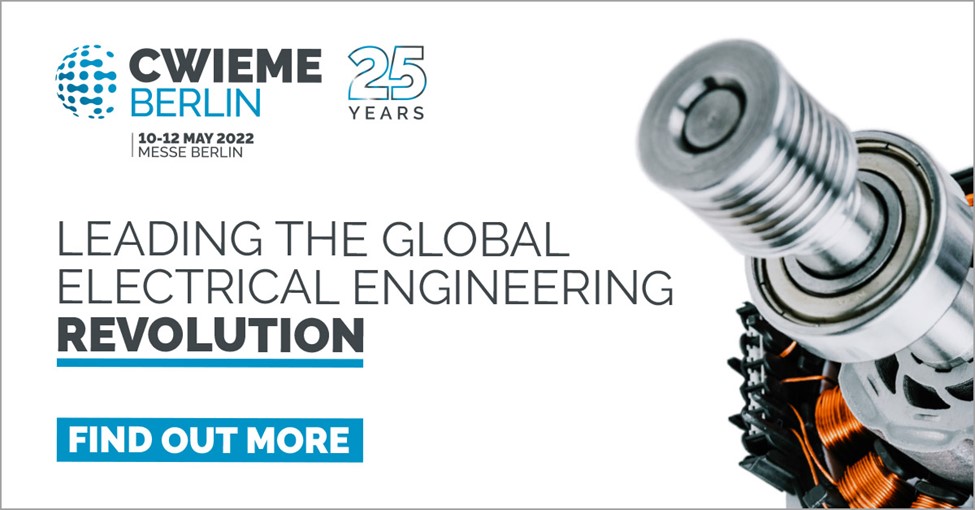 After a two-year hiatus, CWIEME, the global industry hub for electrical manufacturing, will open its doors on May 10-12, 2022, at Messe Berlin, Germany, presenting new visitor services and a multitude of new and regular exhibitors.
CWIEME Berlin 2022 showrunner, Hyve, expect over 600 exhibitors, and around 6.700 visitors from all over the world to attend. "And with many exhibitors planning their annual sales pipelines around their presence at this event – there is no better place to make new contacts, to purchase new equipment and to explore the latest electrical engineering technology," said Hyve. "That's why so many senior figures in the business consider it the best place to make the connections they need to succeed. CWIEME Berlin is a must-attend event in this industry."
This year, attendees can expect to see one of the world's largest range of components, materials, and technologies for electrical engineering and e-mobility at CWIEME Berlin, alongside a wealth of additional content and features. Visiting CWIEME Berlin 2022 will give visitors the opportunity to:
Participate in one-to-one meetings with suppliers that meet your criteria via the Meet the Engineer program – all arranged through the CWIEME Connect App.

Explore new technologies and meet potential new partners in the dedicated Evolution Zone.

Attend presentations from more than 50 speakers from right across the industry.
Interact with peers and strike up new professional relationships in the Networking Lounge.

Follow a curated EV Trail providing a route around the event tailored to attendee requirements.

"CWIEME Berlin has come a long way since its first show in 1995, back when it literally stood for Coil Winding, Insulation and Electric Manufacturing Exhibition," said Hyve. "Today, components and materials for the electrical products of the future – from drones to autonomous cars – are sourced at CWIEME shows."
For mor info, visit: www.berlin.coilwindingexpo.com