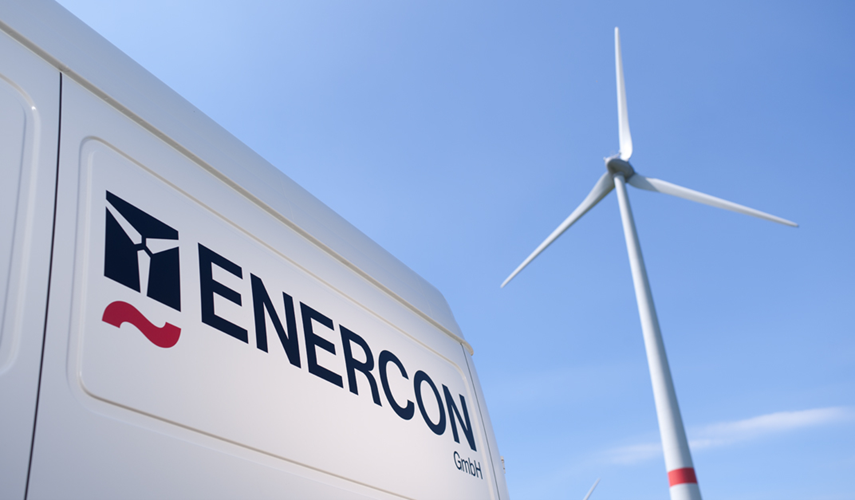 Manufacturing a large wind turbine is a daunting task. Loaded with expensive magnet arrays and intricate coil windings, they require heavy, precision-engineered rotor hubs that can be challenging to move into place on the factory floor. German wind turbine manufacturer Enercon GmbH is using an innovative solution to handle the massive hubs. Instead of cranes and slings, a new turning table is performing the heavy lifting and positioning. Another innovation at the company is development of new e-nacelles.
At its new Mechatronics Competence Centre in Aurich, Enercon relies on a compact turning table developed by RUD Ketten Rieger & Dietz GmbH, based in Aalen, Germany. The RUD Tecdos TM Tool Mover turns the rotor hubs, which weigh up to 65 tons, safely and quickly. The turning process, which had previously taken around two hours with a crane and chain, is now completed in just a few minutes. The turning table has been in use since April 2021 at the center.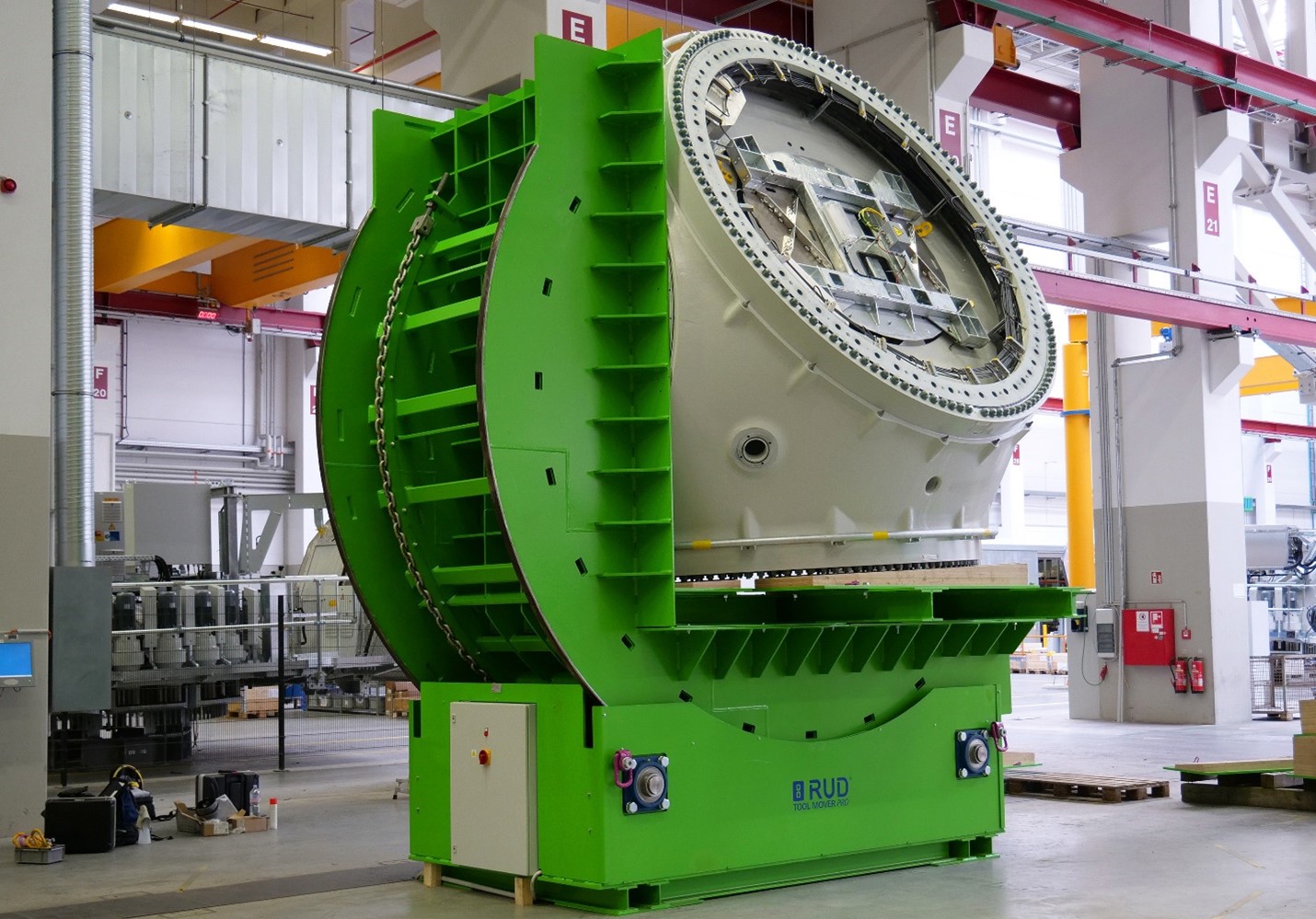 After painting, the large-volume cast bodies of the rotor hubs are taken to the assembly line, where their inner workings are installed. The turning table comes into play here. The rotor hub must be turned on the assembly line in the factory. Weighing up to 65 tons and with correspondingly large dimensions, it represents a mammoth task in the intralogistics process.
"Previously, we turned the hubs around with two indoor cranes. This could take up to two hours," explains Keno Claassen, responsible for the procurement of resources in the centre. "With the RUD turning table, we can now complete the turning process in just a few minutes." The table can manage 65 tons of load and three different hub sizes. "The maximum load was not a problem; we were able to meet it by individually adapting our standard range of the RUD Tecdos TM," explains Ralph Roth, who works at RUD in the development and design of Tecdos mechanical engineering.
The rotor hubs have a diameter of up to 3.5 meters and in the standard version the turning table's supporting surface is 2.5 meters wide x 3.5 meters long. Together with the Y-shape of the hub and a support angle that does not exactly correspond to 90°, these were not the optimal prerequisites for a stable turning process. Special layers were designed that can be fitted to the table, precisely matched to the three different hub sizes which have different angles of 5 degrees, 3.5 degrees and 2.5 degrees.
Roth sees great potential for their use by wind turbine manufacturers in handling rotor hubs: "Already, two other factories in the wind turbine manufacturing sector have asked about our newly developed turning table." It is compact enough to be transported without special permits and can be made in custom configurations to match a manufacturer's requirements.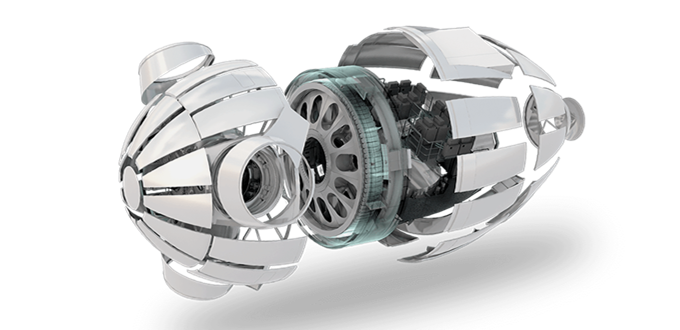 For over 30 years, Enercon wind turbines have been known for their innovative technology, particularly their groundbreaking gearless drive concept. With a product range that currently includes systems ranging from 800 to 5,500 kilowatts, Enercon has built more than 30,766 wind turbines worldwide.

The annular generator, comprising rotor and stator, forms the key component of the company's wind energy converter design. Combined with the hub, it provides optimal energy flow. The sophisticated converter technology means minimal vibration during operation, low sound emissions and long service life. 
Enercon set a milestone recently with its development of a new e-nacelle. The first one was installed in April at a customer's wind farm in Haemelhausen, Germany. "The E-nacelle is one of our most important product developments,' says CTO Joerg Scholle. 'By integrating the power system into the nacelle, we have taken the final step towards a state-of-the-art product design for this main component, a substantial contribution to lowering the cost of energy."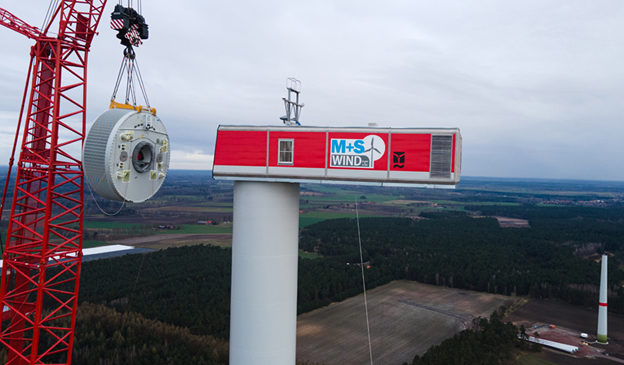 The 80-ton unit is box-shaped, 14.06 meters long, 4.99 meters wide and 3.40 meters tall. Designed as a plug-and-play system, its compact design realizes cost savings in production, transport and logistics as well as installation. E-nacelles are fully cabled and tested already at the factory and switching the power cables from low voltage to medium voltage means faster commissioning. For more info, see www.enercon.com and www.rud.com.