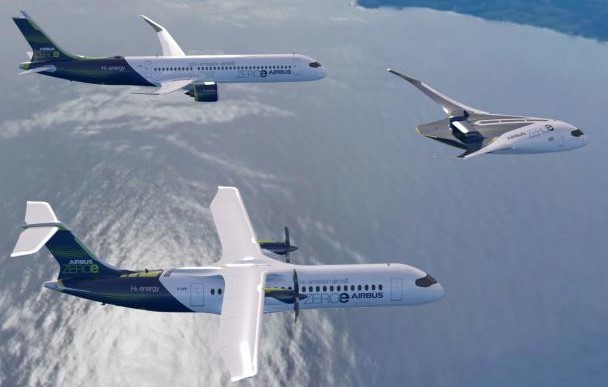 Airbus, a staunch supporter of hydrogen for fueling zero-emission flight, has recently boarded two ventures to further its goals – one to join the world's largest hydrogen infrastructure fund, the other to launch a hydrogen-propelled commercial aircraft demonstrator by mid-decade in collaboration with GE and Safran. 
The investment fund, managed by Hy24 — a joint venture between private investment house Ardian and FiveTHydrogen, an investment manager specializing in clean hydrogen investments, seeks to back large-scale green hydrogen infrastructure projects world-wide. Airbus' involvement assures its commitment to the scaling up of a global hydrogen economy, a prerequisite for the successful entry-into-service of its zero-emission commercial aircraft by 2035, it says. 
"Since 2020, Airbus has partnered with numerous airlines, airports, energy providers and industry partners to develop a stepped approach to global hydrogen availability," said Karine Guenan, VP ZEROe Ecosystem, Airbus. "Joining a fund of this magnitude demonstrates Airbus' continuously active role in infrastructure investments for the production, storage and distribution of clean hydrogen worldwide."  
"We are delighted that Airbus has joined the fund along with other key industrial and financial investors," said Pierre-Etienne Franc, the CEO of Hy24. "Hy24 is well-positioned to identify and accelerate the development of clean-hydrogen infrastructure companies to meet today's needs and ensure tomorrow's transportation and logistics."  
In February, Airbus agreed with CFM International, the 50-50 joint company between GE and Safran Aircraft Engines, to collaborate on a hydrogen demonstration program that will take flight around the middle of this decade. The program objective is to ground-test and flight-test a direct combustion engine fueled by hydrogen, in preparation for entry-into-service of a zero-emission aircraft by 2035. 
CFM will modify the combustor, fuel system, and control system of a GE PassportTM turbofan to run on hydrogen. The engine, which is assembled in the U.S., was selected because of its physical size, advanced turbo machinery, and fuel flow capability. It will be mounted along the rear fuselage of the flying testbed to allow engine emissions, including contrails, to be monitored separately from those of the engines powering the aircraft. CFM will execute an extensive ground test program ahead of the A380 flight test. 
The demonstration will use a A380 flying testbed equipped with liquid hydrogen tanks prepared at Airbus facilities in France and Germany. Airbus will define the hydrogen propulsion system requirements, oversee flight testing, and provide the A380 platform to test the hydrogen combustion engine in cruise phase. 
"Hydrogen combustion capability is one of the foundational technologies we are developing and maturing as part of the CFM RISE Program," said Gaël Méheust, president & CEO of CFM.  "Bringing together the collective capabilities and experience of CFM, our parent companies, and Airbus, we really do have the dream team in place to successfully demonstrate a hydrogen propulsion system." 
"This is the most significant step undertaken at Airbus to usher in a new era of hydrogen-powered flight since the unveiling of our ZEROe concepts back in September 2020," said Sabine Klauke, Airbus chief technical officer. "By leveraging the expertise of American and European engine manufacturers to make progress on hydrogen combustion technology, this international partnership sends a clear message that our industry is committed to making zero-emission flight." 
Both CFM and Airbus signed on with the Air Transport Action Group goal in October 2021 to achieve aviation industry net-zero carbon emissions by 2050 by developing and testing the technology necessary to make a zero-emission aircraft a reality within the ambitious timeline defined.