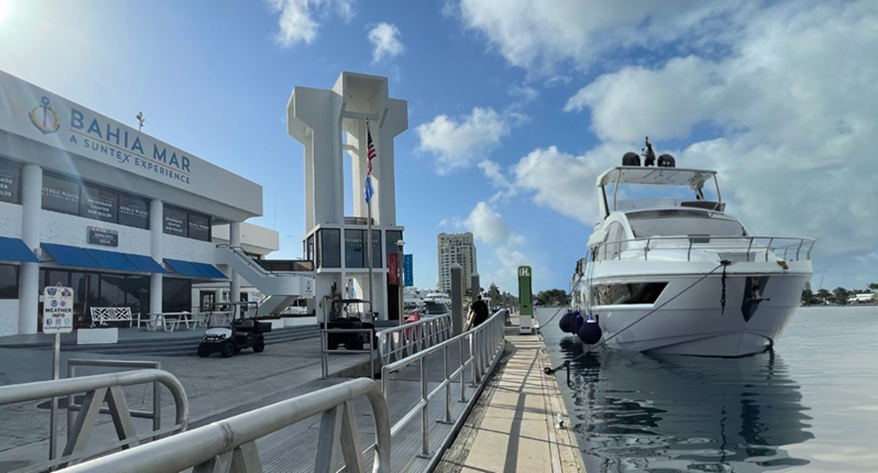 Renewable Innovations, a key partner in efforts by General Motors to expand its Hydrotec fuel cell products to markets outside the automotive business, is making strides in bringing innovative hydrogen solutions to yachting, mobile onsite power and other target markets. 
In June, RI formed a collaboration with Italian yacht builder Aicon to employ fuel cells toward eliminating usage of diesel generators on yachts while anchored with an eye on other power applications for the yachting market. While the yachting community has been pursuing the goal of boosting sustainability, much of the focus has been on fuel efficient hulls, green construction, and solar capture. Now, with this collaboration, there is a new category of sustainability via hydrogen, say the companies. 
"Hydrogen-powered systems offer the greenest and cleanest solutions on the market and are ideal for a wide range of commercial and consumer applications like EV rapid charging and scalable primary/backup power for businesses, such as large offices, retail, and data center power," said Robert Mount, CEO of RI. "But our vision is to extend these solutions across every facet of life – including helping to make yachting cleaner and preserving the beauty of nature." 
As with many industries during the Covid pandemic, yachting experienced a boom as the world embraced more outdoor activities. Globally, the yacht market is forecast to hit $8.5 billion this year is estimated to reach $12.2 billion by 2028, according to market research firm Grand View Research. With over-crowded marinas and more eco-conscious yachters, the opportunity is ripe for innovation. 
"Our goal is 100% sustainable yachting. We're starting today by dramatically reducing the carbon footprint of our Italian-built yachts and enhancing the onboard experience," added Marc-Udo Broich, Chairman & CEO, Aicon Yachts, headquartered in Milazzo, Italy. "At Aicon, we're dedicated to delivering a superior yachting experience  – and now we're extending that into sustainability. After all, yachting is all about enjoying nature at its finest and bringing the Aicon family closer to the world's oceans, with all their majestic powers.  All this has to be achieved with the goal of experiencing them while leaving them untouched." 
"With the Hydrogen Fuel Cell systems from Renewable Innovations, we are reinventing how yachts are powered, based on a two-step project," Marc-Udo continued. "First step, these systems will provide all on-board power needs: HVAC, at anchor power, galley (appliances, wine fridge, etc.) and environmentals (lighting, music, entertainment, electronics, and security). This ensures that at all times, our footprint at locations we anchor and dock, we leave nature unchanged.  Our second long-term visionary step will deliver an environmentally friendly yacht journey from point A to point B utilizing Hydrogen power harnessed from the ocean's salinity." 

In another recent move, RI has partnered with Quantum Fuel Systems to develop new solutions for hydrogen infrastructure power. RI will incorporate Quantum hydrogen storage vessels in its mobile fuel cell and H2 transport systems. "Quantum has over 20 years of hydrogen experience and are now on the cutting edge of looking at power generation and backup power applications in addition to their specialty in mobile applications," noted Mount. "We look forward to working with Quantum to grow and improve hydrogen infrastructure for application and on-site storage, as well as refueling and transport." 
Both firms envision this partnership as a critical stage in delivering Hydrogen-power-based solutions to the market. "Renewable Innovations is known for bold thinking and making an impact," commented Mark Arold, president of Quantum. "They have moved beyond imagining what a green clean future powered by hydrogen looks like and are building it today and we are excited to provide the mobile ydrogen capacity for this project and look forward to working together as strategic partners for future projects." 
Quantum has a long history with hydrogen starting in 1999 when it launched the world's first 5,000 psi hydrogen system on a commercial vehicle and then later as the first to certify a 10,000-psi hydrogen storage tank to international standards. In December 2021 Quantum delivered its first hydrogen virtual pipeline trailer to a North American customer. 
Many of the developments at Lindon, Utah-based RI leverage the arrangement forged recently with General Motors whereby GM is supplying its Hydrotec fuel cell power cubes to RI to build the Mobile Power Generator. The pact is part of GM's broad initiative to apply its fuel cell technology to more markets than just automotive. GM is planning multiple Hydrotec-based power generators, all powered by its Generation 2 Hydrotec fuel cell power cubes, also including the Empower rapid charger to provide fast-charge capability for EVs at gas stations without installing permanent charge points and a palletized MPG for military camps and installations. 
With output ranging from 60 to 600 kilowatts, the fuel cell generators could ultimately replace gas- and diesel-burning generators with fewer emissions at worksites, buildings, movie sets, data centers, outdoor concerts and festivals. They could also back up or temporarily replace grid-sourced electricity for residential and small commercial enterprises at times of power disruption. 
"Our vision of an all-electric future is broader than just passenger vehicles or even transportation," says Charlie Freese, GM executive director of the global Hydrotec business. "Our energy platform expertise with Ultium vehicle architectures and propulsion components and Hydrotec fuel cells can expand access to energy across many different industries and users, while helping to reduce emissions often associated with power generation." 

Empower rapid chargers are designed to be installed at existing fuel stations or along corridors frequented by travelers only part of the year, such as near national parks or vacation destinations. Powered by eight Hydrotec power cubes, they consume hydrogen from internal tanks and can DC fast charge as many as four vehicles simultaneously starting at 150 kW with an estimated target full charge time of 20 minutes3. More than 100 EVs can potentially be charged by the EMPOWER rapid charger before the unit would need to be resupplied with hydrogen. RI plans to deploy 500 of the chargers across the country by the end of 2025. 
GM plans to produce the Hydrotec fuel cell systems using globally sourced parts at its Fuel Cell Systems Manufacturing joint venture with Honda in Brownstown, Michigan. Renewable Innovations will produce the trailer-based MPG and the larger, modular Empower rapid charger at its facilities in the Salt Lake City metro area. For more info, see www.renewable-innovations.com, www.gm.com and www.qtww.com.