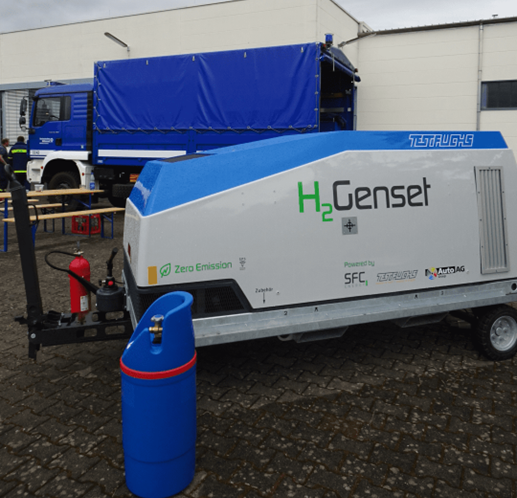 Few companies can demonstrate the effectiveness of fuel cells for diverse applications like SFC Energy AG of Germany, a pioneering manufacturer in hydrogen technology with an array of market-focused products. Further credence comes from several recent developments, one being a test for disaster relief power in Germany, others being continued orders from Singapore for its portable units and a repeat order from an oil & gas operator for a hybrid trailer-mount version tailored for remote off-grid sites.
In civil protection and disaster situations, a mobile and reliable source of energy is the decisive factor of a successful operation, especially when there is no access to the conventional power grid. Numerous applications and end devices must be reliably supplied with power. These include, among others, the communication network of the emergency forces, lighting and the ability to charge batteries. 
SFC recently presented to the Federal Office of Civil Protection & Disaster Assistance (BBK) and various local agencies a test run of its EFOY fuel cells and H2Genset. EFOY fuel cells produce energy from hydrogen or methanol and are being tested at the BBK as an environmentally friendly on-board power supply, converting the fuel directly into electricity. Compared to a conventional diesel generator, notes SFC, a hydrogen fuel cell energy solution with five kilowatts of power saves up to 45.6 tons of carbon dioxide at an assumed annual demand of 43,800 kilowatt hours. This corresponds to the mileage of a diesel-powered car of about 250,000 kilometers. 
Propan Rheingas GmbH & Co. KG (Rheingas) participated in the test. Rheingas is a supplier and consultant for all aspects of energy supply solutions, including hydrogen from supply to planning and construction of hydrogen infrastructure. Together with SFC Energy, Rheingas enables decentralized and emission-free use of devices and equipment for any operation or emergency. Hydrogen is available independently of pipelines and is supplied by Rheingas in cylinders, bundles or trailers, ensuring a self-sufficient power supply, even without existing infrastructure. 
"We are thankful for the opportunity to present the potential of hydrogen and fuel cells to the THW emergency forces as well as the BBK on site. In the event of a disaster, these environmentally friendly energy generators ensure the power supply efficiently and continuously. At the same time, they simplify logistics and increase the flexibility of the emergency forces. Thus, we deliver clear added value to our customers", says Bjorn Ledergerber, senior vice president hydrogen & corporate development of SFC.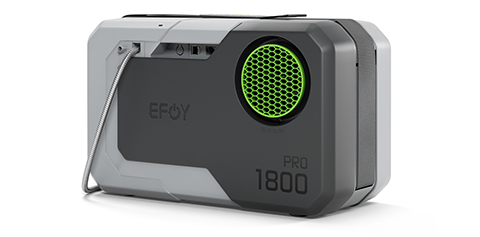 From Singapore, SFC recently secured several orders for its EFOY Pro portable units from Oneberry Technologies amounting to about EUR 2 million. A long-time partner, Oneberry has purchased more than 1,800 EFOY fuel cells to date for use in numerous applications such as flood early warning systems, high-rise waste disposal, ad-hoc and mobile monitoring. 
"The recent expansion of our portfolio of offerings to include the environmentally friendly and clean EFOY hydrogen energy solutions in Singapore and the order now received clearly emphasize the effectiveness of our global growth strategy and make a significant contribution in the global Race-to-Zero," said Dr Peter Podesser, CEO of SFC. 
"Over the course of a decade Oneberry has proven again and again that a reliable and cost-effective energy source is a must for a robot security and surveillance operation. We have selected the environmentally friendly EFOY Pro to be our sustainable energy source not only for its reliability but also for many other benefits satisfying all other requirements," said Ken Pereira, CEO of Oneberry. 
The repeat order for its hybrid energy EFOY ProTrailers, worth more than $1.8 million Canadian, is from a major global oil and gas producer based in Canada that has taken an innovative approach to reduce emissions and ensure its critical communications networks always have access to clean reliable power. The unit uses power input from both EFOY Pro fuel cells and solar panels working in unison to ensure that connected devices are supplied with environmentally friendly power at all times. Integrated Modbus communication enables remote monitoring and control of the trailer fleet across the entire deployment location. 
With sales of more than 55,000 fuel cells to date, SFC has become a leading provider of hydrogen and methanol fuel cells for stationary and mobile hybrid power solutions worldwide. Based in Brunnthal near Munich, it operates production facilities in Germany, the Netherlands, Romania and Canada. See www.sfc.com.