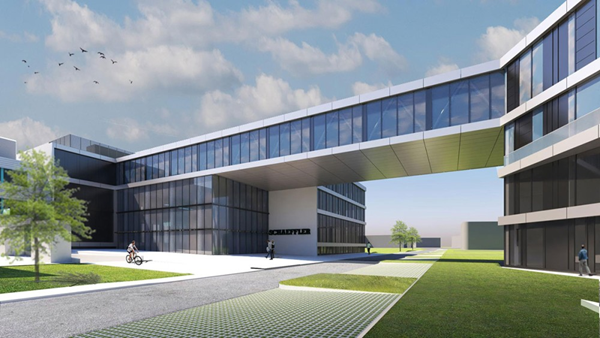 Focused on evolving from traditional powertrain technology to electric mobility, German motion specialist Schaeffler AG is simultaneously launching several new electric axle drives while also expanding its R&D and manufacturing operations to support product and business growth in electric vehicle technology. 
At the electromobility development and manufacturing campus of its Automotive Technologies headquarter in Buhl, the company is building a complex that will serve as a new center of excellence for electrified mobility. The project represents an investment of about 50 million euros. Construction was expected to get underway in September 2022 and be completed in fall of 2024.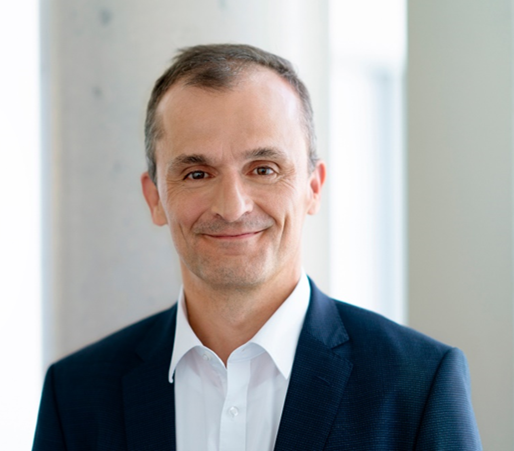 "We are significantly scaling up our activities in electromobility and are acquiring major customer projects," says Matthias Zink, CEO Automotive Technologies. In 2021, the company posted over EUR 1 billion in sales of electrified powertrain solutions. A major supplier to both automotive and industrial sectors, it secured new electromobility projects worldwide valued at EUR 3.2 billion. This was followed by a further EUR 3.2 billion worth of new orders in the first half of 2022, already meeting the full-year target for 2022 in the first six months.  
The new complex will consist of two buildings connected by a bridge. It will have a total floor area of 15,000 square meters, providing space for some 400 employees to work collaboratively on customer projects and develop new systems for electric powertrains. 
"Going forward, Schaeffler is eager to acquire more and more projects involving integrated mechanical, electronic and software systems. To optimally manage these complexities, we are building strong project teams and a future-oriented work environment," says Dr. Jochen Schroeder, who heads the E-Mobility business division. 
In one of the existing buildings at the site, in a production hall used for the manufacture of transmission components, Schaeffler is currently building an ultra-modern plant for electric motors known as the UltraELab. "As well as raising the bar for efficiency and productivity, our aim with the UltraELab is to make a real contribution to greater sustainability," said Schroeder. These objectives will be achieved primarily through the agile and flexible production of electric motors, the heart of every electric powertrain. Instead of using fixed production lines, the company will manufacture the motors using flexible digitalized technology modules that can be re-arranged and re-scaled as required. 
"Our goal is to achieve flexible and efficient production of innovative electric motors," says Schroeder. A pilot plant in which experts can test the agile production facility already exists at the site. Paired with a digital twin, it will serve as a blueprint for the planned industrial-scale manufacturing facility. "By closely integrating electric motor development and production at a single location, we are leveraging key synergies for continuous product improvement."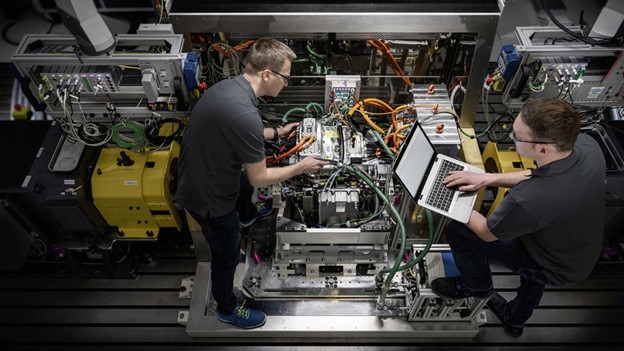 "Electric axles are a key element of our electric mobility strategy," says Zink, Until now, up to three drive components were assembled in one compact unit. With its 4in1 electric axle, Schaeffler is now going one step further by integrating the thermal management system as well as the electric motor, power electronics and transmission into the axle drive. This makes the axle drive more compact and lighter and ensures greater comfort. A particularly efficient thermal management system also enables a car to travel further on one battery charge and charges faster. Another new development are electric beam axles for pick-up trucks. In the future, Schaeffler will supply beam axles to automobile manufacturers, particularly in North America. 
"The thermal management system has a significant influence on the efficiency and comfort of the vehicle," says Schroeder. The E-Mobility business division makes thermal management systems for all types of vehicle powertrains and is continuing to develop them. A new approach is the combination of the drive components of a conventional electric axle with the thermal management system, which was an independent module in most cases until now. 
"This creates a highly integrated and compact complete system, which requires significantly less space than non-integrated solutions," says Schroeder. Furthermore, less energy is lost in the form of heat because unnecessary hoses and cables can be dispensed with. "In addition to the compact design, the greatest advantage of the 4in1 system is the optimized interaction of the individual subsystems." 
Thermal behavior of individual drive components such as the electric motor or the power electronics as well as the most efficient and comprehensive thermal management of the entire vehicle are all considered in the design. An intelligent control system ensures that excess heat is efficiently dissipated from the power electronics and electric motor and that it is used in the interior of the vehicle. The temperature of the battery is also regulated in such a way that the car can travel further on one battery charge and that it charges faster. 
"By means of our 4in1 electric axle with an integrated thermal management system, we can achieve an even higher efficiency level of the complete system," notes Schroeder. An efficiency level of up to 96 percent is possible in an optimally designed system. Each additional percentage point translates into an increased range. 
With its 4in1 electric axle, Schaeffler is developing its most comprehensive drive system for electric cars so far. "Such highly integrated complete systems are attractive for both established automobile manufacturers and new players," says Schroeder. This allows a reduction in the development time and the costs for the complex new development of the entire drive. Nevertheless, the company will continue to offer to its customers individual components and subsystems for electric and hybrid drives such as electric motors, transmissions, bearings, and the thermal management system. 
The range also includes the combination of two or three drive components, opening up a particularly large market for the company as it plans to produce future electric axles that in the future will be used increasingly in vehicles ranging from passenger cars through to light and heavy-duty commercial vehicles with purely electric drives and drives based on fuel cells. 
For the electrification of medium-duty pick-up trucks, particularly for the North American market, Schaeffler is developing and will manufacture an electric beam axle. In the electric beam axle, the electric motor, transmission, power electronics, and the entire rear axle are connected to each other and supplied to the customer as a ready-to-fit unit. Axles like these are more than two meters wide. Schaeffler has already secured its first orders for electric beam axles from automobile manufacturers. The company is therefore entering a new market segment for electric axle drives. 
Schaeffler manufactures components for electric axles at several locations worldwide. Production started in 2021 at its plant in Szombathely, Hungary which is the group's first pure e-mobility plant and its new competence center for the manufacture of components and systems for electrified powertrains. In addition, components for e-mobility and integrated electric axle drives are manufactured in Taicang, China. Another production facility is being set up in Wooster, Ohio in the U.S., where hybrid modules are already being manufactured. The facilities all tie in with the new global lead plant for electric motors now being built in Buhl.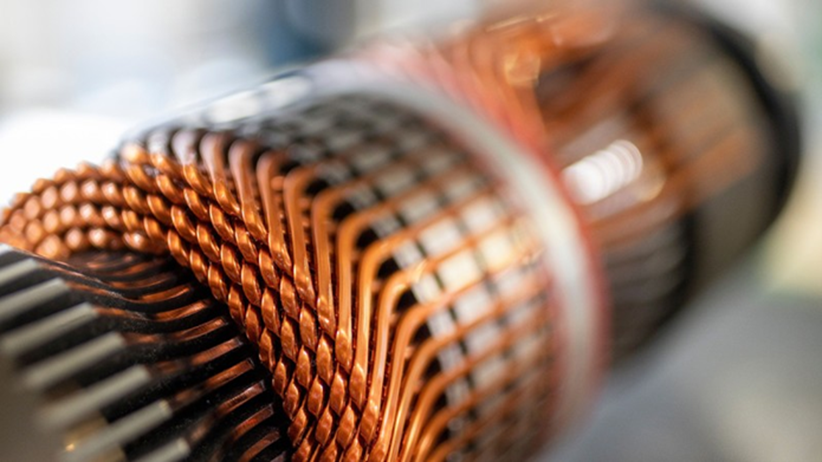 The company plays to several of its strengths in the production of electric axles, being well versed in the production of individual components through to high-precision manufacturing methods. These include stamping individual stator laminations for permanent magnet electric motors and the winding of rotors using innovative wave winding.