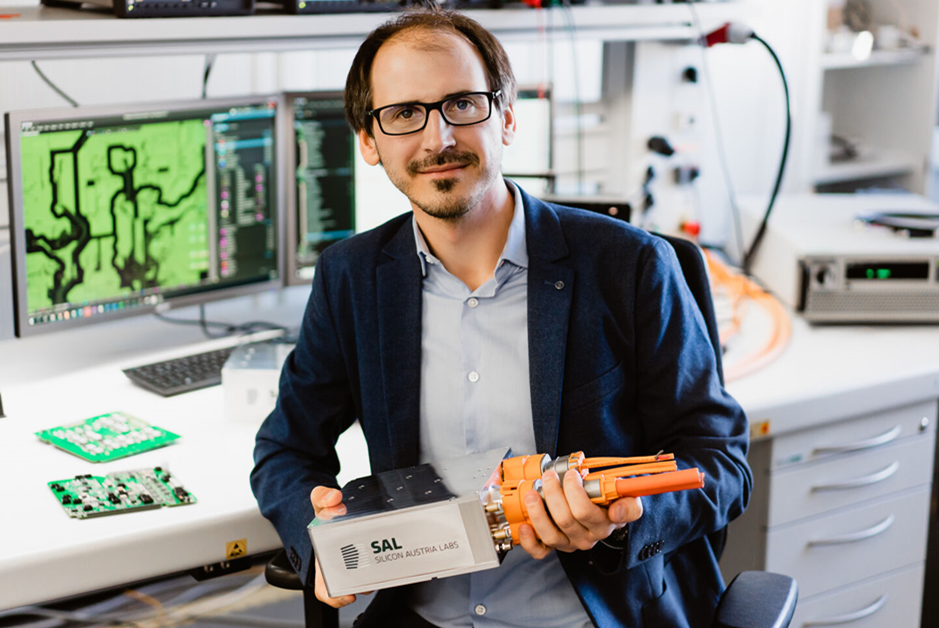 Together with technical experts from Infineon, Fronius, AT&S, AVL List and TDK electronics, a team at Silicon Austria Labs research center in Graz is working on optimizing the power density of electronics. A second phase of the Tiny Power Box project began this fall following the earlier development of a prototype of a highly compact, lightweight and energy efficient onboard charger for electric vehicles.
Results so far are reduced weight, fewer components and less space needed, all the while enabling quicker and more efficient charging and increasing environmental compatibility, in an onboard charger that is a fraction of the size commonly used today.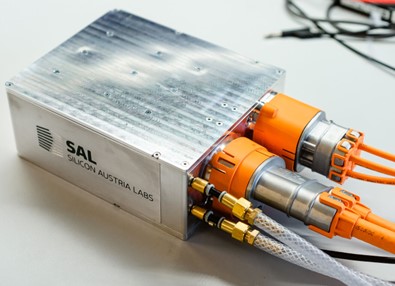 The research is relevant beyond e-mobility. Unlike already existing onboard chargers, the Tiny Power Box can store energy in its battery and release it again at a power supply station on demand for bidirectional charging and discharging). In combination with the Tiny Power Box, the car battery thus turns into a flexible energy storage device for renewable energy. The underlying technologies can also be used in industrial facilities.
Within the framework of this research cooperation, a new simulation method was developed as well, which can be used to predict how different components of a system will interact with each other before an actual physical prototype is built. This way, the development period can be minimized, and life expectancy maximized.
"The Tiny Power Box project is a flagship example of how we conduct cooperative research at SAL, and the first project phase has exceeded the expectations of all parties involved. Power density is essential for all partners involved and everyone possesses a lot of know-how in their area of expertise – but only together we were able to develop the Tiny Power Box and the new simulation method. In turn, each company is able to use the results for their own applications," explains Rudolf Krall, Head of Research Division Power Electronics at SAL.
"Combining SAL's expertise and the specialized knowledge of our research partners – starting with know-how on individual components to the whole system – is especially important in being able to properly optimize power electronic systems. This is where the strength of SAL's cooperative research model lies. Feedback from the tech community regarding the Tiny Power Box prototype was exceedingly positive, and leading European vehicle manufacturers and component suppliers have shown great interest. Owing to the overwhelming success, we will start a follow-up project with additional partners in fall," announced SAL project leader Christian Mentin. 
"Through the joint research, we show how our new silicon carbide power semiconductors are used in a highly efficient way together with other energy conversion components. Bidirectional charging in particular is a big step towards green energy, as the electric car can be charged with solar energy and then used for power stabilization and energy storage at home. With the application demonstrator, we have a compact and efficient energy solution that we can further test and optimize in follow-up projects," notes Ernst Katzmaier, Senior Director Technical Marketing High Voltage Conversion at Infineon Technologies Austria AG. "As part of the Tiny Power Box project, we have gained important impulses about the industrial feasibility of innovative charging concepts for intralogistics for future applications, and we had the opportunity to test new power converter concepts for these applications."
"The holistic simulation method that was developed as part of the project allows us to come to decisions about conceptual choices faster than before," appreciates Guenter Ritzberger, researcher at Fronius International GmbH.  "Power electronics is an important topic for AT&S in all business areas from industry to automotive. In this project we managed to improve the cooling system of components using semiconductors on printed circuit boards and increase the efficiency of the system. We are proud of how far we have come and we look forward to continuing our cooperation in fall," says Hannes Voraberger, Director of Research and Development at AT&S AG.
"What's special about this project is the holistic view of all TDK components in the integral system. We were able to identify interactions and design and application requirements at an early stage and thus ensure the ideal use of our components. This way, it was possible to build the Tiny Power Box as small and efficient as possible," explains Markus Puff, Head of Corporate Research & Development of the Piezo & Protection Devices Business Group at TDK Electronics GmbH & Co OG.
"Our project goal was to develop a scalable method to integrate components and subsystems of power electronics virtually and aided by simulations. We were able to successfully test and optimize simulations of cooling of the integral system as well as a system simulation using a multitude of components. In the future, these simulations shall be used in calculation tools at AVL List GmbH," said Reinhard Tatschl, Research and Technology Manager at AVL List GmbH.
For more info, see www.silicon-austria.com.