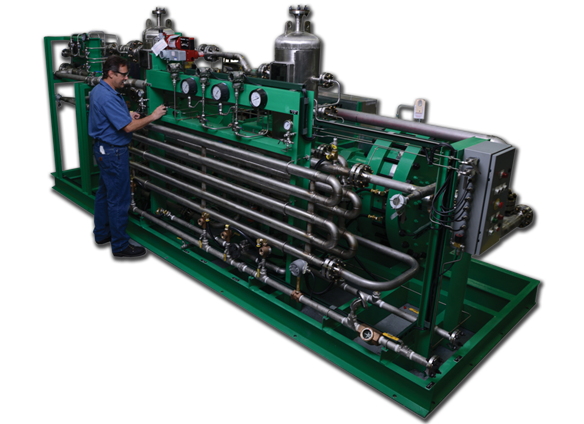 Pump and compressor manufacturer Sundyne has made a series of packaging enhancements that make it easier, faster and more cost effective to deploy and maintain its PPI 9-Series diaphragm compressors which are designed to address the challenges associated with compressing hydrogen from low pressure levels such as electrolyzer outlet pressure up to the 1,000 bar levels required for vehicles that run on hydrogen. The changes involve multiple aspects including instrumentation, streamlining motor and compressor skid-mount layout and secondary skid options are now available for a closed-loop cooling system.
"We've received a lot of feedback from our customers, which the team has used in our package design.  The features we've added to our PPI 9-Series are designed to facilitate a 'drop-in' capability that makes it easier for customers to deploy, and more cost effective to maintain our compressors once they're in operation," said Michael O'Neil, vice president of hydrogen and PPI compressors, when the enhancements were unveiled at this year's ACHEMA show. Sundyne also exhibited the compressors at HyVolution in Paris.
The compressors have triple diaphragm sets which ensure that the process gas is isolated from the hydraulic oil to provide absolute process purity which is critical for fuel cell applications as even the slightest contamination can damage the fuel cell. With their high compression ratio, they are designed to meet the pressures required by mobility applications and industrial de-carbonization projects. Multiple compressors in the product family can serve a wide range of hydrogen applications.
"As every industry investigates ways to reduce its carbon footprint, hydrogen is rapidly becoming a favorable alternative, because it can be used to supply nearly every energy sector, and it's also a common raw material for the energy-intensive process industries," according to Sundyne's Value Stream Leader for the PPI line of diaphragm compressors Josephine Truitt.  "These are markets where Sundyne is well known, and today, we're aggressively targeting hydrogen applications, because they're well suited for our PPI line of diaphragm compressors." For more info, see www.sundyne.com.