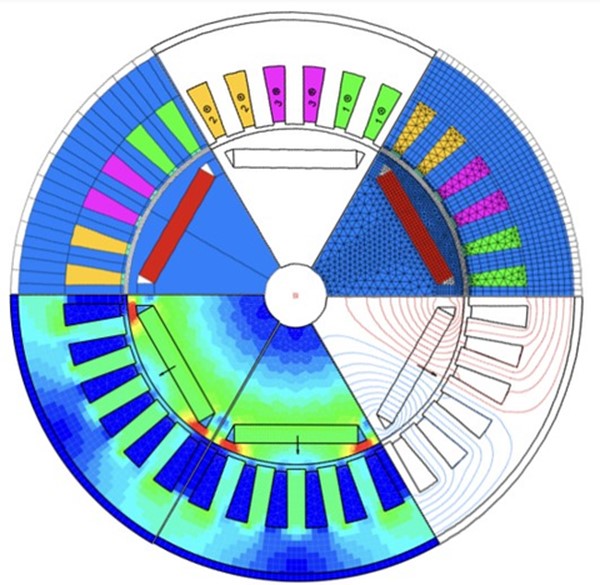 With its acquisition of FEMAG in Switzerland and earlier purchase of PowerForge, software company Gamma Technologies has been significantly bolstering its portfolio of multi-physics simulation capabilities for the design of electric machines, fuel cell systems and hydrogen mobility. The latest deal leads to a new global center of excellence for e-machines in Basel for GT and further increases the company's full-system solutions.
The FEMAG finite-element software extends Gamma Technologies' system simulation platform capabilities for electric machines as shown in the graphic above, depicting FEMAG motor solutions for an interior permanent magnet machine. The portfolio was developed by pioneers of ProFEMAG AG and Semafor Informatik and Energie AG of Basel. High-fidelity FEMAG technologies enable the study and rapid optimization of performance, efficiency, and noise-vibration effects across the entire operating range for various topologies of AC/DC motors.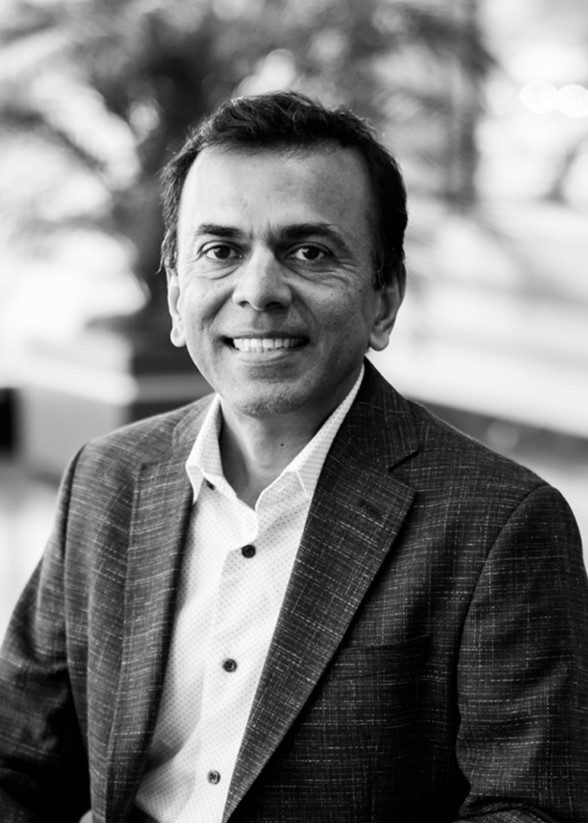 "Electric Machines play a fundamental role in engineering our imagined future around sustainable mobility and as industry leaders, our goal at GT is to continue to broaden and deepen our suite of integrated products to make system simulation a seamless end-to-end experience for our user community," stated Dimple Shah, GT president and CEO. "I am delighted to welcome the talented FEMAG team at our new Global Center of Excellence for Electric Machines in Basel and am excited by the possibilities of a complete design solution for batteries, electric drives and power electronics within the GT-SUITE platform."
"The tight integration of our solutions into the GT-SUITE system simulation platform has opened new possibilities for the engineering community," remarked Walter Egli, CEO of ProFEMAG AG. "GT's culture of innovation around trusted technologies and trusted customer relationships provides an excellent home for FEMAG technologies and people."
"With our rich legacy centered around deep knowledge of electric machines, we are delighted with our next chapter with GT as it will enable us to accelerate the pace of development and deliver new impactful solutions to our customers," stated Dr. Ronald Tanner, CTO of Semafor Informatik and Energie AG.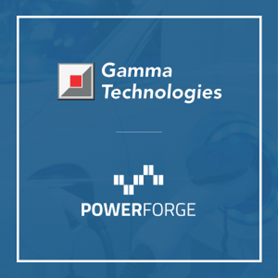 In 2021, GT acquired Power Design Technologies of Toulouse, France, pioneers in engineering software for power electronics and makers of PowerForge, an innovative software-as-a-service offering for power converter design.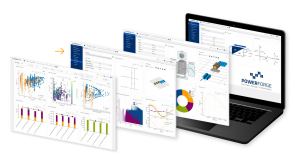 PowerForge enables power converter design early in the product development cycle across numerous industries including aerospace, automotive and power generation. Featuring a built-in database of semiconductor devices, a fast solver and a multi-parameter benchmarking utility, the suite provides engineers the ability to predictively select and compare various power converter topologies, material technologies and modulation strategies to optimize their designs in terms of power loss, electrical waveforms, size, weight and cost.
GT is based in Westmont, Illinois near Chicago. For more info, see www.gtisoft.com.