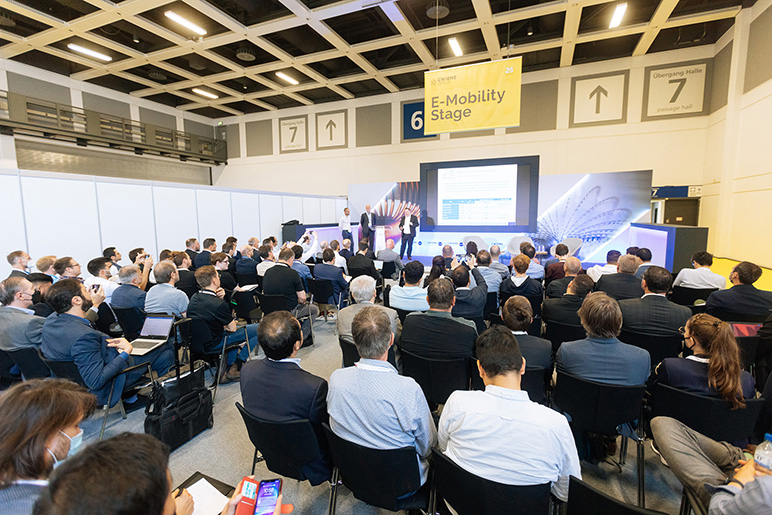 Hyve, the organizer of the global CWIEME events, among the world's largest event series dedicated to coil winding, transformers, electric motors, generators, and e-mobility, recently announced release of the preliminary agendas for the two live stages, CWIEME Central and E-Mobility, at the CWIEME Berlin show to be held on May 23-25, 2023, at Messe Berlin. Magnetics Magazine is a media partner and supporter of the event.
Featuring premium content, the three-day program is filled with high level keynotes and technical insights into topics such as transformer, generator and coil winding manufacturing, the development of electric components, strategies for and the implementation of e-mobility concepts, the future of e-mobility, materials, and e-motor & powertrain concepts. While the CWIEME Central Stage, sponsored by Shell Germany, has its focus on electrical components, the presentations on the E-Mobility Stage cover the latest trends and developments in the EV market.
"With this year's line-up for our conference programs, I strongly believe that the premium content will exceed the highest expectations of the CWIEME audience, and we position CWIEME Berlin again as the knowledge hub for e-mobility and electrical components," said Bradley Smeeton, Event Director, CWIEME Berlin. "From insightful technical presentations featuring the development of electrical components to engaging thought leader keynotes about the future of e-mobility CWIEME visitors await a varied program providing insights into all industry trends and hot topics. All sessions are scheduled in conjunction with our new and innovative meetings program Connect @ CMIEME, allowing for tight meeting schedules without missing inspiring presentations."
Admission to the conference programs is included in all CWIEME Berlin tickets, no additional registration is required. The detailed program for both conferences and free registration to CWIEME Berlin are available at: https://berlin.cwiemeevents.com/page/schedule-at-a-glance
Register now for CWIEME Berlin 2023, and secure a ticket to one of the most significant international events and global hubs in this industry, by signing up here. Tickets are free of charge until April 21.
For more info,, visit: https://berlin.cwiemeevents.com/Home