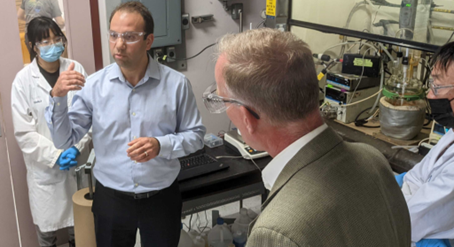 Arnold Magnetic Technologies, a global manufacturer of high-performance magnets and more for mission critical applications, has announced its partnership with Cyclic Materials, a pioneer in developing more sustainable domestic supply chains for rare earth elements. Arnold and Cyclic will work together to develop a rare earth recycling program, creating an unprecedented circular supply chain for rare earth materials. 
Arnold produces permanent magnets made from rare earth materials. Cyclic Materials' recycling capabilities allow for the reuse of rare earth materials reclaimed from magnets. While previous recycling measures only reclaim select elements, Cyclic Materials plans to recycle all elements from Arnold's supply feed to offer a broader range of recycled materials at a much higher yield. This will allow Arnold to source recycled, rare earth Samarium, Neodymium, and Dysprosium, along with non-rare earth cobalt from Cyclic Materials moving forward, creating a North American supply source. Arnold is exploring options for expanding this partnership to the rest of their North American locations. 
Rare earth magnets are used in a myriad of applications across all markets, including electric motor applications. For this application, rare earth magnets are especially sought after due to their power-dense material characteristics and lightweight composition. These unique characteristics can be utilized to increase the power density of electric motors. By utilizing recycled rare earth materials in its future magnets, Arnold will be able to increase the sustainable impact of electric motors and other products. 
Currently, rare earth supply chains are extremely dependent upon China. Arnold and Cyclic Materials will be able to reduce dependence upon foreign nations for these materials by increasing supply chain efficiency with value-added recycling. This reduces waste both up and downstream and reduces environmental impact as a result. With this partnership, Arnold will need fewer virgin materials and will increase the resiliency of their supply chain—offering more capacity and more flexibility for production. 
"We're thrilled to sign this agreement with Arnold Magnetic Technologies to enhance the sustainability and flexibility of their supply chain while continuing to demonstrate the advantages of a circular supply chain for rare earth elements in North America," said Patrick Nee, Co-founder and VP of Strategic Partnerships at Cyclic Materials. "We look forward to the future of this partnership as we continue in our work to help the world transition to an environmentally responsible future."
For more info visit: www.arnoldmagnetics.com and www.cyclicmaterials.earth.