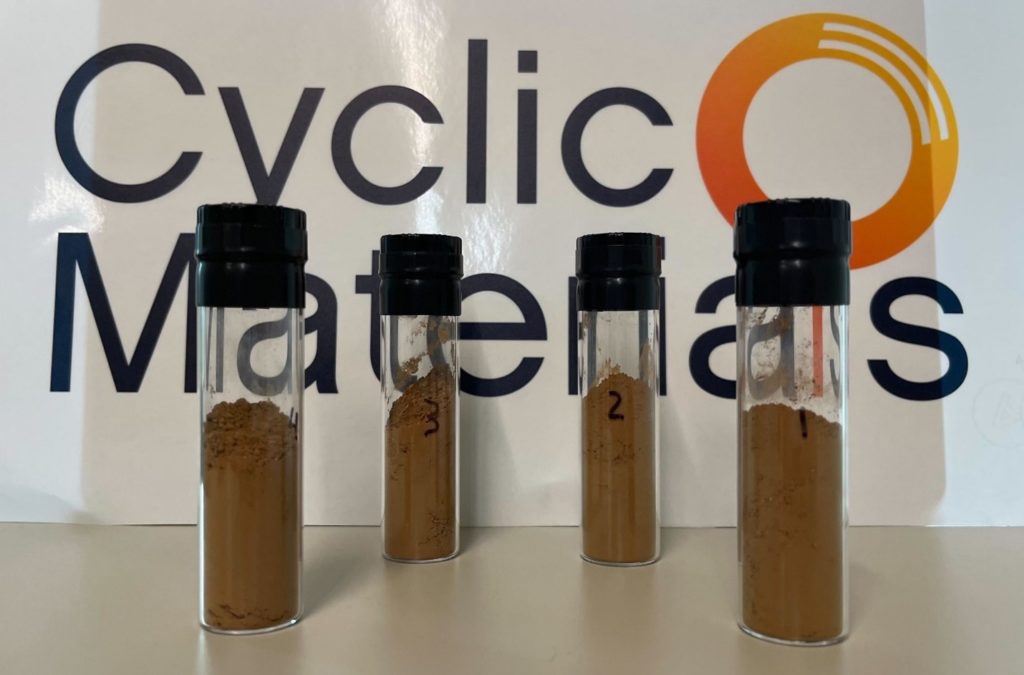 Creating a Circular Supply Chain for Rare Earth Elements and Critical Materials
Cyclic Materials, a Canadian advanced metals recycling company focused on producing critical materials, today announced it has raised $27 million in an oversubscribed Series A financing. The money is flowing in quickly after accomplishing its first production run of rare earth magnetic material and forging a string of partnerships with magnetics industry notables. These include chemicals giant Solvay which is planning to build a major rare earths magnet operation in Europe, and Arnold Magnetic Technologies (see related article), among others. 
The financing round was led by Energy Impact Partners (EIP) and BMW i Ventures (BiV) and included participation from Fifth Wall, Bioindustrial Innovation Canada (BIC), and existing Cyclic Materials investor Planetary Technologies. The funding round brings the company's total capital raised to over $30 million and will contribute to the scale up of its technologies. 
Founded in 2021 in Kingston, Ontario, Cyclic Materials is focused on creating a more sustainable, domestic supply chain for rare earth elements and other metals through an innovative recycling process that re-circulates the minerals back into the manufacturing process. 
Rare earth elements (REEs) are among the least recycled metals due to the difficulty of separating the various magnetic materials in end-of-life products. However, with the global market for REEs forecast to increase three-fold by 2030, establishing new sources of REEs is critical. REE and metal recycling has many economic and environmental benefits over mining such as a shorter development timeline, lower consumption of reagents and water, reduced waste, and a significantly smaller carbon footprint. While new mines are also necessary to meet projected demand, developing a domestic supply chain of high-quality REEs reduces the need for virgin material. 
The company's process also recycles copper, aluminum, steel, cobalt, and nickel – metals that are also required for electrification and decarbonization. Electric vehicles, for example, require two and a half times as much copper as internal combustion vehicles. Beyond electric vehicles, copper is necessary for renewables, transmission & distribution infrastructure, and battery storage technologies. 
Since its founding, Cyclic has successfully developed pilot plants and distributed high-quality REE samples to prospective clients, secured supply chain agreements with internationally recognized companies, obtained Sustainable Development Technology Council of Canada funding and received multiple industry awards. 
"We are very excited about this new funding and our new partnerships with EIP, BiV, Fifth Wall, and BIC, which will provide the capital required for the scale up of our technologies and help us plan our future growth in North America, Europe, and Asia," said Ahmad Ghahreman, CEO and co-founder of Cyclic. "With the support of our partners we intend to continue advancing the scale of our technologies in order to meet the rising demand for rare earth elements in the near future and enable a more sustainable future." 
"We are excited to back Ahmad and Cyclic Materials' mission to develop domestic, circular supply chains for REEs and other critical metals," said Shayle Kann, Partner at EIP. "These metals are essential for electrification and recycling them has substantial economic and decarbonization benefits." 
"REEs are critical for many applications from small electronics to large wind turbines but are very challenging to produce," said Kasper Sage, Managing Director of BiV. "The Cyclic Materials team has developed a novel process that can create a sustainable, secondary supply source. We are excited about the company's plan to scale this technology, helping secure the metals supply chain of the future."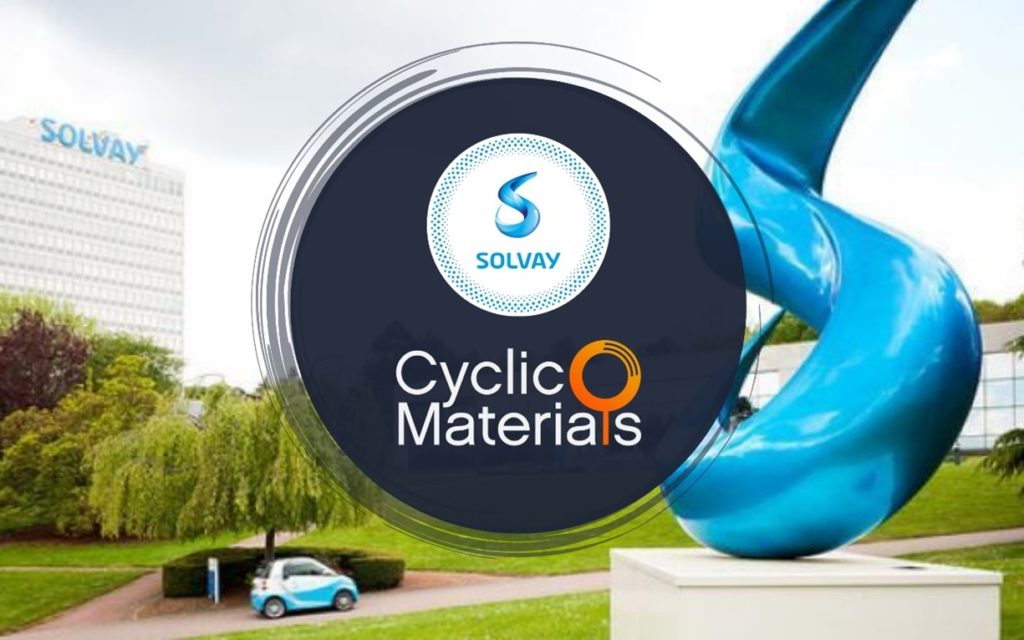 In February, Solvay and Cyclic signed a Memorandum of Understanding which outlines the intent of both parties to enter into an agreement for the production and supply of recycled mixed rare earth oxides to be sent from Cyclic's site in Ontario to Solvay's plant in La Rochelle, France.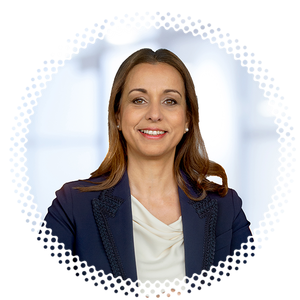 "Cyclic Materials will provide us key raw materials for our plant to successfully produce rare earths for magnet manufacture, electronics, and catalysts," said Ilham Kadri, Solvay CEO. "As the European Commission finalizes the European Critical Raw Materials Act, supplies of recycled materials are becoming critical to European manufacturers. This MOU prepares us for a future offtake agreement which will further our efforts to provide certifiably recycled materials to these markets." 
The move comes as Solvay is implementing its plans to develop a major hub for rare earth magnets in Europe. For decades, Solvay has been a technology leader in rare earths separation, purification, finishing and formulation, it notes. In September, it announced plans to expand its rare earths operations in La Rochelle, France to enter the value chain for rare earth permanent magnets in Europe and serve customers in the fast-growing electric vehicles, wind power, and electronics markets. With this investment, the group has the ambition to create a powerful rare earths hub in Europe in the coming years.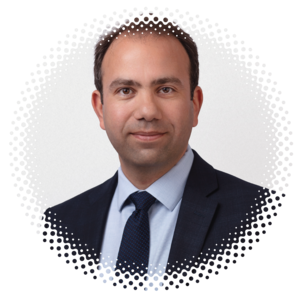 "Solvay is the best-known player in the rare earth separation and rare earth chemicals market, and we are proud to collaborate with them to support a European rare earth industry," added Ghahreman. "Solvay has been in a leadership role in European rare earths for decades, and we can now be confident that the Cyclic Materials' products will be processed into the highest quality rare earths on the market, compatible with all downstream applications."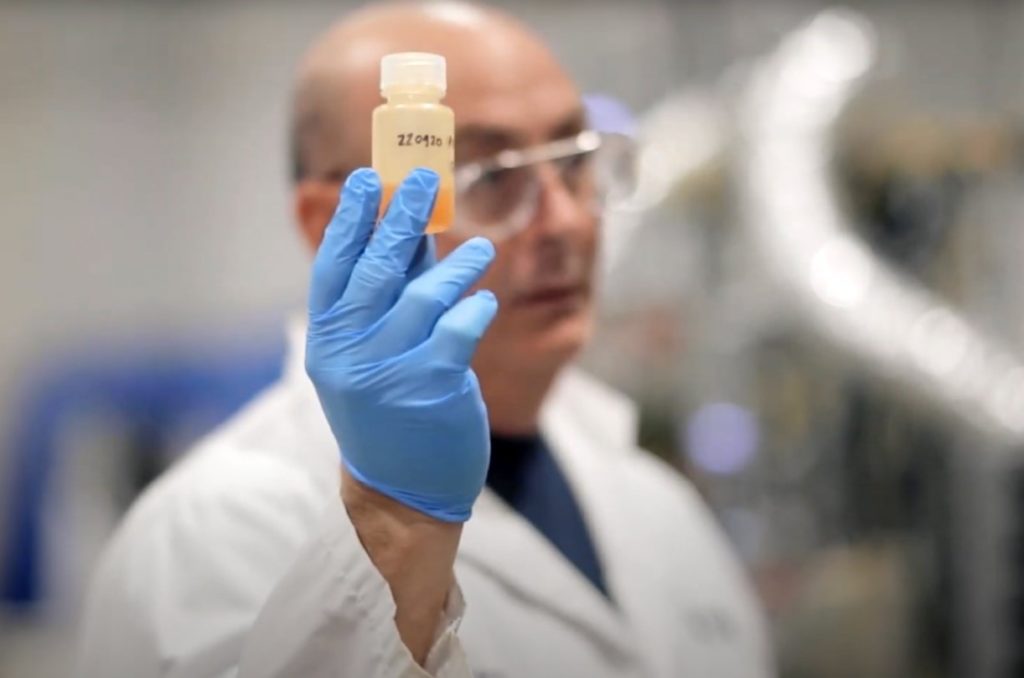 In October, Cyclic completed the initial production run at its magnet recycling pilot plant, focused on generating the engineering data required for its 2023 scale up plans and producing high quality magnet rare earth oxides. It aims to produce 600 tons of mixed rare earth oxides by 2026, increasing to 3,000 tons per year by 2030. Cyclic is based in Kingston, Ontario. For more info, see www.cyclicmaterials.earth.