Nuvera Fuel Cells  has announced the commercial availability of 360 kW and 470 kW Nuvera® G-Series Fuel Cell Power Generators, a modular zero-emission power solution for commercial and industrial applications including data centers, electric vehicles, back-up power, and microgrids.
Nuvera G-Series Power Generators operate on hydrogen and deliver three-phase VAC power in a containerized package. Hydrogen produced from excess renewable power such as solar, wind or hydro can be used to store electricity effectively. The hydrogen can then be conveyed to the power generator to meet on-site power demands or be fed to the electrical grid. When the grid is down, the system can provide back-up power for critical operations.
The generator features remote monitoring for maximizing uptime, day/night energy use, and power output that can be extended to megawatt scale. Comprised of multiple Nuvera® E-Series Fuel Cell Engines, uptime is afforded by system redundancy. The generator can provide up to 85 percent of its maximum power while allowing one of its modules to be serviced.
"We are committed to providing scalable clean power solutions available worldwide, along with integration and aftermarket support," said Kedar Murthy, chief commercial officer at Nuvera. "The G-Series Power Generator, which has been validated in operation for two years, is a milestone in our company's expanding product portfolio that began more than two decades ago."
Hydrogen Powered Vehicles: Making the Best Choices About Efficiency and Emissions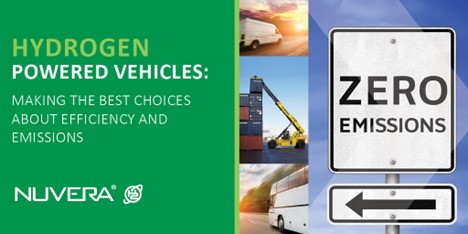 Already a leading provider of fuel cell engines for zero-emission industrial vehicles, Nuvera explains the key factors about hydrogen powered vehicles in this recent blog, "Hydrogen Powered Vehicles: Making the Best Choices About Efficiency and Emissions", which is available on its website.
As more zero-emission vehicle (ZEV) mandates are adopted globally, clean commercial transportation options are proliferating. Vehicle electrification is accepted as the inevitable pathway to zero emissions for all forms of motive power.
Yet battery-only electric vehicles (BEVs) will not work for many commercial operations due to their size, weight and susceptibility to environmental factors that diminish their performance. Even when BEVs can be used for the duty-cycles and operating conditions required, the required electrical infrastructure for charging can be prohibitive for fleets – not to mention the productivity losses associated with the downtime required for battery charging.
Fuel cell electric vehicles (FCEVs) represent the only hydrogen option to achieve true zero-emissions performance for heavy-duty on- and off-road applications. Now reaching technological maturity and widespread availability, fuel cells are being adopted as the technology of choice by an increasing number of vehicle manufacturers for their electrified powertrains.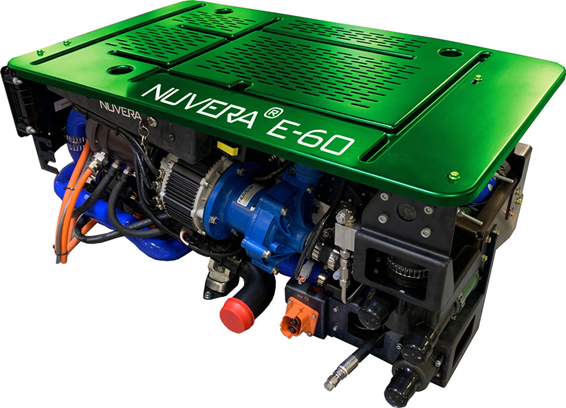 Key advantages of vehicles and equipment powered by Nuvera® E-Series Fuel Cell Engines include:
Zero NOx, SOx and particulate matter emissions
Payload capacity comparable to gasoline/diesel engines
Fast refueling
Easy integration into electrified vehicle platforms
Hydrogen power alternatives such as internal combustion engines (ICE)s produce hazardous NOx and unburned hydrocarbon emissions, and exhaust pre- and after-treatment is expensive.
FCEVs are approximately twice as efficient as vehicles powered by hydrogen ICEs. With fuel accounting for the biggest share of cost of ownership, reducing fuel consumption has a major impact on the economic viability of hydrogen powered vehicles. Moreover, the mechanical rotary output from ICEs is not well-suited to the transition to electric vehicle platforms, and so do not contribute to the advances urgently needed to develop zero-emissions solutions at a mass scale.
Fuel cell electric vehicles meet ZEV regulatory requirements, drive longer distances, and use significantly less fuel. Best of all, Nuvera® E-Series Fuel Cell Engines to power them are available NOW.
About Nuvera Fuel Cells, LLC
Nuvera Fuel Cells, LLC is a leading manufacturer of heavy-duty, zero-emission engines for mobility applications with headquarters in Billerica, Massachusetts. With teams located in the U.S., Europe, and Asia, Nuvera provides clean, safe, and efficient products designed to meet the rigorous needs of industrial vehicles and other transportation markets, and, now, stationary power markets as well.
Nuvera is a subsidiary of Hyster-Yale Group, Inc., which designs, engineers, manufactures, sells, and services a comprehensive line of lift trucks and aftermarket parts marketed globally primarily under the Hyster® and Yale® brand names. Hyster-Yale Group is a wholly-owned subsidiary of Hyster-Yale Materials Handling, Inc. (NYSE: HY). Hyster-Yale Materials Handling, Inc., and its subsidiaries, headquartered in Cleveland, Ohio, employ approximately 7,600 people worldwide.
For more information about Nuvera, visit the Company's website at www.nuvera.com.