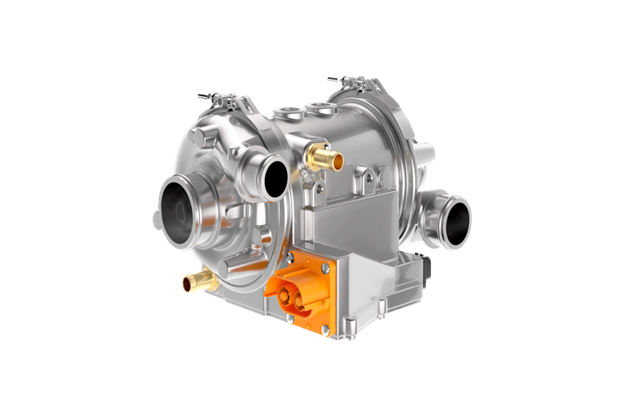 Liebherr has entered a strategic as well as historic collaboration with ZF to develop new high-speed compressors for medium size, heavy duty as well as long haul hydrogen fuel cell powered vehicles. Customers will benefit from the huge know-how of the two system designers, with ZF being one of the major players in the automotive and with Liebherr being one of the leading Original Equipment Manufacturers in the aerospace branch. 
Liebherr and ZF announce that they join forces to develop and produce new high-speed compressors in different power classes for the application in various sized vehicles powered with fuel cell technology. ZF is planning to offer the compressor platform concept to the automotive market. 
The two partners will jointly develop the design of the compact and reliable compressors with dedicated power electronics; ZF will take care of the necessary steps for industrialization and series production.
Liebherr's technology is eco-friendly: Its high-speed compressors are driven by an electrical motor and feature air bearings, which means that they do not require any lubrication. Thus, the compressors do supply clean, compressed air to the fuel cell stack, not adding any pollution to the membrane. Such technology is an enabler for the deployment of fuel cell propulsion systems with only emissions of water and heat, which aids in the movement for more environmentally friendly transportation. 
"Liebherr-Aerospace can look back at more than 40 years of experience in the development and production of air cycle air conditioning systems, where the air cycle machine, that is the compressor, constitutes the core of the system without any use of refrigerants. These systems based on air bearing technology are on board many commercial aircraft and business jet platforms around the globe and perform also very successfully in the railway market. Since the early 2000's, such compressor technology was transferred to the automotive market for application in fuel cell propulsion systems. In this regard we have been working with major carmakers worldwide. With ZF, we have now the right collaboration partner. They will receive our high-speed compressor know-how as an enabler to offer critical equipment for fuel cell propulsion systems in the automotive market", said Dr. Klaus Schneider, Chief Technology Officer, Liebherr-Aerospace & Transportation SAS. "Liebherr will of course continue to develop and offer high speed compressors to the aerospace and railway sector", he explained. 
"Thanks to the new partnership with Liebherr and the integration of its know-how and expertise into our solutions, ZF can significantly shorten the time to market for fuel cell compressors for commercial vehicles," adds Claus Umnus, Head of the Chassis Technology Product Line in ZF's Commercial Vehicle Solutions Division.