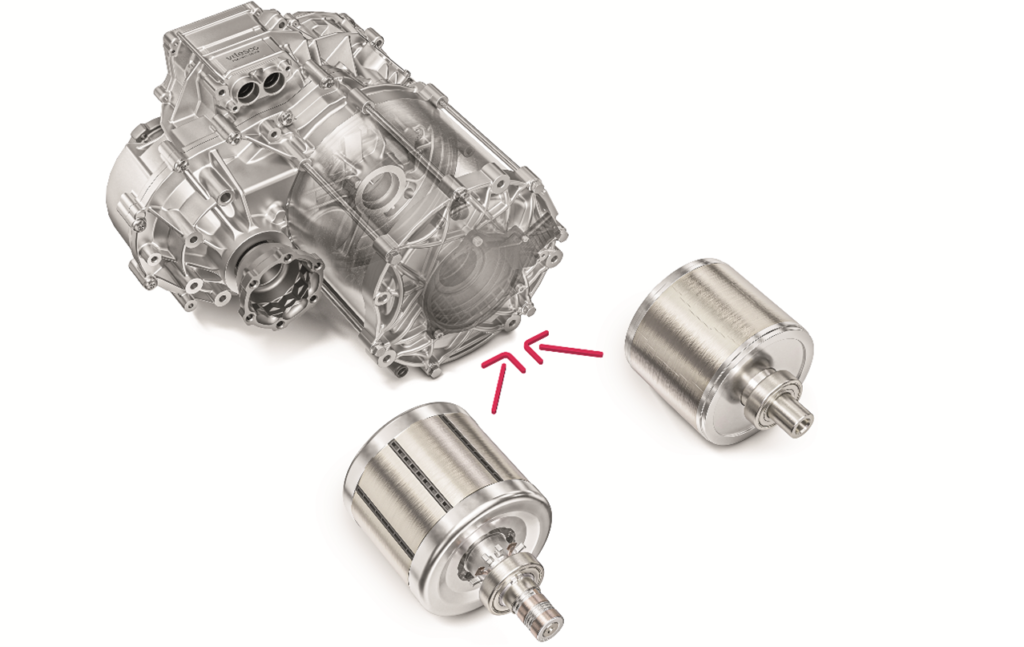 Automotive powertrain manufacturer Vitesco Technologies is strategically building its portfolio of e-drives with new designs – including one that features a rotor without permanent magnets, and billion-dollar supply chain deals to secure a steady flow of prized silicon carbide semiconductors for control and charging systems.
Focused on life cycle engineering for enhanced sustainability and an improved ecological balance sheet, Vitesco engineers have designed a new rotor without permanent magnets which forms the core of an externally excited synchronous machine (EESM) that expands the company's platform of complete axle drive systems. The design is suited for both main drives and auxiliary drives, plus it can bring performance benefits. It reduces the rotor costs and avoids the carbon footprint that comes with mining and processing the ores. Based in Regensburg, Germany, Vitesco was formerly the powertrain division of Continental AG and is a top-tier supplier of drivetrains to the automotive industry.
"Top results in the sustainability and efficiency of electric cars will be achieved, if the vehicle drive is optimally adjusted to the specific scenario. The externally excited rotor without permanent magnets is a particularly sustainable option for our customers. The higher the performance requirements to the drive, the more economically attractive EESM technology becomes," according to Thomas Stierle, division head of electrification solutions.
Externally excited machines can offer many advantages, figures Vitesco. Up to now, most electrified cars have synchronous machines with permanent magnets in the rotor (so-called PSMs, permanent magnet synchronous motors). They are efficient and were generally regarded as easier to manufacture than externally excited machines, which use coils in the rotor to generate the magnetic field.
Vitesco says it has overcome some substantial obstacles to designing externally excited machines. By harnessing many years of experience from series application and through targeted design changes, it became possible to achieve the same performance class with both technologies (PSM and EESM) – and to use the existing space in the platform design for both options. By applying a sophisticated winding principle, the innovative EESM rotor becomes an economically attractive option within the most recent drive platform. Especially, when high performance requirements necessitate a big magnet mass in a PSM, EESM machines can be more affordable and more sustainable.
"Obviously, the EESM option requires an additional inverter module to control the coils. Nevertheless, we are really close to an EESM plug-and-play solution," Dr. Gerd Roesel, head of innovation in the lectrification solutions division. There are other advantages, too, he notes. "When the vehicle is sailing efficiently, the externally excited machine saves a watt hour of electricity per kilometer because there is no drag from a permanent magnet field in the rotor," Roesel added, "this lowers the power requirement of the drive by up to five percent without the need for a mechanic decoupling device."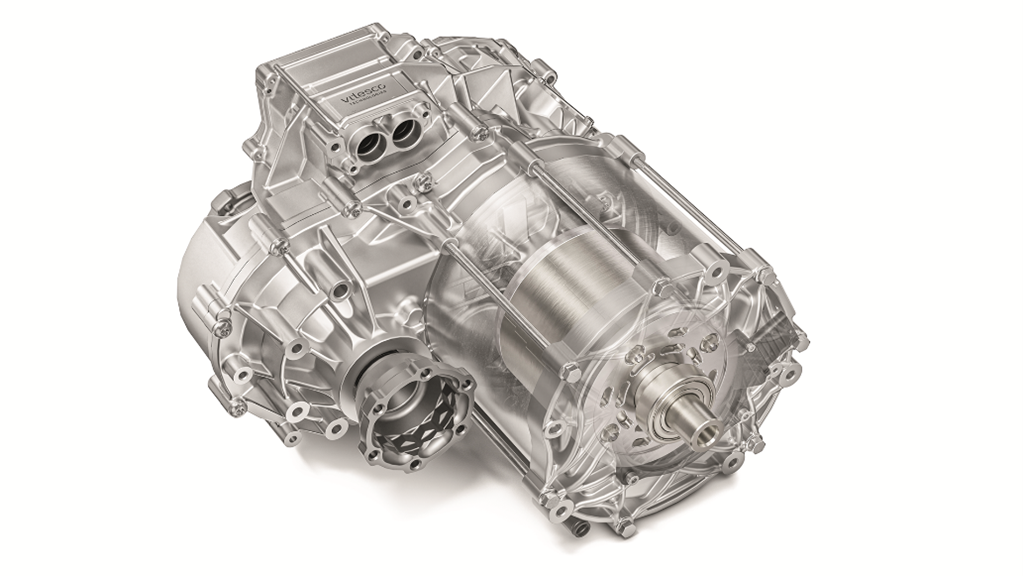 Vitesco showcased the EESM module recently in Europe at the Vienna Motor Symposium in April and in North America at the at the 36th EV Symposium & Exposition held in Sacramento, California in June. It also has been exhibiting other developments in its e-mobility portfolio, including for e-bikes and fuel cell vehicles:
a demo version of its 48-volt system for smaller electric two-wheelers. It consists of an eDCU (Electric Drive Control Unit) and a compact powerful electric motor, fitted with a special inductive rotor position sensor. The system is being developed for series application within customer projects.
a hydrogen leakage sensor that reliably detects even the smallest amounts of hydrogen in fuel cell systems.
an air control valve which, on the other hand, controls the air flow to the cathode side of the fuel cell. 
"As electrification momentum grows, we are excited to provide our customers with the technical flexibility they need to set their strategies," said Anand Gandhi, North America director of technology and innovation for Vitesco, at the California event. "As a result of our life cycle engineering, we can provide our customers with sustainable mobility solutions."
Semiconductor supply chain deals with ROHM and onsemi
In June, Vitesco secured strategically important capacities in energy-efficient silicon carbide power semiconductors through a long-term supply partnership with ROHM – worth over one billion US dollars until 2030. A development partnership with ROHM which began in 2020 created the basis for the new supply partnership. Vitesco advanced inverters with integrated ROHM SiC chips will be adopted by two customers, to be applied inside electric vehicle powertrains. Vitesco will start supplying a first series project as early as 2024.
SiC devices enable the design of particularly efficient power electronics, such as those needed for electric car inverters. SiC chips are a key technology, particularly for high voltages and for vehicles with demanding range targets and optimum overall efficiency. During the existing development partnership with ROHM the relevant SiC chips were further optimized for use in automotive inverters.
"The supply partnership agreement with ROHM is an important building block for securing Vitesco Technologies' SiC capacities in the years ahead. We have had very good experience in our development cooperation so far and are now looking forward not only to continuing it, but also to intensifying it further," said Andreas Wolf, CEO of Vitesco.
"In the high-growth automotive market, SiC is a pathfinder for higher efficiency. With an expected higher market share of more than 30 percent, we are strongly positioned here and have gained a strategic partner in Vitesco Technologies for further market penetration," said Dr. Kazuhide Ino, Member of the Board, Managing Executive Officer and CFO of ROHM Co. Ltd. at the signing ceremony.
Small cause – big effect
Silicon carbide belongs to the so-called wide bandgap semiconductors, whose wide bandgap (simplified: the energy gap between the non-conductive state and the conductive state of the electrons in the material) enables lower electrical resistance, fast and low loss switching chips for power electronics. At the same time, SiC chips are more thermally resistant, so that the power density of electronics can be increased.
Thanks to these features, SiC electronics have reduced conversion losses compared to conventional silicon (Si). Especially at high voltage levels such as 800 V, SiC inverters are more efficient than Si models. Since 800 V is the prerequisite for fast and thus convenient high-voltage charging, SiC devices are at the beginning of a worldwide boom. Reduced conversion losses in the inverter are also significant for the overall efficiency of electric driving and thus for range. Competition for sufficient capacities in components made of this high-tech material is correspondingly fierce.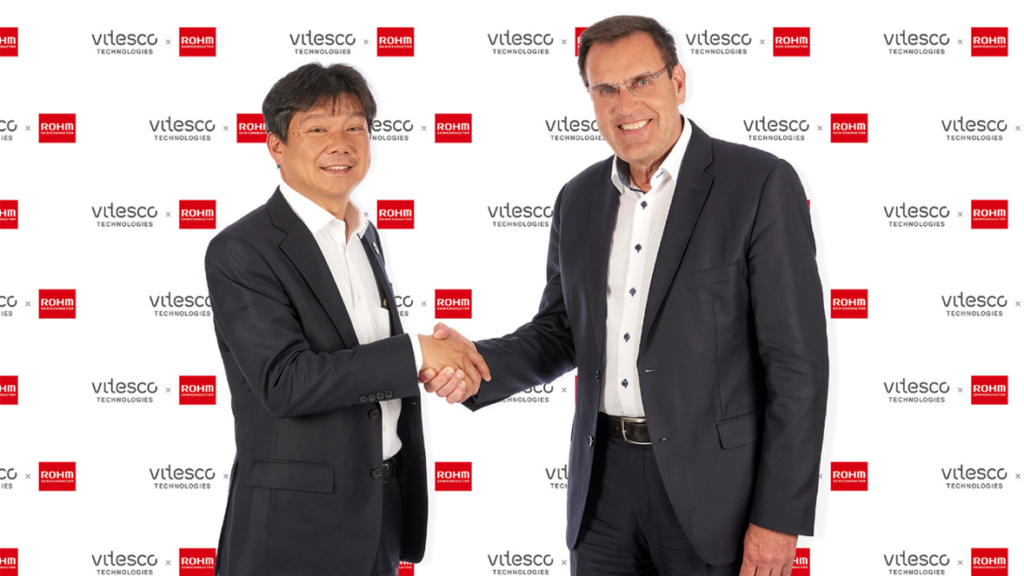 In May, Vitesco and onsemi today announced a 10-year long-term supply agreement worth $1.9 billion for SiC chips to enable Vitesco's ramp in electrification. Vitesco is providing an investment of $250 million to onsemi for new equipment to secure access to SiC capacity. The equipment will be used to produce SiC wafers to support Vitesco's growing SiC demand.
The companies will also collaborate on optimized customer solutions. onsemi's highly efficient EliteSiC MOSFETs will be used by Vitesco to execute recent orders as well as future projects for traction inverters and electric vehicle drives.
"Energy-efficient silicon carbide power semiconductors are at the beginning of a big surge in demand. That is why it is imperative for us to get access to the complete SiC value chain together with onsemi. With this investment we have a secure supply of a key technology over the next ten years and beyond," said Wolf.
Hassane El-Khoury, president and CEO of onsemi, commented: "This collaboration will enable Vitesco Technologies to address their customers' demand for longer range and higher performance in electric vehicles. onsemi provides superior performance and quality, supply assurance, and manufacturing at scale of SiC technologies based on decades of experience in manufacturing power semiconductor products in high volume automotive applications."
For more info, see www.vitesco.com.