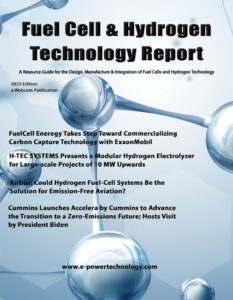 The Fuel Cell & Hydrogen Technology Report will be expanding to two editions in 2024 based on the successful launch of its inaugural edition in 2023, announces Webcom Communications Corporation. "Amidst strong market growth and with a market-leading large distribution to virtually all industry and end-user sectors for hydrogen and fuel cell solutions, as well as to the investment and regulatory communities, the report has met with an impressive response," said Scott Webster, director of content and sales for Webcom. 
Spring and Fall editions will be published in 2024, following the same informational format and featuring the same types of in-depth articles highlighting the technology and advancements of leading industry players and solution providers worldwide. The media kit with schedule, demographics and rates is available here.
The move comes as Webcom unveils the new brand identity, New Power Technology, formerly known as e-Power Technology, reflecting its overall service to the hydrogen and fuel cell sectors, as well as other technologies rapidly gaining foothold for sustainable and reduced or zero-emission power. For more info, see www.NewPowerTechnology.com.