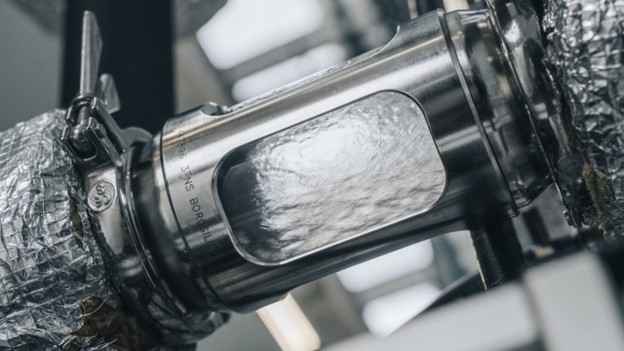 Targeting a spectrum of technology and application offerings, Bosch aims to grow its hydrogen and fuel cell business to $5.3 billion by 2030. As it builds out broadly along the entire value chain, top new ventures include developing a new business area in water treatment for electrolyzers and starting up volume production of fuel cells in Germany.  
 "A climate-neutral world won't work without green hydrogen," says Dr. Stefan Hartung, chairman of the Bosch board of management, speaking at Bosch Tech Day held recently in Stuttgart. Bosch is now expanding its business to include technology for water treatment. In addition to systems using the usual water treatment method of reverse osmosis, Bosch also plans to offer new solutions specifically engineered for remote areas and offshore locations.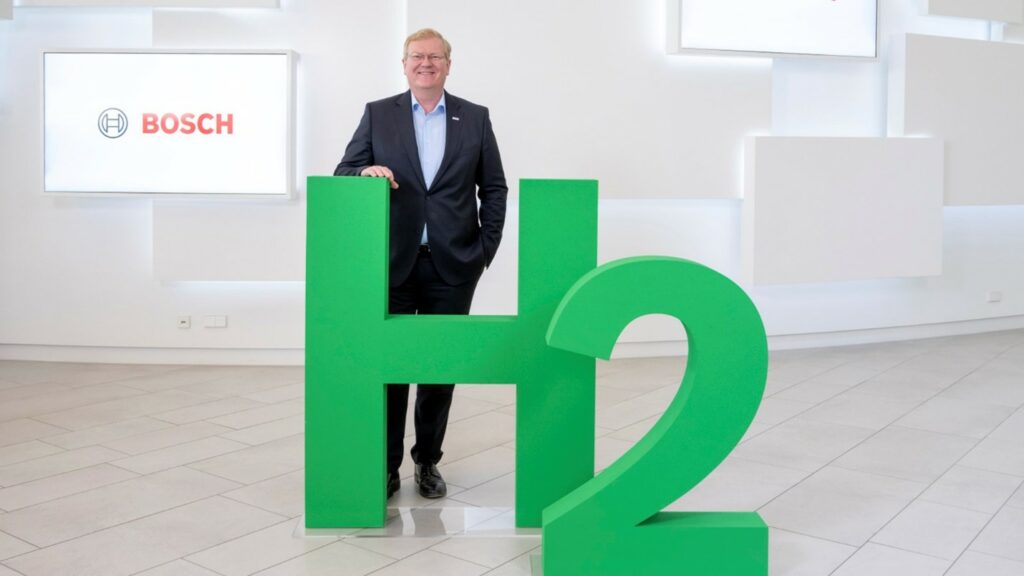 "Above all, the production of green hydrogen requires ultrapure water. With our special-purpose systems, water treatment can be done anywhere, even in the most remote areas of the world, in an economical and environmentally friendly way," Hartung says. 
The systems are designed to be not only robust and low maintenance, but compared to solutions commonly available on the market, they eliminate the need for chemicals in water treatment. With its entry into this new business field, Bosch is closing the circle and rounding off its range of products and services: "We're developing technology for water treatment as well as for the generation, compression, storage, and use of hydrogen – and doing so for various sectors. Hardly any other company offers such a broad portfolio," Hartung says. External pilot projects are slated for the course of this year and market launch for the systems is planned for 2024.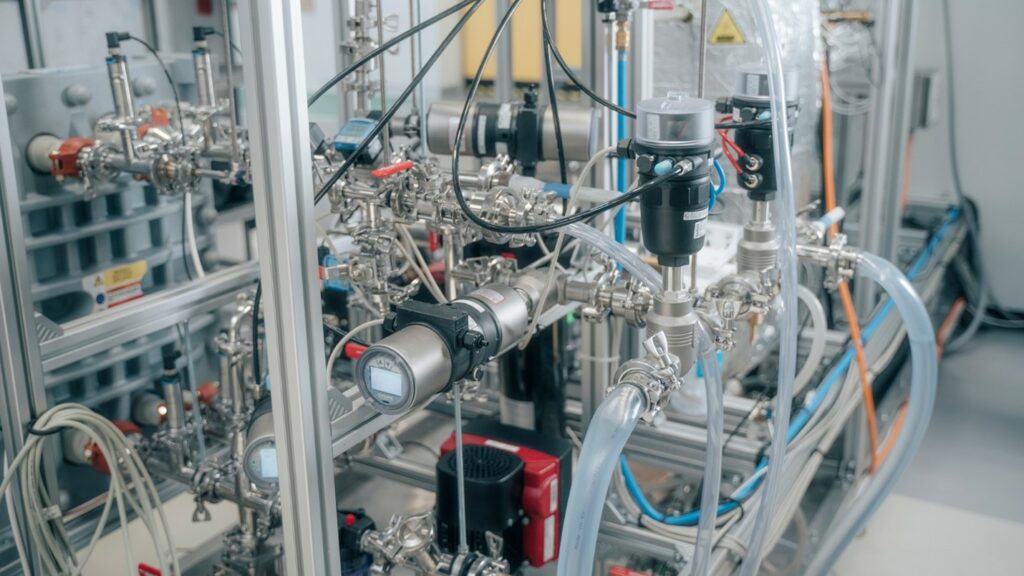 Electrolyzers require ultrapure water to produce hydrogen. "Impurities in the water can render electrolyzers inoperative in a very short time," explains Dr. Wolfgang Schleifenbaum, head of the hydrogen business unit at Bosch Manufacturing Solutions. In the future, hydrogen will be produced in areas with strong winds or abundant sunshine – Africa, South America, or Northern Europe, for example. Locations offshore or in the desert present particular challenges: considerable distances from the technical facilities, water high in salt or minerals – all make water treatment more difficult. As a result, demand for special equipment is high: Bosch expects that starting in 2035, some 500 of the company's special-purpose water treatment systems will be needed worldwide each year.
 
The Bosch systems remove minerals from the water by means of thermal and electrochemical processes to obtain ultrapure water. Thanks to a treatment process without filter media, it is possible for operators to completely dispense with the use of chemicals. "Green hydrogen is sustainable only if its production doesn't cause collateral damage to the environment; for example, by putting chemicals into our already heavily polluted waters," Schleifenbaum explains. For predictive maintenance of the equipment, even from far away, Bosch offers software solutions that ensure robust operation in harsh environmental conditions. 
Industrial systems for water treatment in developed areas
The demand for ultrapure water for the world's hydrogen projects is enormous. As the world strives to achieve the Paris climate targets, Bosch estimates that, starting in 2050, annual demand for the water used in electrolysis will amount to some four cubic kilometers – more than the volume of Germany's Lake Starnberg.
Germany and Europe have ambitious goals. The German government has set a goal of installing H2 electrolyzers with a total capacity of 10 gigawatts by 2030. The EU aims to install 40 gigawatts of electrolysis capacity in Europe by 2030, with plans to produce up to 11 million tons of renewable hydrogen. 
"Hydrogen will play a crucial role in the energy supply of the future. Industries worldwide must use hydrogen if they want to become climate neutral. Bosch supplies water treatment technology that meets different requirements with regard to the size, performance, and location of the electrolyzers," Schleifenbaum says. For water treatment in developed areas, Bosch plans to expand its portfolio to include industrial systems that use reverse-osmosis processes and ion exchangers to turn tap water into the ultrapure water electrolyzers need. With this combination of industrial and special-purpose equipment, Bosch fulfills the requirements for electrolysis projects worldwide. 
Into the hydrogen age: Bosch starts volume production of its fuel-cell power module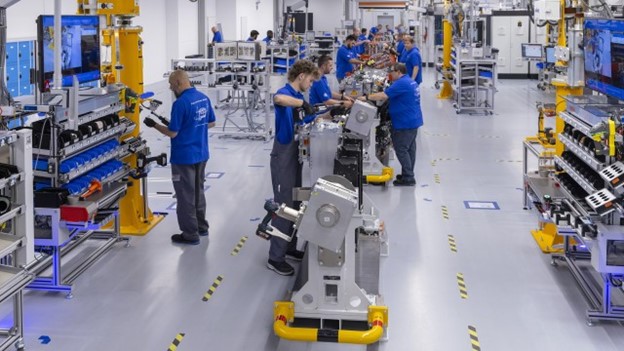 Bosch has now begun volume production of its fuel cell power modules at its Stuttgart-Feuerbach location. Nikola Corporation, based in the United States, will serve as the pilot customer with its Class 8 hydrogen fuel cell electric truck, which is scheduled to enter the North American market in the third quarter of 2023.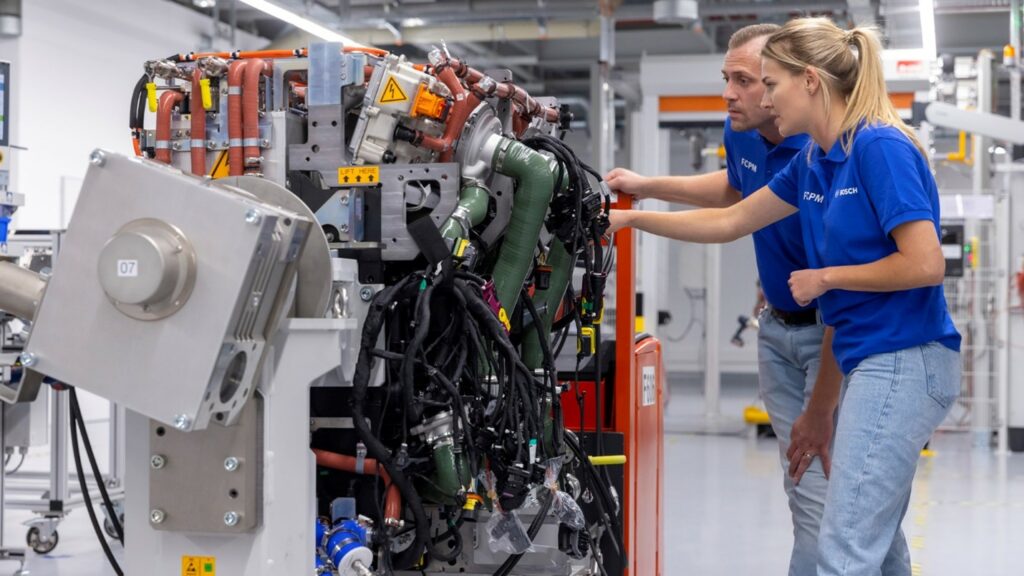 "Bosch is one of the very few companies that are capable of mass-producing technology as complex as fuel-cell stacks. We don't just have the required systems expertise, but also the capability of quickly scaling up new developments to mass production," said Markus Heyn, member of the Bosch board of management and chairman of Bosch Mobility.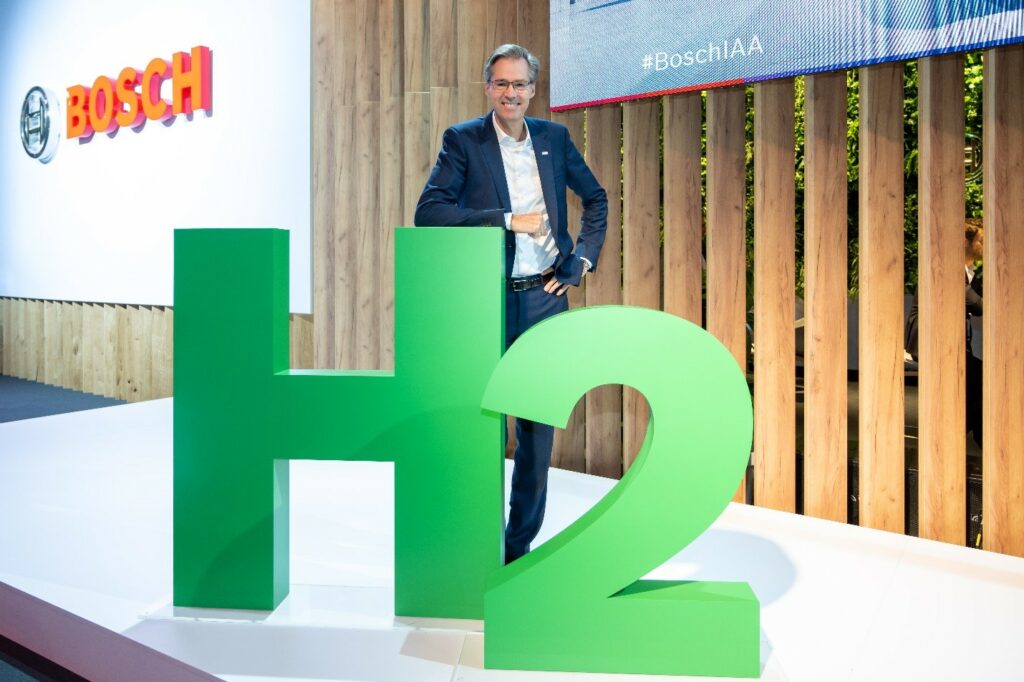 Production of the fuel-cell power module is not only starting in Feuerbach, but also in Chongqing, China. The components it requires will come from the Wuxi plant. "Bosch is the first company to produce these systems in both China and Germany," Hartung said. In addition, Bosch is also planning to manufacture stacks for mobile applications in its U.S. plant in Anderson, South Carolina. Worldwide, the company expects that, by 2030, one in five new trucks weighing six tons or more will feature a fuel-cell powertrain.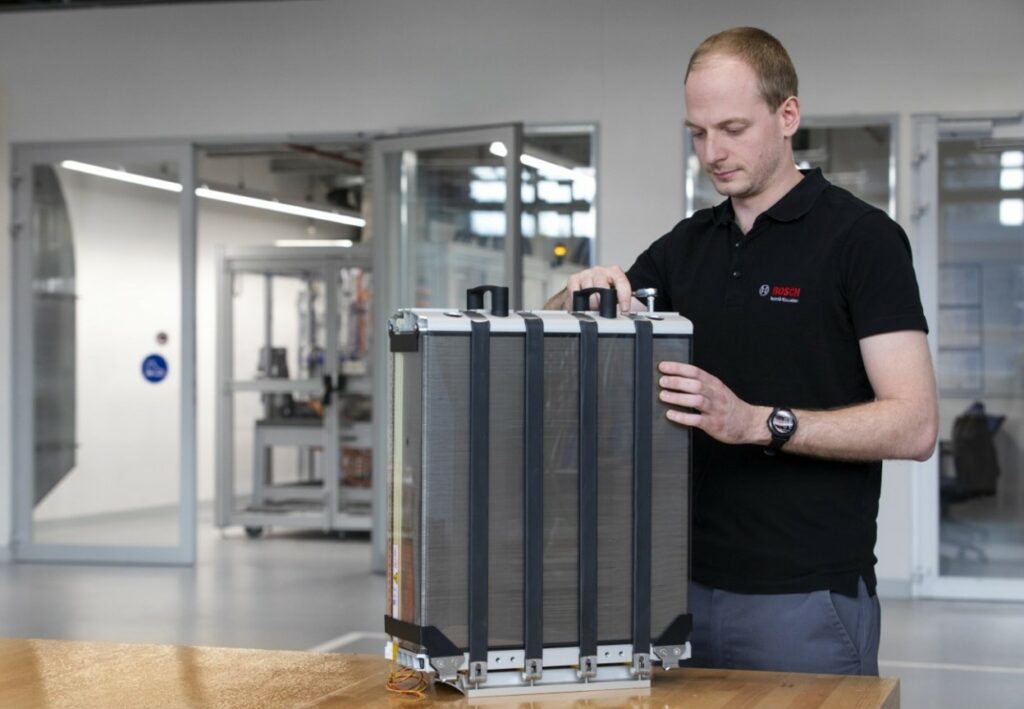 Along the entire hydrogen value chain, the company is developing technologies for the production, compression, storage and use of hydrogen as it builds a broad portfolio of products and services. Solutions for automotive markets are prevalent but the scope is well beyond.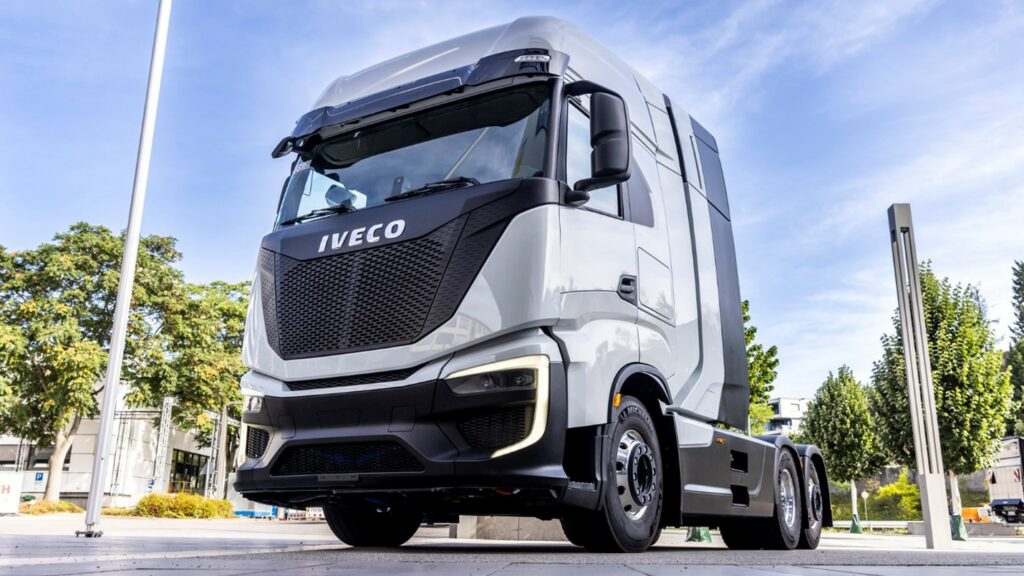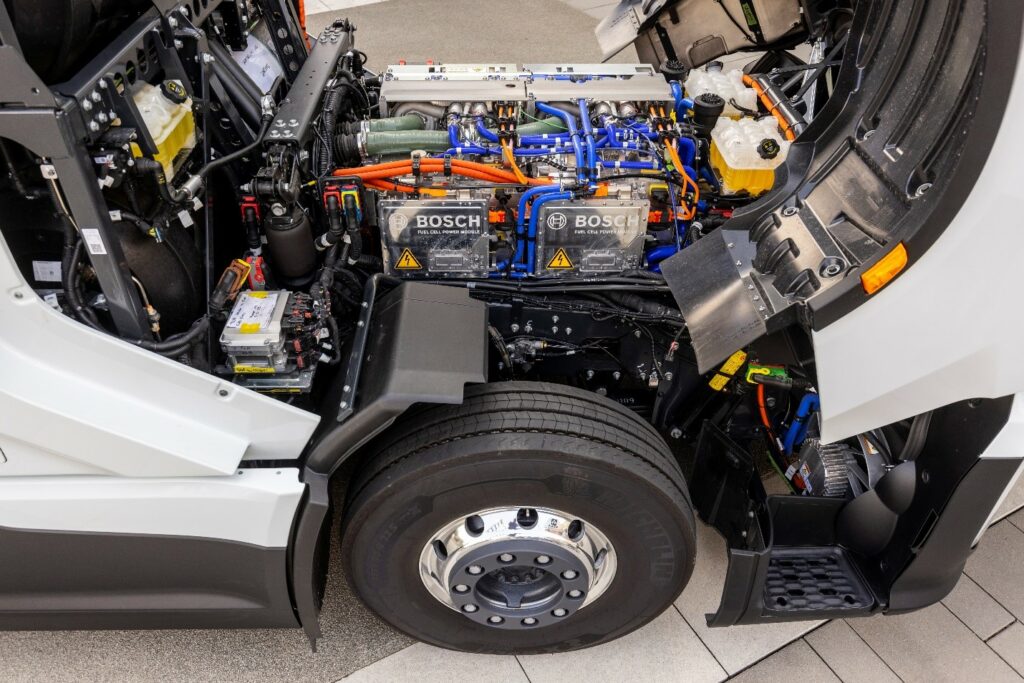 At the start of 2023, Bosch started constructing prototypes for electrolysis using proton exchange membranes – in other words, the reverse of the energy conversion method used in mobile fuel cells. Starting in the fall, the company intends to make 1.25-megawatt prototypes available for pilot applications and is on track to start volume production in 2025.
Bosch is exploring several options for the use of hydrogen. Stationary solid-oxide fuel cells can be used for the distributed supply of power and heat. In a pilot project at the hospital in Erkelenz, near Cologne in Germany, Bosch wants to use this technology to achieve overall efficiency of 90 percent. The micropower plant there will initially run on natural gas but can be converted to green hydrogen. 
Stationary solid-oxide fuel cell systems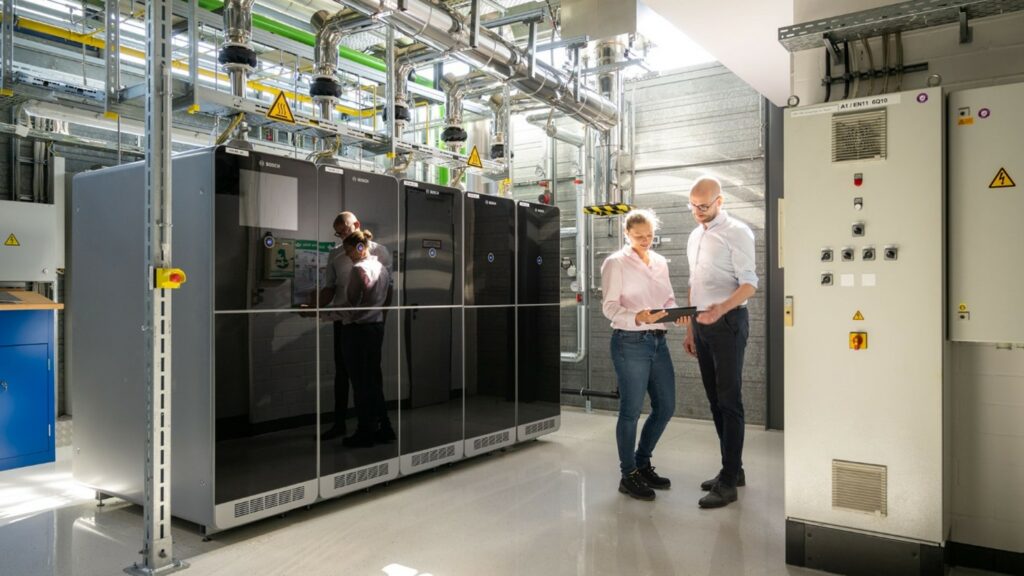 Bosch solid-oxide fuel-cell (SOFC) systems are distributed power plants that can be used in commercial buildings, industrial plants and computing centers. An SOFC system generates a power output of 100,000 watts and depending on power requirements, several systems can be combined for megawatt-scale output. An SOFC system uses conventional fuels (biomethane or natural gas; in the future also hydrogen) to generate heat and power. It achieves as much as 90 percent overall efficiency. Expertise in functional ceramics can be used when manufacturing these stationary fuel-cell stacks – expertise that was developed when manufacturing lambda sensors for vehicles. They are expected to be ready for production by the middle of the decade. 
Stack and smart electrolysis module – technology for H2 electrolyzers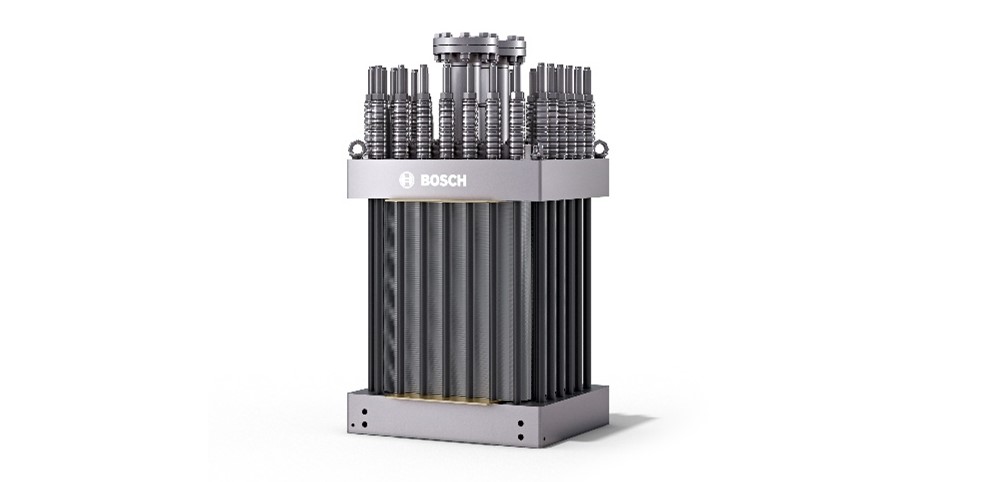 Bosch not only plans to use hydrogen, but also to provide smart technology for its production. For this purpose, Bosch is developing the electrolysis stack, the central element of an electrolyzer. The stack comprises more than 100 electrolysis cells that use electricity to split water into oxygen and hydrogen. It is designed for an output of 1.25-megawatt. That is equivalent to the production of 50 pounds of H2 per hour. On the hydrogen side, the resulting pressure is more than 435 pound per square inch. The Bosch electrolysis stack is suitable for use in smaller-scale plants producing one million watts and more, all the way up to large, gigawatt-scale plants. It is expected to be market-ready from 2025. First pilot projects with customers are in preparation and will start next year.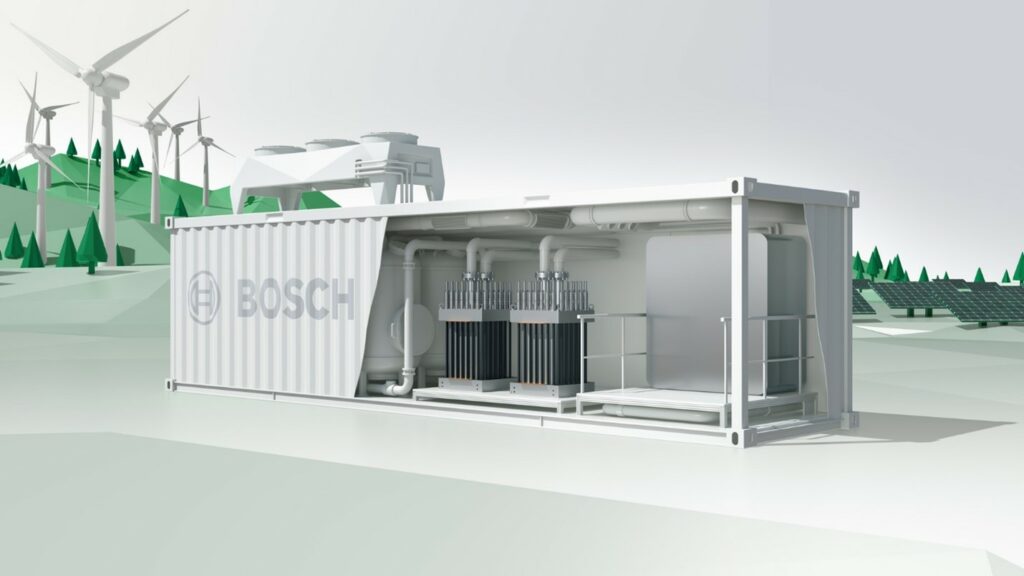 In addition, Bosch is planning to combine the electrolyzer stack with a control unit, power electronics, and various sensors to create a "smart electrolysis module," designed to be compatible and save space, optimize systems efficiency, reliability, installation and setup.
Hydrogen engine systems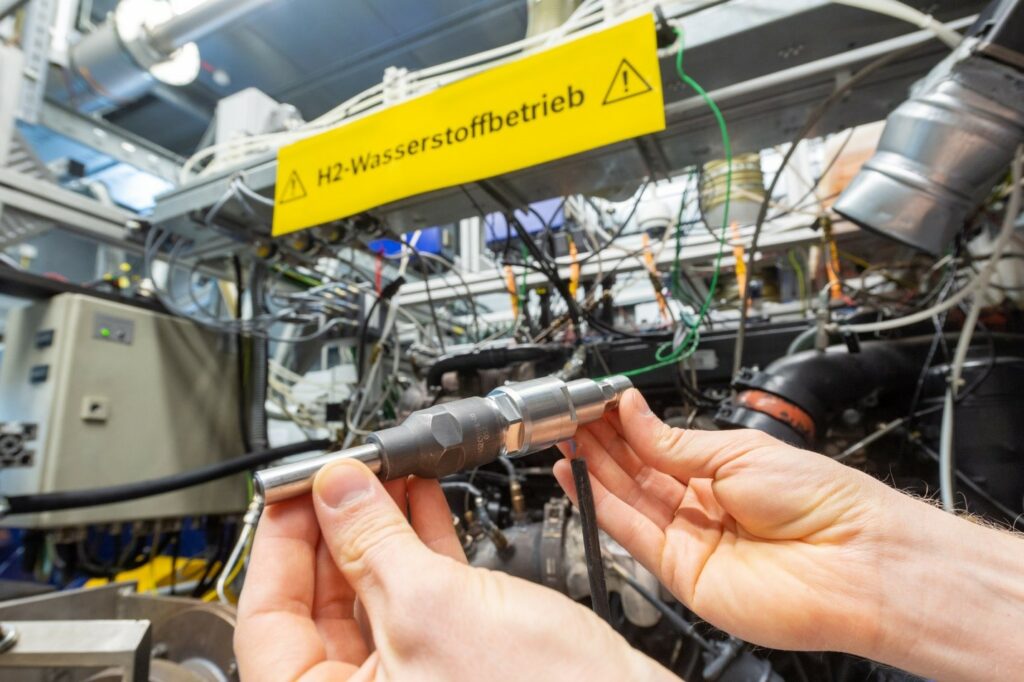 Bosch is also working on hydrogen engine technology, developing systems for both port and direct injection of hydrogen. This solution is particularly suitable for heavy vehicles on long hauls with especially heavy loads.
"A hydrogen engine can do everything a diesel engine does, but on top of that, it is carbon neutral. It also allows a fast and cost-effective entry into hydrogen-based mobility," Heyn said. One major advantage is that more than 90 percent of the development and manufacturing technologies needed for it already exist. The H2 engine is expected to be launched starting in 2024. Even now, Bosch has four orders for production projects from all the major economic regions and expects six-figure unit volumes by 2030. For more info, see www.bosch.com.