SFC Energy of Germany has been racking up orders for both mobile and stationary fuel cells to support tactical, surveillance and military operations across Europe and India, and has rushed open a new factory for producing fuel cells in India.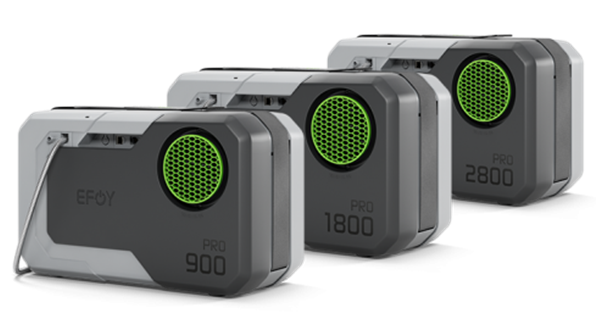 On September 12, the company announced that Linc Polska, a Poznan-based security company, made a EUR 2 million follow-up order for SFC's EFOY 2800 fuel cells. It becomes the second large order this year from the company, one of the largest providers of civil surveillance technology in Poland and a customer of SFC Energy since 2021. 
The units provide an independent power source in the Polish firm's security products. For the reliable operation of mobile CCTV trailers, thermal imaging cameras and radars, a permanent, off-grid and environmentally friendly power supply is essential. The fuel cells provide a self-sufficient power supply and, compared to diesel generators, consume significantly less fuel, operate more efficiently, are quieter and emit no harmful exhaust gases such as nitrogen oxides, carbon monoxide or fine dust. 
"We are very pleased about the renewed order from our Polish partner. The high demand from customers shows both the technical reliability of our solution and the need for a self-sufficient, environmentally friendly energy supply for security technology," said Peter Podesser, CEO of SFC Energy. "Together with Linc Polska, we are committed to a climate-neutral energy supply and thus make an important contribution to the decarbonization of the global economy as well as to climate protection." 
Harald Dingemans, CEO of Linc Polska: "The demand for our security technology continues to grow. An important selection criterion of our customers is the high operational readiness of the mobile CCTV trailers, thermal imaging cameras and radars. The basis for this is a secure energy supply, which we achieve with fuel cells from SFC Energy. At the same time, this solution stands for sustainability and the highest operational readiness with simultaneous mobility."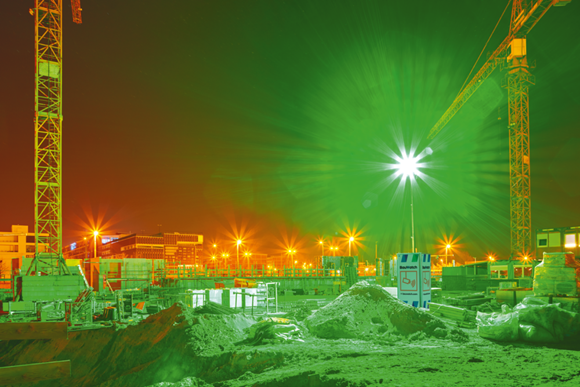 In mid-July, SFC Energy received a follow-up order from the Netherlands to deliver EFOY Pro fuel cells worth approximately EUR 2.5 million to BauWatch, a provider of temporary surveillance applications in central Europe. The fuel cells are used by BauWatch in camera towers, mainly used for monitoring construction sites. The camera systems can be used to remotely monitor the progress of the construction project in real-time while increasing protection against criminal activity. 
BauWatch's security applications are also used for wind farms, solar parks and infrastructural projects. For power supply, one camera tower is equipped with batteries and solar panels respectively. As an intelligent power generator, the EFOY Pro fuel cell monitors the battery's state of charge and switches itself on fully automatically when the voltage drops due to weather-related influences in order to continuously recharge the battery. The fuel cell then switches back to standby mode. This happens maintenance-free, for weeks without user intervention, and ensures uninterrupted transmission of the camera system around the clock in an environmentally friendly manner compared to commonly used diesel generators. 
"BauWatch has been a partner and customer of SFC Energy for more than 10 years. The renewed order shows that the partnership is continuing to bear fruit in the future. The EFOY Pro fuel cells provide uninterrupted power and therefore longer uptime ensuring seamless economical monitoring and protection of properties. This makes them the ideal power supply for camera towers and other security applications. With their environmentally friendly, clean and silent power generation technology EFOY Pro fuel cells are the sustainable alternative to conventional generators positively impacting BauWatch's carbon footprint," noted Podesser. 
Military/defense orders from NATO and India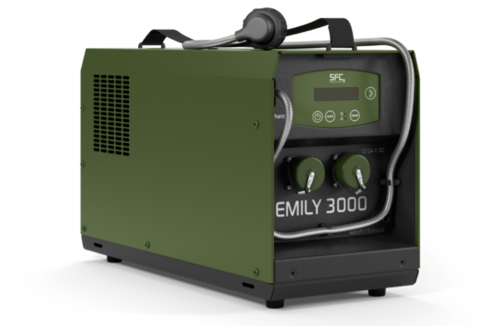 In mid-June, NATO forces made arrangements for orders of more portable and stationary fuel cells from SFC Energy in the form of a call-off order of more 1 million euros for JENNY and EMILY series direct methanol fuel cells and associated power managers through the NATO Support and Procurement Agency (NSPA). The purchaser is ZeroAlpha Solutions Ltd, a provider of communications, information management and energy solutions for defense and security customers, acting on behalf of the NATO procurement agency. 
The deal associates with a framework contract of ZeroAlpha, signed in summer 2022, for a total value of about EUR 10 million and runs until the end of 2026. Within this period, NATO member states will be able to call off SFC fuel cell systems JENNY 600S, JENNY 1200 and EMILY 3000 as well as the Power Manager 3G via the NSPA platform. The British Ministry of Defence, along with other NATO Allies, has already made use of this and orders for SFC power generators have exceeded one million euros. In addition, the contract with ZeroAlpha includes a fixed quota of SFC power solutions to be called off annually. 
The portable JENNY fuel cell series with a nominal power of up to 50 W and the mobile or stationary EMILY 3000 with a nominal power of 125 W produce environmentally friendly, stable, and almost heat-free electricity for electrical devices or charging batteries. The EMILY version can also provide onboard power for vehicles without the engine running. 
New contracts & production site in India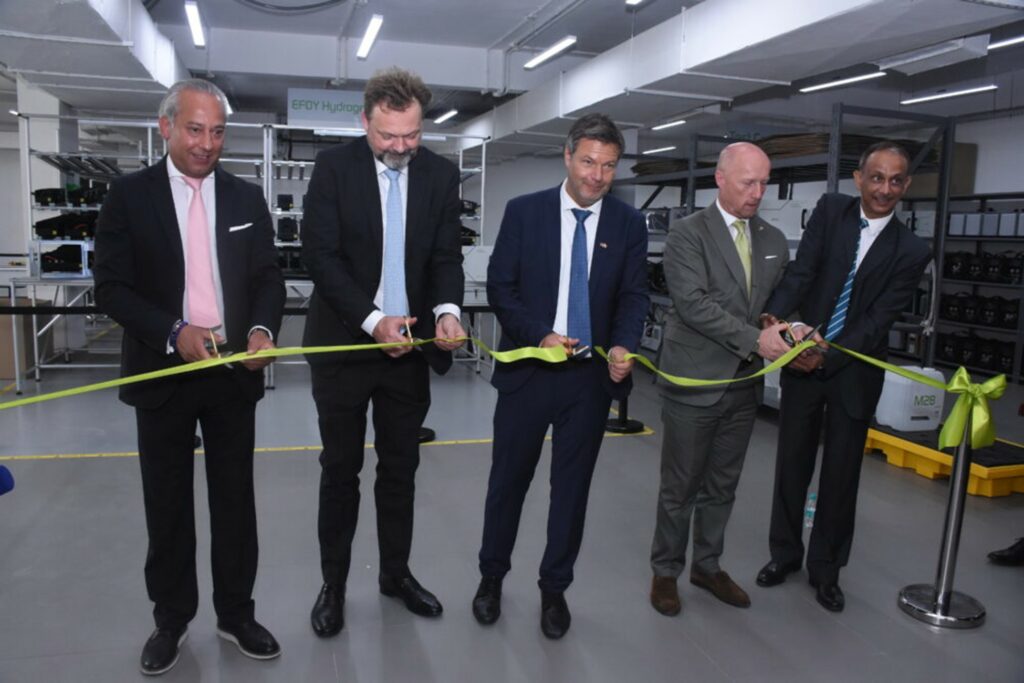 India has risen to become a major, rapidly growing market for SFC Energy. It has begun production of hydrogen and methanol fuel cells at a new manufacturing facility it opened in July at New Delhi/Gurgaon with its long-standing Indian partner FCTecNrgy Pvt Ltd. Major orders currently stand at over EUR 33 million and revenue from the plant is expected to reach EUR 100 million annually in the medium term. The plant was built in just six months. 
India has formulated its own targets for the expansion of renewable energies and the development of green hydrogen production by 2030, striving to replace polluting energy systems such as diesel generators to significantly reduce CO2 emissions. In January, the Indian government adopted the "National Green Hydrogen Mission" under which generators in railways, the military and in critical infrastructure will also be replaced with emission-free fuel cells.
SFC Energy has active in India since 2016. Customers already include public sector clients and civilian users of clean hydrogen- and methanol-based power where grid supply is not available or not stable enough. Most recently, the company booked major orders worth EUR 33 million for fuel cell-based energy supply for the Indian armed forces. Other current major projects include the planned replacement of diesel generators at Indian Railway and Border Roads Directorate as well as various smart city projects. 
SFC's subsidiary SFC Energy India Ltd. will be responsible for manufacturing the fuel cells as well as quality assurance while FCT will continue to be its market partner responsible for design, development, installation and integration of custom fuel cell solutions, as well as the development of other key peripheral system components and after-sales service. The 35,000-square-feet manufacturing and sales site will employ up to 100 people in the first phase.
The plant opening came soon after another major order to the companies from the Indian Ministry of Defence for 900 stationary methanol fuel cell generators, covering the supply of the systems over a period of one year as well as their servicing and maintenance over a period of five years. The initial order volume amounts to more than EUR 17.5 million. This order followed an earlier order from the Indian defense force for 450 portable methanol fuel cell systems valued at more than EUR 16 million, announced in March.
The equipment is used by infantry and special forces units for parallel charging of multiple batteries and for powering sensors, monitoring and communication systems and basic field electrification. Their use is often in remote areas, at high altitudes and under extreme climatic conditions. For more info, see www.sfc.com.