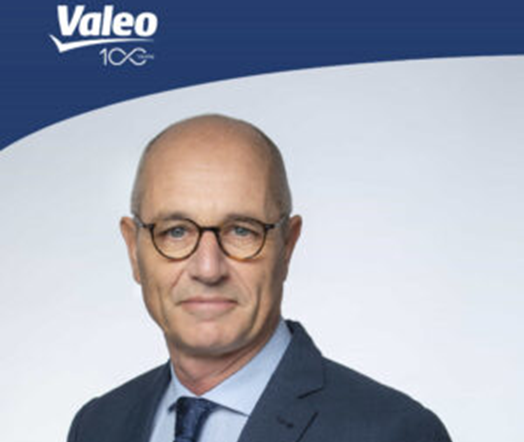 Among its ambitions for furthering e-mobility technology on multiple platforms, top-tier automotive supplier Valeo Group is planning to develop in collaboration with Renault a powerful rare earth-free motor for electric automobiles by 2027, while also achieving impressive success with its new 48V technology for e-bikes.
At the Car Symposium 2023, held in May in Bochum, Germany, Christophe Périllat, Valeo CEO shared his company's vision in a keynote presentration, noting Valeo was one of the first companies of the automotive industry to bet on electrification. "We need solutions that are the right size for every need, from small city cars to premium sedans. That is why Valeo develops solutions for every area and every type of need. Electromobility cannot be the luxury of a few." he explained. 
Today, 1 out 3 in the world cars are equipped with Valeo's electrification technologies.  "We have already equipped more than 90 car models with our high-voltage powertrains. Our newly developed electric axle creates more than 5 percent more efficiency and more than 40 percent additional power density with the new 800 V inverter generation. Including the electric motor, inverter and reducer, it is 10 percent lighter and 20 percent more compact than the previous generation. "Beyond powertrain electrification, Valeo's 10,000 engineers around the world are also working on improvements in charging, battery and thermal technology, he noted. 
"We ensure that each of our technologies is designed with a robust design for high durability, repairability, remanufacturing and recycling" explained Christophe Périllat before presenting an example: "just a year ago it was considered impossible but in 2022 we used 100 percent recycled polycarbonate in headlights and 100 percent recycled polypropylene in HVAC systems." Valeo will also extend remanufacturing to answer to the growing electronization of the cars driven by EV and ADAS.
For new products, Valeo is also mindful of preserving natural resources, he noted: "Together with Renault, we are developing an electric motor that does not require any rare earths at all," says Christophe Perillat, "we aim to be the first to mass-produce a 200kW, 800V, rare earth-free motor by 2027. "
The effort is a collaboration begun in 2022 between Valeo, Renault and Valeo Siemens eAutomotive in which the three partners pledged to combine forces to design a unique electric powertrain system that is unparalleled worldwide, offering more power on less energy, without the use of rare earths. Each of the three partners are contributing to the development and production of the two key parts of the electric motor: the rotor and the stator. Renault will develop and produce the EESM (electrically excited synchronous motor) rotor technology, designed without rare earths. In addition to the supply of components based on each company's best expertise, the overall architecture of the all-in-one motor for Renault Group will also be designed by Renault.
Valeo and Valeo Siemens eAutomotive will develop and produce the stator, which is based on Valeo's technological expertise in copper wire assembly. Thanks to its unique know-how in this field, which allows it to use a higher density of copper in the stator, Valeo is able to generate more power without having to use more electrical energy. Renault Group, Valeo and Valeo Siemens eAutomotive will be the first to mass produce a 200kW electric motor without using rare earths, starting in 2027. Production of the motor for the automaker's own needs will be based at Renault Group's Cléon plant in Normandy, France. 
e-Bike systems, too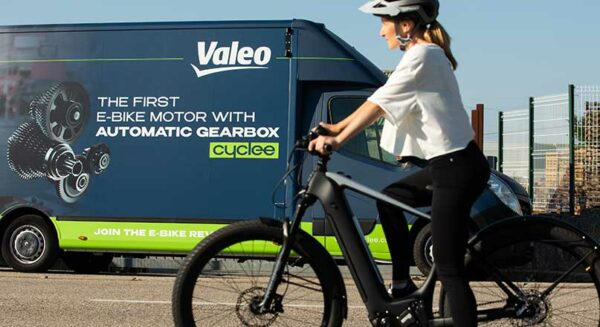 In June, Valeo Cyclee showed off its latest advancements for e-bikes at Eurobike 2023 in Frankfurt highlighting its innovative 48V electric assistance system and connectivity technology that can be applied to all types of bicycles including cargo, trekking or mountain bikes.  
Valeo Cyclee is the first to offer a single module, fitted within the pedal assembly, integrating a 48V electric motor, an automatic gearbox – developed in partnership with French company Effigear – and predictive software enabling the assistance system to instantly adapt to the cyclist's riding style and needs. Intelligent, easy to use, and quick to operate, Valeo's electric assistance system for bikes, complete with its gearbox, is the bicycle equivalent of the automatic transmission in latest-generation cars.
Since unveiling the systems in December 2020, they have been adopted by more than 25 clients including key bicycle manufacturers such as Ateliers HeritageBike, Ultima, Mubea, VUF Bikes, Cycleurope and FUELL. For more info, see www.valeo.com.