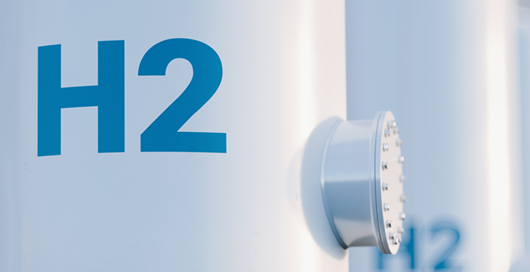 Planning to commit more than $8 billion to fund hydrogen development programs, the U.S. Department of Energy is moving ahead (DOE) to get the funds allocated and working at innovation centers across the country as part of the Bipartisan Infrastructure Law. Meanwhile consortiums of universities labs, tech startups, established players and government agencies are joining hands to take part in the programs. A group centered in New York State demonstrates how many of the ventures will likely play out.
At the top of the funding lists is an $8 billion program to develop regional clean hydrogen hubs across America, known as H2Hubs, that will create networks of hydrogen producers, consumers and local connective infrastructure to accelerate the use of hydrogen as a clean energy carrier. The production, processing, delivery, storage, and end-use of clean hydrogen, including innovative uses in the industrial sector, is crucial to DOE's strategy for achieving President Biden's goal of a 100% clean electrical grid by 2035 and net-zero carbon emissions by 2050. 
"Hydrogen energy has the power to slash emissions from multiple carbon-intensive sectors and open a world of economic opportunity to clean energy businesses and workers across the country," said U.S. Secretary of Energy Jennifer M. Granholm. "These hydrogen hubs will make significant progress towards President Biden's vision for a resilient grid that is powered by clean energy and built by American workers." The hydrogen technology investments are a major component of Biden's plan to decarbonize the industrial sector, which accounts for a third of domestic carbon emissions.  
Today, the U.S. produces about 10 million metric tons of hydrogen annually, compared to approximately 90 million tons produced per year globally. While most of the hydrogen produced in the U.S. comes from natural gas through steam methane reforming, electrolysis technology which uses electricity to produce hydrogen from water is an emerging pathway with dozens of installations across the country. A key attraction of the technology is that it could produce hydrogen using clean electricity from renewable energy including solar, wind and from nuclear power. 
DOE will select proposals that prioritize employment opportunities and address hydrogen feedstocks, end uses and geographic diversity. A notice of intent issued in June provides a high-level draft plan for DOE's current vision to meet the requirements for the hubs.
A regional consortium taking shape in the northeast illustrates how the participants are lining up to qualify for the funds. Cornell University and two research startups spun out from the university, for example, have joined a consortium that aims to propose a Northeast research hub. The New York-led multistate collaboration is organized by the New York State Energy Research and Development Authority.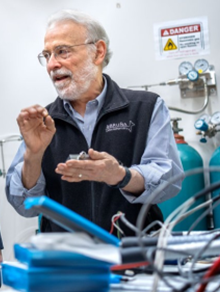 "I've never seen anything quite like this in my entire career," said Hector Abruna, a chemistry professor who will represent Cornell in the collaboration. He is also the director of the Center of Alkaline Based Energy Solutions (CABES), a national-level research consortium. "The level of commitment – by The White House and the Department of Energy – is astonishing."
Other partners related to Cornell will be research spinoff Ecolectro, a startup in the school's business incubator, and Standard Hydrogen Corporation, a Cornell-related company, which are among 40 partners to develop the regional proposal.
Gabriel Rodríguez-Calero, Ecolectro's chief executive officer and Kristina Hugar, chief scientific officer, will represent Ecolectro. For decades, clean hydrogen fuel has been costly to produce because it required the use of platinum, an expensive precious metal needed in electrolyzers and fuel cells. But in 2018, the DOE granted $1.7 million to Ecolectro to develop alkaline exchange membrane materials used in water electrolyzers and fuel cells which enable the use of non-precious metal based electrocatalysts, able to dramatically lower the cost of green hydrogen and fuel cell production.
Fuel cell chemist Paul Mutolo, executive director of CABES and chief executive officer of Standard Hydrogen, will represent his company for the hub effort. Last year, Standard and another consortium partner, National Grid, announced plans to build New York's first hydrogen "energy station", which looks like a conventional gasoline filling station, in the state's capital region. Plans call for hydrogen to be produced renewably on-site, with electricity derived from sustainable wind or solar energy during the electrolysis process, turning it into a viable source of hydrogen. Completion is expected by early 2023.
"Hydrogen can be incredibly efficient," notes Abruna. "A hydrogen fuel cell engine – even if you mess it up – is almost triple in efficiency" compared to gasoline engines. In February, he and a team of Cornell chemists announced a class of nonprecious metal derivatives that can catalyze fuel cell reactions just as well as platinum but at a fraction of the cost. In March, the group and collaborators published a paper on a how a high activity and low-cost nitrogen-doped, carbon-coated nickel anode catalyzed the hydrogen oxidation reaction which is essential in hydrogen fuel cells.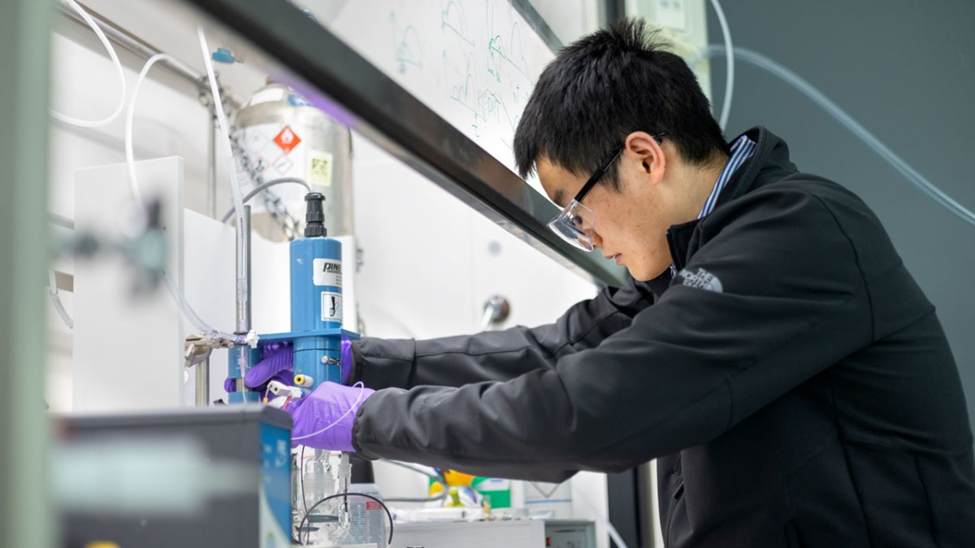 Recent experiments with nonprecious-metal hydrogen oxidation reaction (HOR) electrocatalysts needed to overcome two major challenges, the researchers wrote: low intrinsic activity from too strong a hydrogen binding energy, and poor durability due to rapid passivation from metal oxide formation. To overcome these challenges, the researchers designed a nickel-based electrocatalyst with a 2-nanometer shell made of nitrogen-doped carbon. Their hydrogen fuel cell has an anode catalyst consisting of a solid nickel core surrounded by the carbon shell. When paired with a cobalt-manganese cathode, the resulting completely precious-metal-free hydrogen fuel cell outputs more than 200 milliwatts per square centimeter.
The presence of nickel oxide species on the surface of the nickel electrode slows the hydrogen oxidation reaction dramatically, explains Abruna. The nitrogen-doped carbon coating serves as a protection layer and enhances the HOR kinetics, making the reaction quicker and much more efficient. In addition, the presence of the graphene coating on the nickel electrode prevents the formation of nickel oxides – resulting in electrodes with dramatically enhanced lifetimes. These electrodes are also much more tolerant to carbon monoxide, which rapidly poisons platinum. "The use of this novel anode would dramatically lower prices enabling the application of alkaline fuel cells in a wide variety of areas," he said.
The northeast consortium also includes Connecticut, Massachusetts and New Jersey which also have hydrogen and fuel cell-innovation research programs. Other New York universities participating include Columbia University, Rochester Institute of Technology, New York University, Stony Brook University, City College of New York and University at Buffalo. For more info, see www.doe.gov and www.cornell.edu.