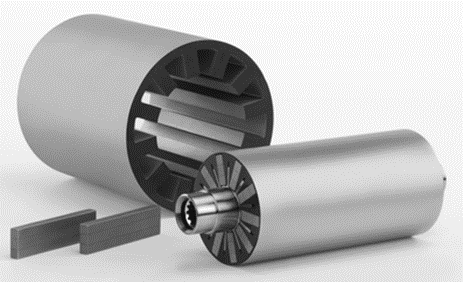 Vacuumschmelze has recently made important advancements in its capabilities for producing permanent magnetic material and components. In April, the company achieved certification to aerospace and defense standards for its permanent magnets, adding to its longstanding certification in soft magnetics. In an earlier move, the company implemented interlinked production for neodymium magnets that improves both quality and production costs.
It has been certified according to the requirements of EN 9100, the company announced in April. The Germany-based manufacturer of magnetic materials and components has been meeting these requirements in soft magnetics for many years, and now is following suit in permanent magnetics, meeting the stringent quality criteria of the aerospace and defense industries in the production of all alloys used in high performance applications.
With its vertical integration of production, complex system solutions for aerospace can be manufactured entirely in-house now which is key to the development of high-performance magnetic materials such as those required for rotor-stator systems for electric aircraft drives, says the company. Here, VAC relies on laminated stators made of cobalt-iron alloys (CoFe) as well as rotors with rare-earth permanent magnets made of its Vacomax sintered samarium-cobalt alloy.
Stators made of the CoFe material Vacoflux, for example, enable 50% higher induction compared with systems using electrical sheet. If this alloy is processed with the company's Vacstack technology, the tightest tolerances and, due to the low sheet thickness of only 50 μm, laminated stacks with 98% packing density and low eddy current losses can be produced.
If the motor is supplemented by a rotor system with permanent magnets made of the high-performance alloy Vacomax 262 HRP, application temperatures of up to 250 °C are possible with attractive energy density, thus reliably maximizing performance of the complete system in the smallest possible size.
Interlinked Production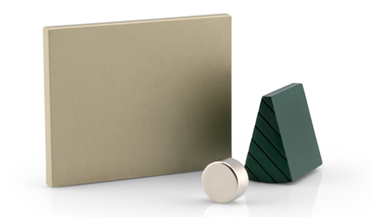 Interlinked production represents a step-change in the way VAC produces NdFeB magnets. Now it has the capabily to transfer pressed magnets from a central feeding station across the entire shop floor into a continuous sintering furnace automatically. By using conveying belts that operate under oxygen-free conditions, it produces its Vacodym magnets with even higher quality, the company reports.
Automatic handling units at the presses package the magnets into a new type of sealed transport packaging. This reduces the contact with air even further, when the magnets move the short distance from the presses to the central feeding station. The focus is on an almost vibration-free shuttle technology, resulting in reduced mechanical damage.
The subsequent sintering process is also carried out under exclusion of oxygen. Combined, this yields increased uniformity of the magnetic properties and improved shape accuracy. The consistent use of RFID technology allows the acquisition of all necessary information to achieve further quality improvements.
"Production behind the glass pane, without direct access to the product, poses particular challenges in terms of system availability, reliability and modularity," notes Philipp Strodt, head of industrial handling in research and development. "With the implementation of Interlinked Production, we have laid the foundation for optimizing other process chains as well".
Based in Hanau, Vacuumschmelze has a portfolio of more than 150 alloys. Its 4,300 employees include more than 200 in research and development who operate at plants and facilities in more than 35 countries globally. For more info, see www.vacuumschmelze.com.