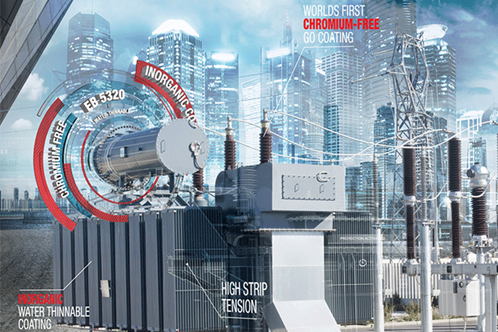 Austrian industrial coatings company Rembrandtin has developed what it says is the world's first chromium-free electrostrip coating for grain-oriented electrical steel used in distribution transformers, meeting a key requirement in upcoming environmental regulations.
A one-component system that shows very good electro-insulating properties, the product, Remisol EB 5320, provides a hydrolysis and corrosion resistance comparable to chromate-containing solutions and serves as electrical insulation for grain-oriented steel. It is available as a clear or pigmented version. The pigmentation achieves a homogeneous appearance of the coated electrical steel desired by many steel manufacturers and important for a high-quality transformer coating.
An upcoming ban on the use of chromium trioxide derivates in the European Union affects many industries. In addition to some of the prohibitions, chromates in coatings will be banned from 2025 in the production of non-grain-oriented electrical steel. Therefore, a change to chromium-free solutions is crucial, notes the company.
Many attempts have been already made to use benign alternatives in electric strip coating. Chromium trioxide derivates are now classified as CMR substances and the unrestricted use of these substances expired in 2017. Since then, the use of chromium trioxide has only been possible in the EU with an authorization, but that allowance is set to expire in 2024. Since chromates are hardly replaceable due to their excellent hydrolysis and corrosion resistance as well as their good electro-insulating properties, equivalent solutions are needed.
Paint experts at Rembrandtin have worked intensively on an innovation and have now achieved the breakthrough, says the company. The hydrolysis and corrosion resistance of the new product is on a par with chromium-based coatings. For more info, see www.rembrandtin.com.