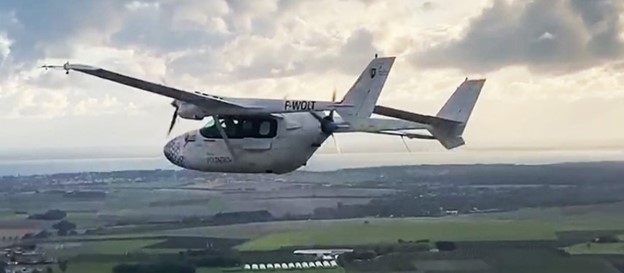 French companies VoltAero and Safran are pioneering stunning breakthroughs in electric aviation powered by permanent-magnet motors and hybrid propulsion systems. Crossing the Nouvelle-Aquitaine region of France, VoltAero's Cassio 1 demonstrator aircraft is shown performing its first flight equipped with the company's hybrid-electric power module, which is installed in the aft fuselage-mounted "pusher" position, along with a pair of electric aviation motors recently developed by Safran that are mounted in "puller" position on the wings.
The power module for VoltAero's Cassio production aircraft is now undergoing flight testing on the Cassio 1 testbed, marking another major step in the company's development of a series production hybrid-electric airplane family for regional transportation that will accommodate four to 10 seats, with flight ranges of up to 1,200 km. and cruise speeds of 200 kts. Cassio 1 made its maiden flight equipped with the power module in October from VoltAero's Royan-Médis Airport home base in southwest France.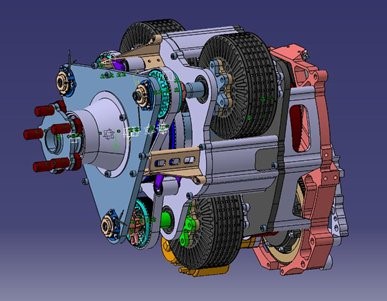 The proprietary power module is installed in an aft-fuselage "pusher" position. It combines three 60 kW high-performance electric motors arranged in a triangular "barrel" configuration, with a 370-hp internal combustion engine. This configuration of the power module prefigures the full-up powertrain for VoltAero's largest production Cassio aircraft version, the 10-seat Cassio 600, which is designed to deliver a total hybrid-electric power of 600 kW or 800 hp, enabling the craft to cruise at 360 km/hr which is fast for an aircraft in its category.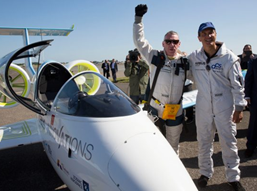 "The startup of power module flight testing represents a true milestone for hybrid-electric aviation, and it keeps us on track toward our goal of having initial Cassio production aircraft entering service during late 2022 or early 2023," explained Jean Botti, VoltAero's CEO and chief technology officer.
In regular operation, the power module's electric motors will be used for low-noise takeoffs and landings, with the internal combustion engine serving as a range extender and for recharging the Cassio's batteries while aloft. With VoltAero's unique patented series/parallel hybrid design, the power module can operate in modes from full electric to full hybrid, depending on the mission profile and range requirement. Additionally, as both the electric motors and internal combustion engine are linked to a common shaft that drives a five-blade "pusher" propeller, the ability for each to operate independently provides a high level of propulsion safety – with one source acting as a backup in case of a problem or failure of the other.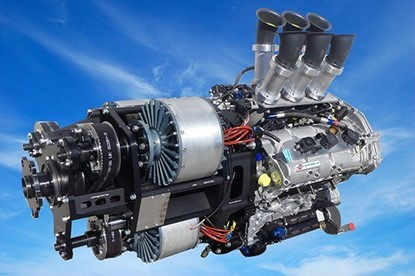 VoltAero is developing its hybrid power module for multiple applications including helicopters and boats. For helicopters, the takeoff would typically use both power sources, while the landing can be performed in a fully-electric mode. During flight, the electric power is derived at its maximum efficiency, allowing significant fuel savings when compared to the current-generation of turbine engines. In certain cases, fuel consumption can be reduced by up to 50%. When landings are performed in the fully electric mode, noise levels will be lower than a conventional turbine-powered helicopter.
Redundancy is another advantage. If one of the three electric motors fail, it is automatically disconnected – enabling a pilot to land the helicopter safely. In the event of a partial failure of the thermal combustion engine chain, specific torque transmission is performed through the power module to enable a safe landing.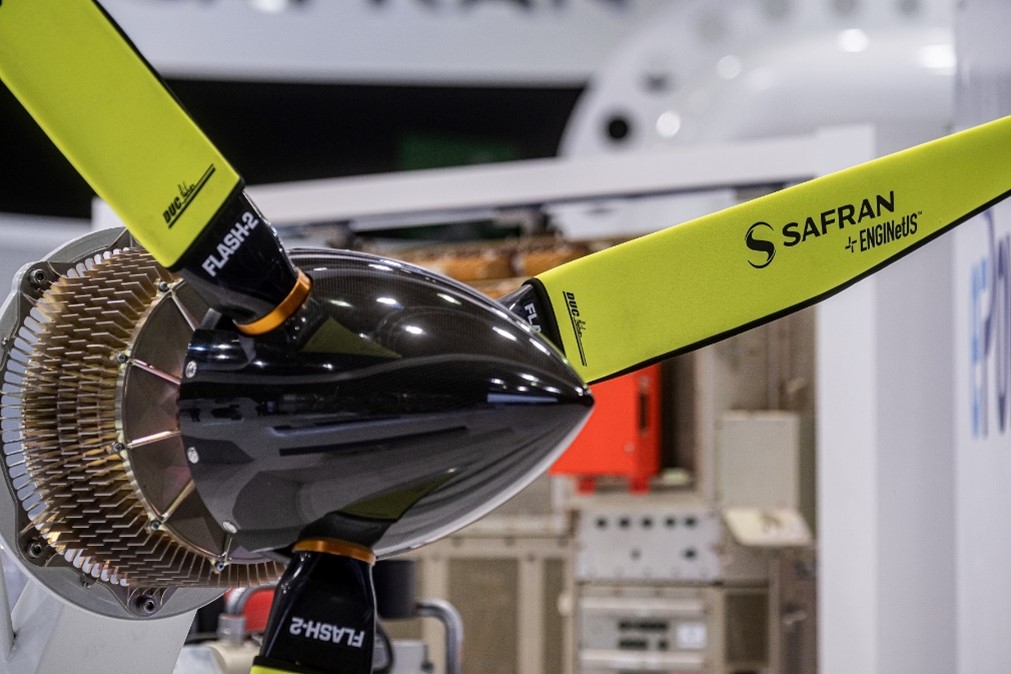 In addition to the power module on Cassio 1, the testbed aircraft is equipped with two wing-mounted ENGINeUS 45 electric motors supplied by Safran Electrical & Power. They are installed in the forward-facing "puller" position. Prior to the maiden flight with VoltAero's addition of the aft-mounted "pusher" power module, Cassio 1 had logged 14 hours and 25 flights aloft with the motors in a full range of operating conditions.
"Safran is proud to be powering the Cassio 1 aircraft as VoltAero brings a new dimension to electric aviation," said Herve Blanc, executive vice president & general manager of the Electrical Systems and Motors Division at Safran Electrical & Power. A permanent magnets generator rotates at high speed of about 40 000 rpm, integrating power electronics rectifier & innovative technologies. It has a high output voltage equal or superior to 540VDC and a power-to-weight ratio superior to 8 KW/Kg for the whole pack.
The motors are in a new range of electric generators and motors called GENeUS and ENGINeUS which the company has recently launched. They mark a major step forward in high-power DC generation solutions, the company says. The ENGINeUS product line includes a range of electric motors with power outputs of up to 500 kW. Its technology optimizes the electrical architecture by consolidating several key conversion, control and battery interface functions, with the mechanical and structural characteristics of the motors tailored to their use on aircraft.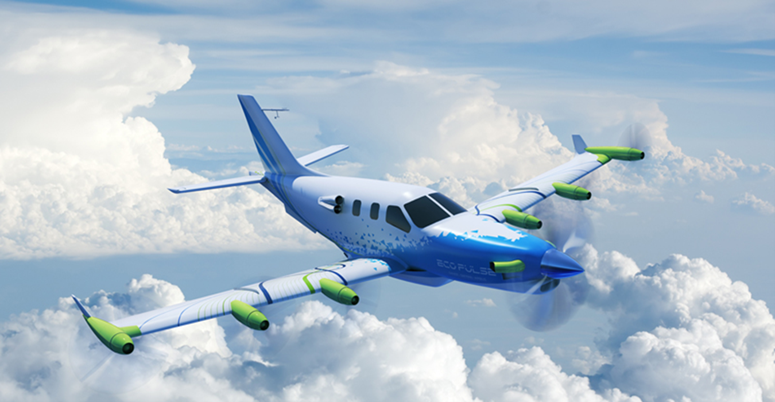 In December, the EcoPulse hybrid aircraft demonstrator passed its preliminary design review as a first key step toward validating the project's feasibility and firming up the architecture for a first flight scheduled in 2022. The plane is being developed by aircraft manufacturer Daher, Safran and Airbus with the support of France's CORAC civil aviation research council.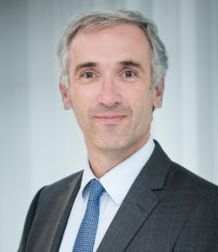 "With this demonstrator, Daher intends to develop the key architectural principles for future hybrid aircraft," said Pascal Laguerre, Daher's chief technology officer. "The project reaffirms our commitment, as a general aviation manufacturer with our Kodiak & TBM product lines, to more efficient and eco-responsible aviation. This is reflected by our company's active participation in numerous ambitious collaborative research projects aimed at decarbonizing air traffic." Laguerre was appointed to the position in June, succeeding longtime CTO Nicolas Orance, who became managing director of aerospace and defense company Rafaut Group.
Safran, which is responsible for EcoPulse's distributed hybrid-electric propulsion system, has finalized the technical configuration of its six electric thrusters. They will be fitted with 50 kW ENGINeUS electric motors with integrated electronics. The Safran motor will be submitted for EASA certification, the same type as granted for a turboshaft engine. The next step for Safran will be its delivery of an initial electric thruster to Airbus for wind tunnel and endurance testing, in preparation for qualification of the thrusters' use on EcoPulse's first flight.
"EcoPulse is an ambitious project, and designing hybrid propulsion on this new aircraft architecture is a key skill that Safran is proud to master," said Stephane Cueille, senior executive vice president and chief technology officer for research & technology and innovation at Safran. "Mobility needs are changing, and the Group is responding to them by offering advanced and sustainable technologies that have taken shape with this important milestone reached today," he added.
"The EcoPulse demonstrator program is an important step in our ambition to decarbonize the aeronautical industry," said Jean-Brice Dumont, executive vice president engineering for Airbus. "It will allow us to study how distributed hybrid propulsion could be integrated into the aircraft of tomorrow and significantly reduce their environmental impact."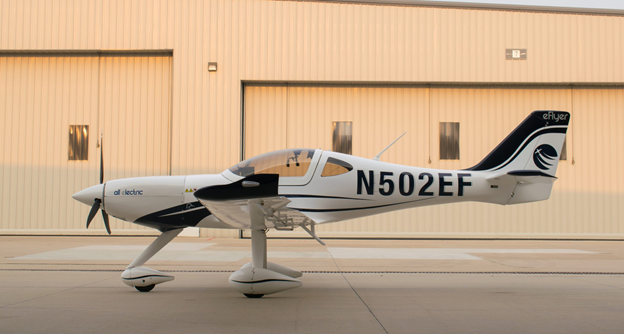 Across the Atlantic, in November, Safran and Bye Aerospace, developer of the eFlyer family of all-electric aircraft, signed a cooperation agreement signed to equip the eFlyer 2 & eFlyer 4 aircraft with ENGINeUS motors. Bye Aerospace is FAA-certifying the two-seat, all-electric eFlyer 2 for professional flight training and the four-seat eFlyer 4 for air-taxi and advanced training uses.
"Bye Aerospace has concluded that Safran's ENGINeUS 100 smart electric motor is the optimal production solution to meet the requirements of our rigorous FAA and EASA certification schedules for eFlyer 2 and eFlyer 4," said George Bye, CEO of the Denver-based company. "Our list of future eFlyer purchase agreements, currently at 711 units, continues to grow, and we must continue forward at a high-tempo pace to meet the demands of aviation enthusiasts worldwide who have been waiting years for all-electric airplanes to come to market."
"Safran is extremely proud to collaborate with Bye Aerospace, which has developed a strong vision for the future of electrical flights, from the eFlyer 2 and eFlyer 4 to the commuters and regional airplanes", added Blanc of Safran. "This new contract demonstrates the success of our ENGINeUS product line and confirms the strong interest of the market in our approach to further increase the electric powertrain performance while simultaneously progressing the certification and production system readiness".
For more info, see www.voltaero.aero, www.safran-group.com, www.daher.com, www.byeaerospace.com.