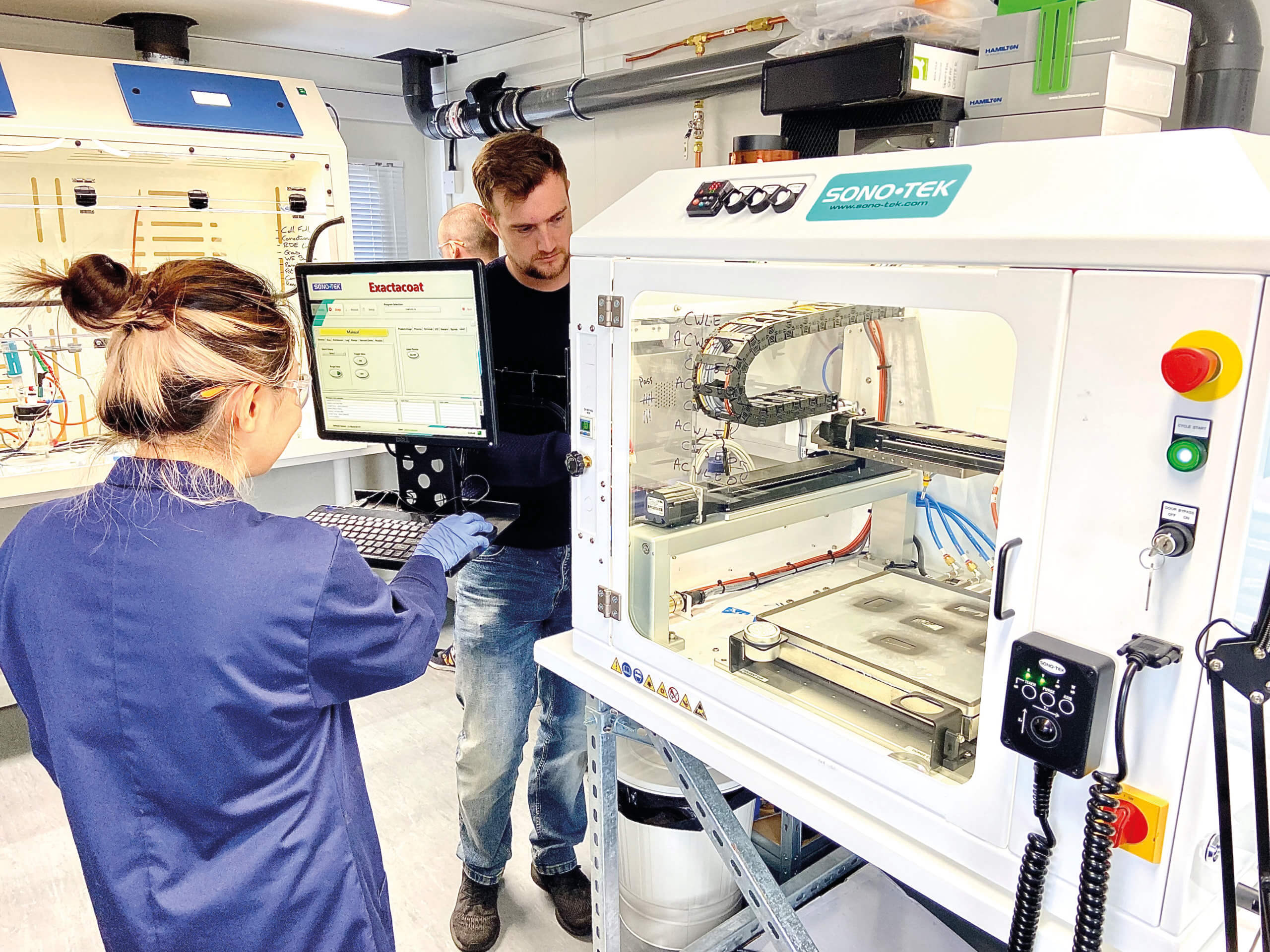 Avoiding the PEM bottleneck – Iridium-based catalysts for giga-scale production
By Wayne Thornhill
Ames Goldsmith Ceimig is the hydrogen technology division of the Ames Goldsmith Corporation – a multinational precious metal chemistry specialist. Based in Dundee, Ames Goldsmith Ceimig has long been a champion of low iridium catalysts for PEM technology, actively selling into the market for over 15 years. With production of iridium catalysts scaled at over a GW equivalent of product they are a leading supplier into the PEM water electrolysis market.
Over the last 3 years they have carried out a cross company development program using their teams of scientists from the USA & UK to develop a state of the art, next generation catalyst fit for the iridium demand profile in 2050.
At the end of 2022 over 30 countries had put in place national hydrogen policies to decarbonize their energy requirements with an aim to hit Net Zero by 2050. These policies mean that there are ambitious targets globally for electrolyser production with an estimated 100GW needing to be installed by 2030, increasing to an estimated 3,585GW of electrolysis required by 2050. Of this it is expected that 40% will use PEM technology. With the recent introduction of the Inflation Reduction act in the USA and the REPowerEU hydrogen roadmap in the EU coupled with the new EU Green Deal Industrial Plan these volumes look to become reality.

Historically only around 8T of iridium is mined annually as by-product of platinum production. By many metrics current loading of iridium in PEM electrolysers is 1-2.5g/KW. If we take the low end of this estimation at 1g/KW, assuming the use of a catalyst such as iridium black (>98% Ir), then this equates to 40T iridium required by 2030 for 40GW of PEM electrolysis & 1430T iridium required by 2050 for 1430GW of PEM electrolysis. This level of iridium usage is not achievable and causes many people to question the viability of PEM electrolysis as a long-term solution in the fight against climate change.
Ames Goldsmith's bestselling product for the electrolyser market is HyPer WE 550 which is an iridium ruthenium oxide. This product contains only 2/3 iridium and has an extremely high surface area meaning smaller amounts can be used to achieve the same level of activity. Designed as a true alloy of the two metals at the nanocrystal scale, this results in improved durability of the catalyst. Testing and in-use feedback shows that HyPer WE 550 offers equivalent performance to iridium oxide with lower degradation rates.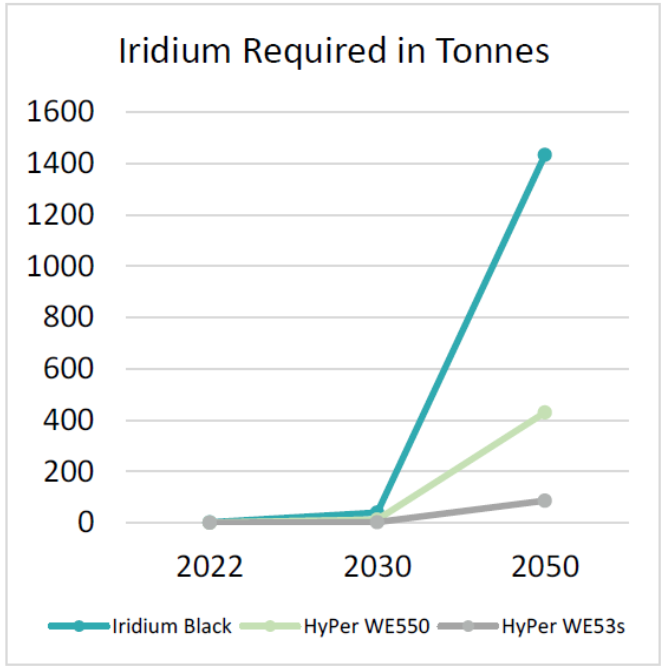 Typically only 0.3g/KW iridium is required when using HyPer WE 550, therefore only 12T iridium would be required by 2030 for 40GW of PEM electrolysis & only 430T iridium would be required by 2050 for 1430GWof PEM electrolysis.
This is a significant improvement in iridium demand and means that there is currently a viable product available, which is produced at scale, which can easily achieve the demand rates well into the mid-2030's.
Beyond this period though, there is still a need for improvement in iridium loadings. This could be achieved to some extent through further alloying of metals. Another technology route being developed is to optimise the use of iridium by depositing a thin layer of iridium nanocrystals on the surface of a support, much in the same way that platinum is deposited on carbon for use in fuel cells.
To date, many companies have been using supports selected for their durability in the highly oxidizing current densities & low pH found at the anode of the electrolyser. Carbon is not a viable support in these conditions and supports such as titanium oxides, tin oxides & doped variants of these oxides have been the focus of many companies. Whilst this technology will aid in limiting the amount of iridium required, the reduction is limited to around 45% of the catalyst. This is due to the requirement of the catalyst layer to conduct electricity across the surface of the membrane. When using a non-conductive support, such as TiO2, the metal on the surface is required to provide both the conductivity and the catalysis requiring a high loading of metal.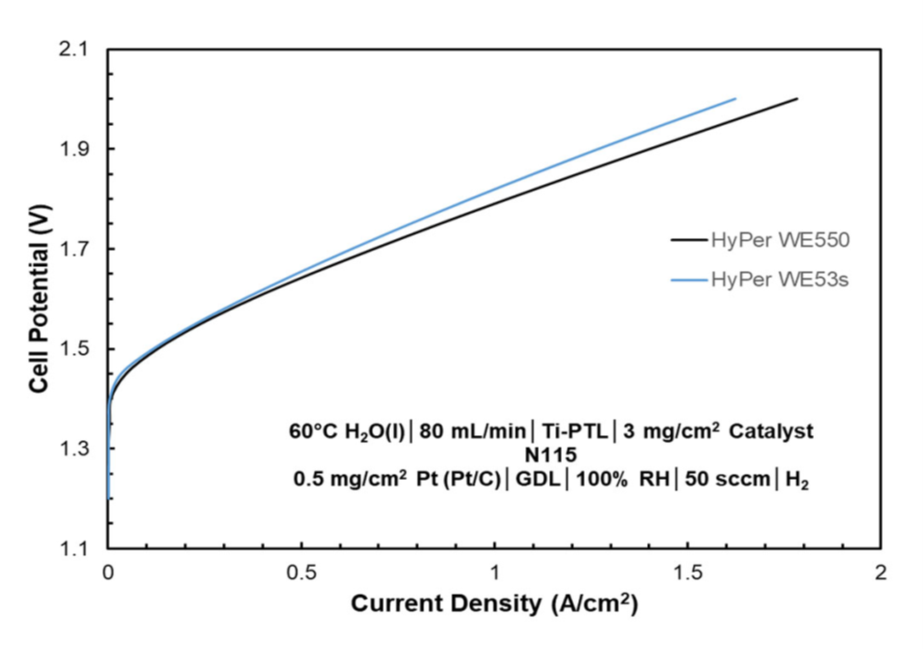 The culmination of Ames Goldsmith's development to date is a product, provisionally called HyPer WE53s, which is based on iridium deposited on a platinumbased support chemistry. This product is less than 15% iridium and is fully stable in the conditions at the anode. Accelerated stress tests have shown equivalent performance to competitor iridium oxide grades & Ceimig's HyPer WE 550 –iridium ruthenium oxide. The accelerated stress tests performed by their university partners were designed to simulate up to 100,000hrs
of use.
Adoption of this grade should result in iridium loadings of <0.06g/KW, meaning the 40GW of PEM electrolysis required by 2030 will only require 2.4T of iridium and the 1430GW of PEM electrolysis required by 2050 will only require 86T of iridium, given the ramp up in production this should be readily achievable, especially if coupled with developments in recycling of PEM components.
Some may question the use of something as expensive as a platinum-based support system, but this has been carefully considered. Platinum has a proven track record of stability in the conditions of the electrolyser anode and is used to protect PTL's & flow plates.
The selection of a platinum-based support is also supportive of future iridium mining. Iridium only accounts for 2-4% of the mining basket and therefore companies will not mine for iridium alone. By including a larger proportion of platinum in the product we prompt the production of iridium. This is an important factor going forward as platinum demand reduces over the coming decades with the decline in ICE vehicles.
Despite the relative high cost of platinum in the support, adoption of this new grade should reduce PGM costs for the electrolyser manufacturer by 2/3 based on current PGM prices. Analysis by IRENA showed that the anode catalyst makes up just 2.7% of the current total electrolyser cost, using HyPer WE 53s this would reduce this to <0.9% of the total cost making PEM electrolysis more competitive with alternative electrolysis methods.

More information on our HyPer WE & HyPer FC grades can be found here: https://www.ceimig.co.uk/hyperpem-electrolyser-and-fuel-cell

If you are interested in learning more about this product, contact the website –
www.ceimig.co.uk – or use the contact details below.

Wayne Thornhill – Sales Manager – Ames Goldsmith Ceimig – wayne.thornhill@amesgoldsmith.co.uk