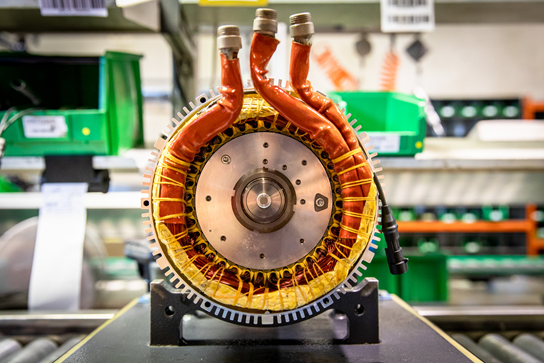 With electrification rocking the automotive industry, manufacturing capability for e-propulsion is increasingly on the minds of design engineers and supply chain managers at many of the world's top tier automotive suppliers as they transform to become providers of fully integrated e-powertrains. This article highlights the paths of several such as Dana, Deutz, ZF, BorgWarner, Meritor and Magna, along with longtime e-axle leader GKN Automotive. Companies previously covered include Continental, Magna and Schaeffler. Traditionally the bastions of gears, gasoline and diesel engines, and hydraulics, they are adapting dramatically to design and manufacturing operations that involve magnets, motors, magnet wire and coil winding.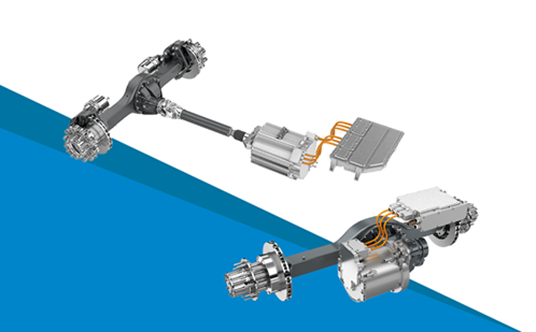 Dana, traditionally a supplier of vehicle transmissions that is based in Maumee, Ohio near Toledo, seized the opportunity and today has emerged as a global provider of fully integrated e-powertrains. It has made eight acquisitions since 2017 to bolster its electrodynamic portfolio, and now has a wide breadth of offerings and system integration competencies including motors, inverters, controls and software, as well as thermal management products for batteries and power electronics.
It took the big plunge in 2018 when it acquired Canada's TM4, a manufacturer of electric motors and power components serving commercial and recreational vehicle OEM's.
Now, Dana TM4 e-motors, depicted in the top photo, are available in a variety of configurations. They can be purchased individually or integrated seamlessly with Dana's e-axles, gearboxes and hubs. The TM4 deal included a 50% stake in Prestolite E-Propulsion Systems, a joint venture in China that makes electric motors, inverters, generators and controls for electric buses, trucks and boats.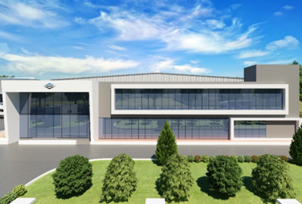 In September, Dana announced plans for a 50,000 square-foot facility in Pune, India, that will produce Dana TM4 low- to high-voltage electric motors, inverters, and vehicle control units. Scheduled to open this year, the plant will supply OEMs for a variety of electrified vehicle applications, including buses and trucks. With the addition of electric motors, inverters, and vehicle control units to Dana's current capabilities in India, the company is poised to serve as a preferred supplier with in-house capabilities to deliver complete and fully integrated e-Propulsion systems to OEM customers across all mobility markets.
Its newest direct-drive electric powertrain, the TM4 SUMO LD, was launched last year as a motor-inverter combination for Class 2 through Class 6 vehicles.  The new offering extends the comprehensive SUMO lineup which is powering more than 12,000 electrified vehicles today.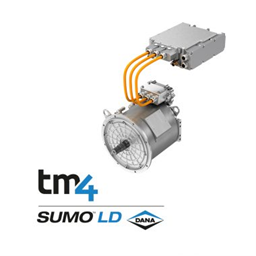 Designed primarily for today's direct-drive architectures, the new powertrain will also provide a modular solution for future transitions to widespread e-axle platforms.  When integrated with one of Dana's numerous electrified axle solutions, it can be configured for light-commercial, minibus, and medium-duty truck and bus, as well as heavy-duty Class 8 hybrid vehicles.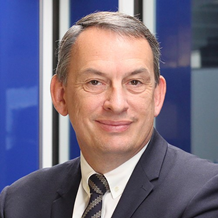 "The TM4 SUMO direct-drive electric powertrain offering is a globally adopted, road-proven, highly efficient solution utilized in thousands of electrified vehicles, which is a key differentiator setting us apart from other electrodynamic solutions," said Christophe Dominiak, chief technology officer for Dana. "The SUMO LD series has been engineered into multiple Spicer Electrified products and is able to be adapted to the architecture requirements of our customers, from direct-drive solutions to fully integrated e-Axle designs."
With three available models, it can generate up to 250 kW of peak power and 1200 Nm of torque.  Its new winding technology, combined with an innovative internal permanent magnet rotor design, yields a 10-percent decrease in magnets and creates a more lightweight and compact solution to fit smaller vehicle envelopes.
Another of its acquisitions was the purchase in 2019 of SME Group, headquartered in Arzignano, Italy, which makes low-voltage AC induction and synchronous reluctance motors, inverters and controls for off-highway electric vehicles.
"Dana's acquisition of SME enhances our ability to address the electrification and hybridization needs of our customers, while also increasing the potential for incremental content per vehicle," said Jim Kamsickas, president and chief executive officer of Dana. "SME's exceptional electric motor and inverter products, which largely support off-highway applications, are highly complementary to the technologies we acquired with TM4, which are predominately focused on light- and commercial-vehicle applications."
"Dana is equipped to provide complete e-propulsion systems that balance the demands for performance, power density, and weight," noted Dominiak, about the SME acquisition. "The addition of SME's low-voltage induction motors rounds out our already robust offering of high-voltage permanent magnet motors and enables us to deliver a complete range of electrified solutions for our customers."
Among its customers for the powertrain portfolio are Paccar truck brands Peterbilt and Kenworth, featured in a recent article in Magnetics Magazine. "We are pleased to collaborate with Peterbilt by providing the complete-powertrain, including the integration, and upfit for the Model 220EV electric vehicle," said Mark Wallace, president of Commercial Vehicle Drive Technologies for Dana.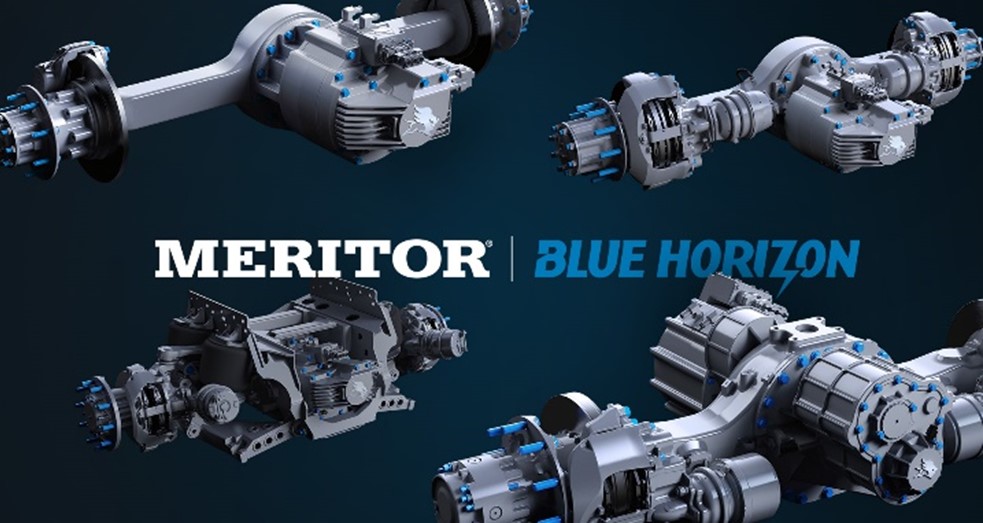 Focused on its Blue Horizon line of e-powertrains for commercial vehicle markets, Meritor of Troy, Michigan is another company aggressively pursuing the new market opportunities. It further added to its e-drivetrain capabilities a year ago when it acquired EV conversion specialist Transportation Power.
"We are excited to welcome TransPower to the Meritor family as we continue providing our customers with sophisticated electric drivetrain solutions," said Jay Craig, Meritor's CEO and president. "This acquisition enables us to further position the company as a premier supplier of electrification technologies for commercial vehicles."
TransPower, based in Escondido, CA, supplies integrated drive systems, full electric truck solutions and energy-storage subsystems to major manufacturers of trucks, school buses, refuse vehicles and terminal tractors. The company has been focused exclusively on developing electrical drive solutions since its inception in 2010. "This recognition increases visibility of Meritor's investment in advanced technology products and reinforces our strategic goal of driving innovation in the emerging electrification market for the global commercial vehicle industry," said T.J. Reed, vice president of global electrification.
The Blue Horizon products power Class 4-8 trucks and buses with electric powertrains instead of diesel-based systems. Its most recent expansion to electric drivetrain solutions was launching the 12Xe powertrain for Class 4, 5, 6 and 7 applications and introducing the 17Xe powertrain for heavy-duty 4×2 and 6×2 trucks in 2019. Production of the 12Xe was set to begin this year.
"These powertrain solutions from our Blue Horizon product portfolio are engineered to fit multiple vehicle applications to meet customer needs now and in the future," said John Bennett, vice president and chief technology officer.
The 12Xe powertrain expands Meritor's electric solutions coverage into Class 4 and 5 applications and into Class 6 and 7 applications with wheels as small as 17.5 inches, without sacrificing ground clearance. The electric motor can be scaled to specific vehicle requirements and delivers 150, 180 or 200 kilowatts of continuous power and 250 kilowatts of peak power. Packaged to fit into the rails of 4×2 trucks, the 17Xe powertrain will deliver 420 kilowatts of continuous power and 450 kilowatts of peak power. In Europe, applications include 44-ton heavy-duty long-haul trucks, medium-duty 27-ton refuse vehicles, 19.5- and 26.5-ton intercity buses and 26.5-ton coaches. It will also fit 40- and 60-foot city buses in North America.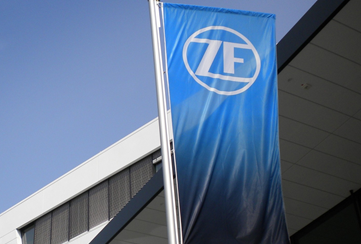 With a well-developed e-powertrain portfolio already, premium global automotive supplier ZF of Friedrichshafen in southern Germany continues to build its capabilities in electrication. At the start of this year it, formed a new division from its former Car Powertrain Technology and E-Mobility divisions to offer customers electrified driveline solutions from a single source. It supplies systems for passenger cars, commercial and industrial equpment.
In the future, ZF will not invest in transmissions exclusively designed for internal combustion engine vehicles but will focus its development activities on flexible platform technologies for long-range plug-in hybrids and purely electric vehicles, the company said.
"The corona pandemic is noticeably accelerating the transformation of the automotive industry – we expect electrification to come even faster now," said Wolf-Henning Scheider, CEO. "We accept this challenge and are decisively driving the necessary changes at ZF in order to better participate in the growing market for electrified car drives. The newly formed division will be able to leverage the system advantages of both divisions and offer vehicle manufacturers a comprehensive electrified drive portfolio as well as worldwide development and production capacities under one roof."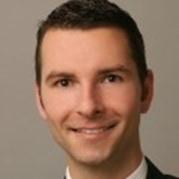 Matthias Beringer, a group leader in the ZF's electric traction drives business, heads a team helping to develop electric drives, especially at the start phase. He makes some pertinent observations about their strategies to consider many options toward developing the best possible motors for various customer and operation requirements.
"These days, for passenger car applications, we usually prefer the 3-phase permanent magnet synchronous motors. However we are also able to rely on a broad technical portfolio of other machine topologies. Other differences include the construction of the rotor and the winding technology in the stator, in other words, how the electric conductor is wound to a coil. The so-called "hair pin technology" offers benefits in terms of performance and efficiency in this respect. The name comes from the shape and special bend in a square copper wire that looks like a hair pin. Other technologies, such as shaft winding, also benefit from inserting a rectangular wire in the stator grooves."
"ZF is naturally not the only company that knows how to produce an electric motor. The company's special ability is that it takes into account, right from the start, all the other factors involved in motor development, including especially power electronics, cooling systems as well as the transmission, particularly in the case of hybrid drives."
Beringer makes the comments in a blog which is available in full on ZF's website, ending with his anticipation for the future. "We are already extremely well set up for our next major project: 800 volt electric motors which are becoming possible thanks to new power electronics (silicon carbide) and battery technologies."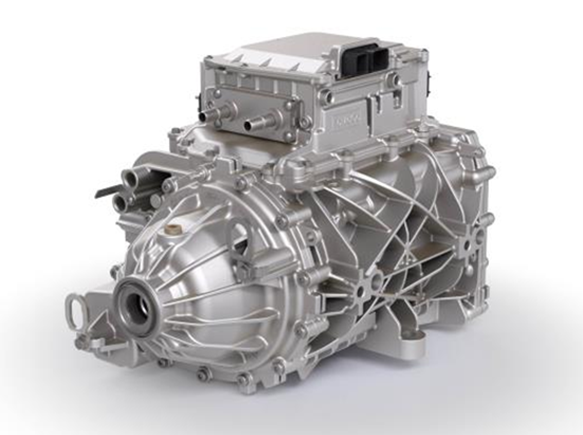 BorgWarner, long a system supplier for the truck market, is tackling the e-powertrain opportunity on several fronts within a company-wide focus on electrification packages for its traditional commercial vehicle OEMs as well as pushing into the automobile market. In 2020, it cemented a deal with Ford to build a power-packed integrated drive module (IDM) for the new all-electric Mustang Mach-E sport utility vehicle. Showcasing BorgWarner's integration expertise, the iDM comes complete with a BorgWarner thermal-management system and gearbox integrated with a motor and power electronics from other suppliers.

"Our knowledge of system integration, paired with our gearing proficiency, allows us to design iDMs that are easy to assemble and operate as quietly as possible, which is even more important in electrified vehicles," said Dr. Stefan Demmerle, president and general manager of BorgWarner PowerDrive Systems. "Like the Mustang Mach-E, our iDMs are made to excite drivers craving an eco-friendly, thrilling ride, and we're excited to once again partner with Ford, this time to deliver a high-quality, clean and efficient propulsion solution to the high-performance electrification market."
Different than other BorgWarner eGearDrive units, the iDM does not utilize parallel axis gearing, instead featuring a concentric design with outputs on the same axis as the electric motor, resulting in a more compact package. The iDM is being supplied to power the Mustang Mach-E's rear-wheel drive and all-wheel-drive configurations. On the all-wheel-drive GT version, BorgWarner is supplying the secondary drive unit to power the front wheels as well.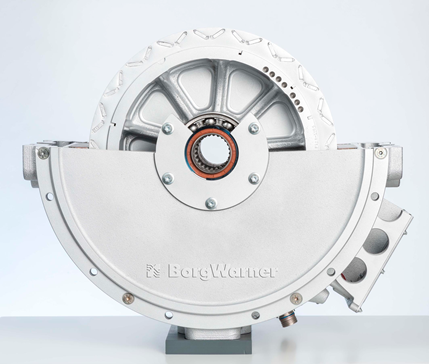 BorgWarner has also made strides in vehicle electrification with its High Voltage Hairpin (HVH) Series electric motors for transit buses, medium-duty and heavy-duty commercial vehicles. They are available as fully housed motors or as rotor-stator assemblies. Instead of conventional round wire windings, they use precision-formed rectangular wires and multiple layers of interlocking "hairpins" in the windings. Their high-voltage (650 volt) technology enables the versatile and powerful electric motors to deliver a maximum torque of 2,000 Nm and a power output of up to 300 kW (402 hp) with peak efficiencies exceeding 95 percent.
Another big step for BorgWarner came in October when it acquired automotive electronics supplier Delphi Technologies. The combination will help create a leader in electrified propulsion systems that is well-positioned to take advantage of future propulsion migration, the company said.
"We are pleased to complete our acquisition of Delphi Technologies," said Frederic Lissalde, president and CEO of BorgWarner. "Through this combination, BorgWarner is even better positioned with a more comprehensive portfolio of industry-leading propulsion products and systems across combustion, hybrid and electric vehicles."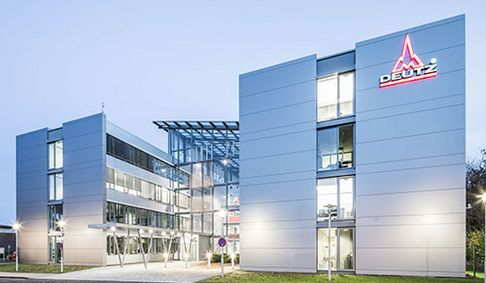 At Deutz, long known for its roots as a diesel engine manufacturer, the company's E-Deutz strategy brings hybrid and fully electric powertrains integrated into a comprehensive mix of all options. Now, under the banner of 'Revolutionizing Power", the Cologne-based company combines diesel, gas, hybrid, electric and hydrogen technologies to provide its OEM customers whatever power mode is desired.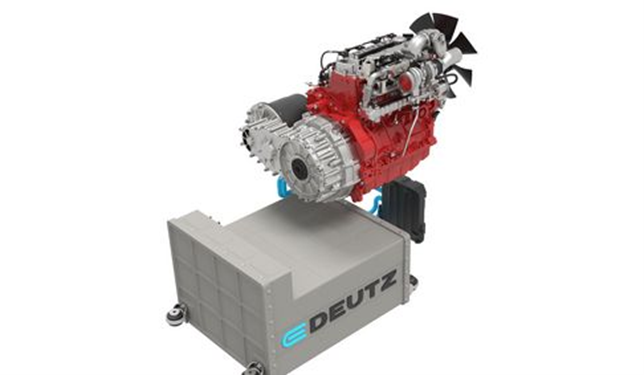 Deutz is repositioning its drive system portfolio and will be offering a modular range of different technologies in the future. The new modular product kit makes it possible for diesel, gas, hybrid and electric drive systems to be individually configured and fitted precisely according to OEM specifications.
Last year, it unveiled an all-electric concept for telescopic material handlers which was developed in collaboration with JLG. The compact 360-volt drive system uses a split drive comprising two 40 kW electric motors, one for driving and one for the hydraulics in the telescopic arm. As is typical for electric engines, the system delivers instant torque, making the machine even more dynamic. Deutz' new 1.2 hybrid engine combines a highly compact three-cylinder diesel engine with a capacity of 1.2 liters and a 48-volt electric motor.
Acquisitions have been key in electrifying the company's product range and capabilities, particularly in batteries and electric drive trains. A new battery system developed in collaboration with Futavis was also shown last year, following on Deutz acquiring the German battery specialist Futavis in 2019.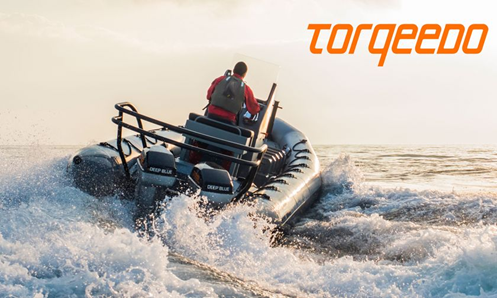 Its prowess in electric motor technology was bolstered by the acquisition of e-boat motor manufacturer Torqeedo. Along with bringing advanced motor and drive technology to the parent company, as a full Deutz subsidiary Torqeedo offers outboards from 1 to 80 HP, inboards from 40 to 80 HP, pod drives from 5 to 20 HP, a saildrive with 40 HP, and hybrid drives for yachts up to 160 HP (see more in separate article on Torqeedo).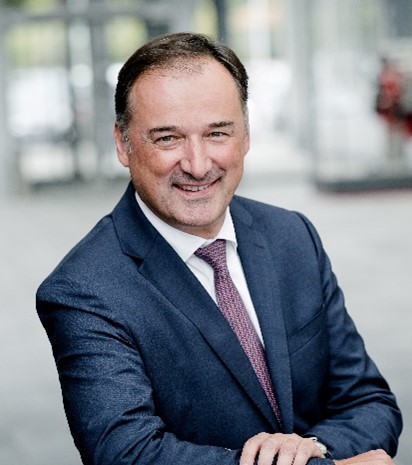 Dr. Frank Hiller, chairman of the Deutz board of management, explains: "When tackling the challenge of making drive solutions sustainable for the future, we always keep our minds open to all technologies. Our approach builds on intelligent combinations of electric drives and internal combustion engines that offer the potential to be operated in a carbon-neutral manner in the future using sustainable fuels."
The goal of the modular product strategy is to be able to react more flexibly and faster to technological developments. The benefit of modularization is reflected in a reduction of design and development expenditures while ensuring a shorter time-to-market. In a modular world, only the relevant components or modules that are subject to technological advancement are adjusted, not the entire system.
Magna and LG Form Joint Venture for e-Powertrains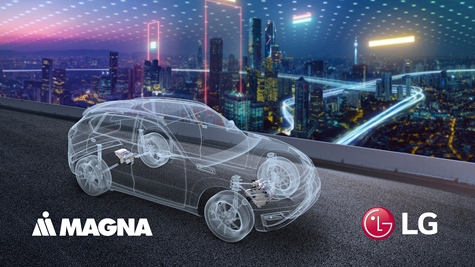 In December, Magna International took its e-powertrain efforts (see earlier article about Magna on Magnetics Magazine website) a step further by forging a joint venture with LG Electronics to manufacture e-motors, inverters and on-board chargers and, for certain automakers, related e-drive systems. Tentatively called LG Magna e-Powertrain, the new company marries Magna's strength in electric powertrain systems and automotive manufacturing with LG's expertise in component development for e-motors and inverters.
Aimed at accelerating both partners' growth in the electric powertrain market, the JV enables the two companies to continue to grow their electric powertrain product offerings by leveraging existing technologies, engineering capabilities and global footprints.
LG, based in South Korea, has established experience in the development of electric vehicle components most notably for the Chevrolet Bolt EV and Jaguar I-PACE. LG will help accelerate Magna's time to market and scale of manufacturing for electrification components, while software and systems integration are competencies that Magna brings to this venture.
"This partnership fully aligns with our strategy of being at the forefront of electrification and supporting automakers with a diverse and world-class portfolio," said Swamy Kotagiri, Magna president and incoming CEO. "By combining our strengths, we expect to gain investment efficiency and speed to market with synergies to achieve more, all while continuing to capitalize on the acceleration of the electrified powertrain market."
"Manufacturers need to be disruptive to maintain leadership positions in electrification and, through this deal, LG is entering a new phase in its automotive components business, a growth opportunity with enormous potential," said Dr. Kim Jin-yong, president of the LG Electronics Vehicle Component Solutions Company. "We believe that the combination of our in-house prowess and the experience and extensive history of Magna will transform the EV powertrain space faster than if we proceed alone." The JV will include more than 1,000 employees located at LG locations in the US, South Korea and China. The transaction is expected to close in July of 2021.
With three different power classes, Magna supports the whole range of vehicle segments with drive systems for full hybrid and battery electric vehicles. Its Highly Integrated eDrive System Low is a small e-drive system that contains either an ASM or a PSM e-machine, an integrated single-speed gearbox and a high voltage inverter. The system's power ranges from 60 to 90 kW. Its Mid includes a gearbox, a PSM e-machine with 90-160 kW power and an inverter. It can be utilized as a primary axle for battery electric vehicles or as a secondary axle for full hybrid and battery electric vehicles. Its High system is a powerful electric axle drive. With its 160-250 kW power PSM e-machine, inverter, and a torque-vectoring optional gearbox to meet the demands for high performance battery electric vehicles.
GKN Automotive, the gorilla in the room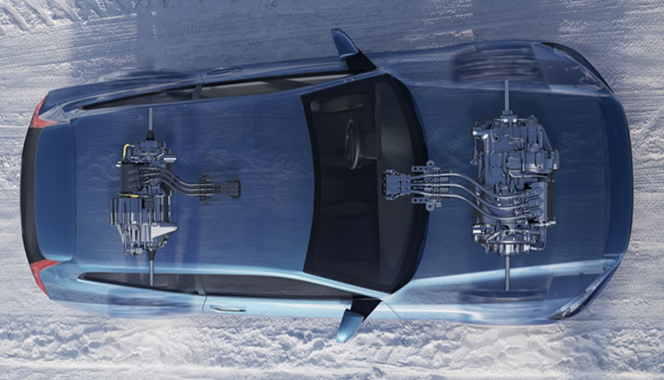 Meanwhile, GKN Automotive, which began making e-axles more than 20 years ago, continues to strengthen its leadership as 13 more electrified models from 10 leading global brands enter the market, powered by its systems. The new platforms span four major global automotive manufacturers and range from premium four-wheel drive SUVs to an iconic electric city car.
This major milestone comes just one year after the company surpassed over one million of its e-axles on the road and is the result of collaboration with the world's leading automotive manufacturers to fully integrate advanced e-drive systems into electric and hybrid cars. The new models include GKN's compact and efficient three-in-one e-drive systems which bring together leading-edge advances in electric motors, transmission, traction inverters, software and controls.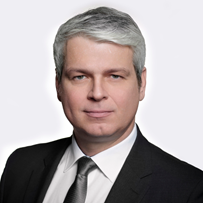 "This is further evidence that our investment, innovation and expertise in world-leading eDrive technologies is paying off. Our ambitious plans for eDrive will ensure GKN Automotive plays a leading role in driving the world's electrified future," said Dirk Kesselgruber, president of ePowertrain for GKN, who joined the company in October to lead the division.
The latest phase in its electrification strategy took shape in December 2019 when the company announced it would standardize a range of intelligent highly integrated "3-in-1" systems for pure electric and plug-in hybrid vehicles, in a move to decrease cost and increase efficiency for EV development. The systems integrate an electric motor, inverter together with the single-speed transmission module that scales up the torque while the inverter retains its own separate housing for maximum serviceability.
The strategy enables three families of electric drive to cover all mass-market torque requirements. The systems distil the company's experience in industrializing electric axle and driveline systems, and harnesses data and system integration knowledge. GKN was first to market with e-axle technology in 2002 and has served as a tier one system integrator on programs for Fiat Chrysler Automobiles, Jaguar Land Rover, BMW Group, Volvo Cars, PSA Peugeot Citroen and Geely. Inside its wide-range of e-drive systems for different applications, GKN uses a combination of electric motors, some sourced from an external supplier and some using active motor parts which are designed and manufactured in-house.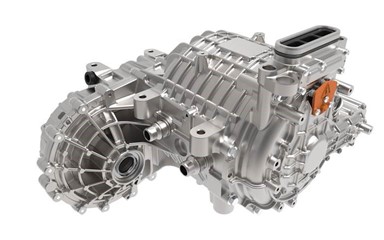 Its single-speed G400 electric drive system is designed for both primary drive for mid-size pure electric cars and secondary drive for large hybrid vehicles. The scalable unit generates up to 4,000 Nm of additional torque and power, enough for pure electric mode and a highly dynamic eAWD mode making it simpler to electrify the rear axle in front-wheel drive platforms.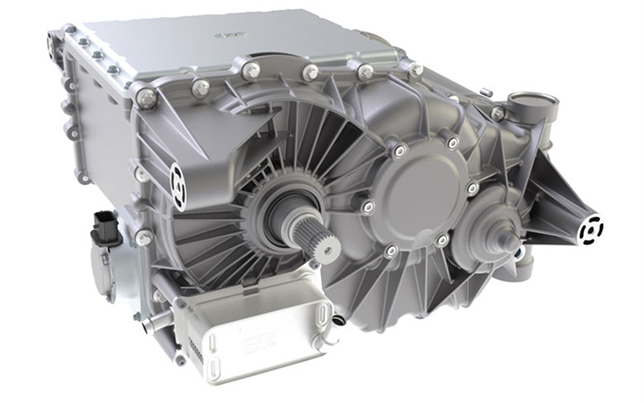 The single-speed G550 electric drive system is designed for larger vehicles. The compact modular design generates up to 5,300Nm of torque, enough for a dynamic pure electric mode for large battery EVs.
The topology for integrated e-drivetrains is a clear mandate, believes GKN, as explained in a strategy paper, "Making Electric Propulsion More Competitive". The high efficiency of "P4" electric axle drive architectures will make them central to most pure electric and plug-in hybrid strategies. To provide the best balance of cost and performance, single-speed systems are expected to account for 94% of P4 eDrive volumes.
P4 electric drive architectures connect the motor directly to the vehicle's axle, making it more efficient and cost-effective than "P2" and "P3" systems that hybridize the main transmission. P4 systems send torque directly to the wheels and recover energy directly from the wheel when braking. P4 electric drive systems integrate the inverter and electric motor into a compact transmission module that applies torque to the axle. The full paper is available at www.gknautomotive.com.