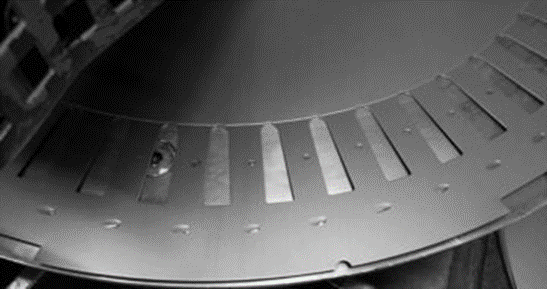 Whether the power source is battery or fuel cell, the efficiency and performance of motors are crucial in electromobility. Critical factors in their design and production include stability of the lamination stacks of electrical steel and their impermeability to cooling fluid. Feintool says that its glulock Multiple Dots bonding process promises tight and stable electric motors, even in the high-temperature range prevalent in today's e-motors. Based in Switzerland, the company develops machinery and processes for both the production of motor laminations as well as fineblanking of bipolar plates for fuel cells. 
In addition, the output power is increased or, conversely, the motor size is reduced. Noise generation and eddy current losses are also reduced. Even the stacking of thin sheets (0.1 mm) can be realized. Its glulock HT (High temperature) is a continuation of the series-proven gluing method. It improves strength and media resistance and enables increased temperature resistance up to 180° C. 
Sealing is one of the new challenges. Further developments in electric motors show that, along with the growing mechanical and thermal requirements, their cooling also has potential for optimization. The trend is for motors not to be cooled externally, but to have cooling integrated into the rotors and stators. This particularly requires impermeable stacking, sealing and surface bonding such as glulock MD provides, explains Markus Lock head of engineering at Feintool. With this advancement in its glulock technology, now it is possible to place several glue dots on the sheet in such a way that an almost full-surface bonding is ensured. Tests have already confirmed the required tightness. The bonding on the yoke and tooth ensures stability. 
From its headquarters in Lyss, the Feintool group has advanced the technology of fineblanking, forming and electrolamination stamping for processing steel sheets for more than 60 years. It now operates 19 production plans and technology centers worldwide, staffed by about 3,500 employees.