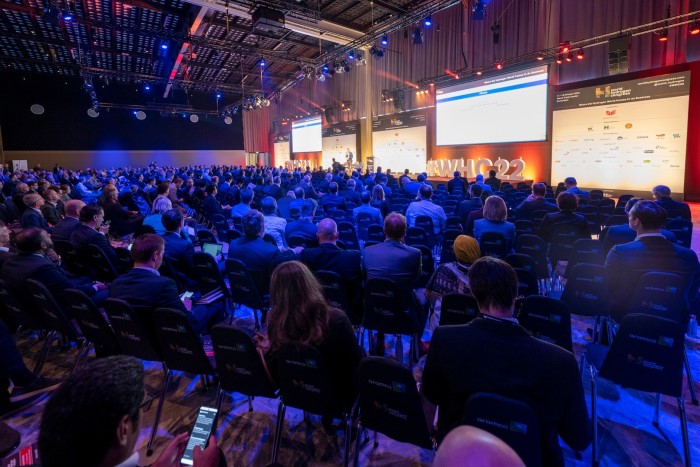 With the shock announcement from the UK government to water down its net zero commitments, World Hydrogen Leaders, organizers of the largest hydrogen networking event, World Hydrogen Week, are urging greater and swifter investment to drive adoption of clean hydrogen. World Hydrogen Week will take place in the hydrogen hub of Rotterdam, October 9-13. 2023.  
Despite all the attributes of clean or "green" hydrogen, the delivery of a new hydrogen economy is at risk from multiple financial hurdles, including lack of capital flowing in at the scale needed, inflationary pressures, as well as resourcing, supply chain and infrastructure issues. Clean energy leaders from across the globe will be discussing these challenges head-on during World Hydrogen Week, as well as focusing on government slowness and indecision around implementing policy and subsidies. Both speakers and attendees have already expressed heightened interest in sessions addressing policy in the wake of last week's announcement from the UK Prime Minister, Rishi Sunak, that 2030 climate targets will be extended to 2035 and beyond.
"Business hates inconsistency and risk, and with around 75 per cent of energy transition investment likely to come from the private sector, the recent U-turn from the government will undoubtedly cause uncertainty around the UK's real level of commitment to emissions reduction," said Nadim Chaudhry, CEO of World Hydrogen Leaders. "Abrupt changes in environmental policy at a time when around only 9% of new green hydrogen projects are under construction or have reached final investment decision stage, may well add further delay onto what is already a challenging investment market." 
Some 1,000 new projects globally have been announced to date, requiring a total investment of $320 billion, however would-be developers have only committed $29 billion to date.
"Investors require a degree of certainty, more financial support and scale, which can be done through effective policies at various levels," said Devina Parasurama, director of investments at Igneo Infrastructure Partners. "At the national level, strategies with timelines and targets are the first step to creating a stable planning horizon and certainty for stakeholders."
Among the many prominent finance and policy speakers attending World Hydrogen Week include
Thomas Fureder, Managing Director, Barclays Investment Bank; Lisa McDermott, Executive Director, Project Finance, ABN AMRO Bank; Dominika Ermitsch, Director Valuation, Modelling & Economics, EY; Benedict Libanda, Chief Executive Officer, Environmental Investment Fund of Namibia, and Anja Benz Senior Regulatory Advisor P2X, Orsted.
The 5-day event is one of the largest and most influential in the industry and will host over 3,000 attendees from 800 organizations, representing 50 countries. Comprising 4 major events including the highly popular World Hydrogen Congress, World Hydrogen Intelligence Day and the Global Hydrogen Projects Summit, the program has now been extended to include a world-first event: "World Hydrogen Derivatives." The inaugural derivative-focused program is the only event across the industry to address the role hydrogen can play as an energy carrier, as a direct fuel for mobility applications, as well as providing clean supply chains for the fertiliser and chemical sectors.