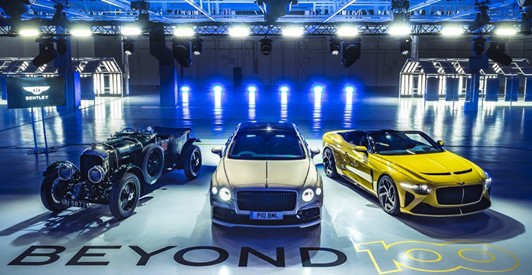 Iconic luxury car maker Bentley Motors is pursuing two projects in the magnetics supply chain to support its commitment toward automobile electrification. One aims to use recycled magnets to produce auxiliary motors for cars, the other to develop an e-powertrain without dependence on rare earth magnets.
They are part of a noteworthy transformation for the legendary company, established over a century ago and currently the world's largest producer of 12-cylinder engines. Under its Beyond 100 strategy, Bentley has committed to offer only hybrid or electric vehicles by 2026 and to be fully electric by 2030.
Both projects are supported by government funding and involve British suppliers of related technology as the UK seeks to further its capabilities in magnetic materials and technology for EV manufacturing. Bentley announced the new study In February, a three-year research effort that aims to revolutionize the sustainability of electric motors. 
The study could result in recycled rare-earth magnets being used in selected ancillary motors for the first time. Titled RaRE (Rare-earth Recycling for E-machines), it intends to build on work completed at the University of Birmingham in devising a method of extracting magnets from waste electronics. The project will scale up this process and repurpose the extracted magnetic material into new recyclable magnets for use within ancillary motors. An objective is that the motors also minimize complexity through manufacture while supporting the development of the UK supply chain for both mass production and low volume components.

"As we accelerate our journey to electrification, offering only hybrid or electric vehicles by 2026, and full electric by 2030, it is important that we focus on every aspect of vehicle sustainability, including sustainable methods of sourcing materials and components," said Dr. Matthias Rabe, member of the Board for Engineering at Bentley. "RaRE promises a step-change in electrical recyclability, providing a source of truly bespoke, low voltage motors for a number of different applications and we are confident the results will provide a basis for fully sustainable electric drives."
This study will run parallel to Bentley's Octupus research program. Begun last year, it aims to deliver a breakthrough in e-axle electric powertrains, utilizing a fully integrated, free from rare-earth magnet e-axle that supports electric vehicle architectures. The resulting electric drive system will be designed to exceed the latest permanent magnet motor performance while simultaneously removing the need for both rare-earth magnets and copper windings, delivering a package both cost effective and recyclable at its end of life.
Both projects are organized in partnership with Innovate UK. Bentley's role is to lead specification setting and test protocol development while supporting the design and manufacturing activities. Partners in the latest effort include several other UK companies.
Hypromag will scale up the recycling processes developed at the University of Birmingham and convert the extracted powders to sintered magnets with properties designed around those required for the auxiliary motors. Founded in 2018, the company aims to develop a full recycling supply chain for rare earth magnets based upon neodymium iron boron. It has licensed the patented technology called HPMS (Hydrogen Processing of Magnet Scrap) developed in the Magnetic Materials Group at the University of Birmingham. HPMS is a hydrogen based process to extract NdFeB magnets from electrical products such as hard disk drives. The extracted NdFeB powder is in the form of an alloy which can be re-processed into different forms which can be sold back into the supply chain for rare earth magnets.
HyProMag's strategy as a company is to establish a recycling facility at Tyseley in Birmingham. Product options being evaluated include hydrogen decrepitated demagnetized powders suitable for magnet producers, alloy ingot re-melted from HD powders suitable for alloy feed or magnet production, anisotropic alloy powders for bonded magnets and sintered NdFeB magnets as required by the RaRE project for automotive applications. A key investor is Maginito Limited, a subsidiary of Mkango Resources.

Unipart Powertrain Applications Ltd will lead the development of manufacturing to automotive scale. Advanced Electric Machines Research Ltd will lead the design and development of the motors. Intelligent Lifecycle Solutions Ltd will pre-process computer hard disk drives to remove the rare earth magnet containing components from the waste which will be shipped to Hypromag for removal of the rare earth magnets. University of Birmingham will provide cast alloys, which will be fed into Hypromag to blend with secondary materials to produce sintered magnets.
Octopus e-axle project

The second effort, also a three-year study begun last year, seeks to transform electric vehicle powertrains by using a fully integrated, free from rare-earth magnet e-axle that supports electric vehicle architectures. Titled Octopus (Optimised Components, Test and simulatiOn, toolkits for Powertrains which integrate Ultra high-speed motor Solutions) it follows an initial 18-month investigation that delivered a technological breakthrough in electric drive systems for high-performance vehicles. The electric drive system exceeded the latest permanent magnet motor performance while simultaneously removing the need for both rare-earth magnets and copper windings. Octopus proposes to take the motor, power electronics and packaging transmission design, adding next generation materials, manufacturing processes, simulation and test cycles to deliver a full e-axle powertrain.
"Today, there remains challenges and package constraints on the viability and flexibility of electric vehicle powertrains that are able to fully support EV architectures," commented Stefan Fischer, director of powertrain engineering at Bentley. "With the industry, technologies and cars changing faster than ever before, research projects such as Octopus are crucial to deliver innovative technologies and overcome challenges for the next generation of mobility solutions."
Key to this project also is Advanced Electric Machines Ltd. A commercial spinout from Newcastle University, AEM is responsible for motor manufacturing and systems assembly while its associated company, Advanced Electric Machines Research Ltd, is handling motor and transmission design.
"Having already worked closely with Bentley to successfully deliver a proof of concept, we look forward to this new project to push the performance, packaging and sustainability of electric vehicle drives to a new level, removing the need for rare-earths and copper and achieving the highest levels of system integration," commented Dr James Widmer, AEM Group CEO.
Another participant is Talga Technologies Ltd, responsible for 2D materials development for next generation winding technologies. It is a Cambridge-based research and development arm of graphene supplier Talga Resources of Australia.
For more info, see www.bentleymotors.com, www.hypromag.com, www.advancedelectricmachines.com.